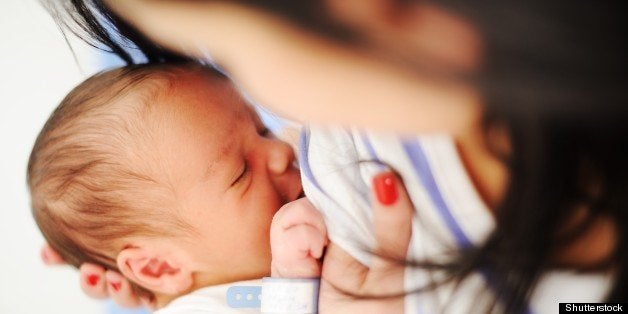 Efforts to increase breastfeeding in the U.S. have focused heavily on curbing babies' exposure to infant formula in the hours and days after they are born. Several states have banned the inclusion of free formula samples in gift bags regularly given to mothers when they leave the hospital, and many institutions have put baby formula under lock and key.
But a provocative new study suggests feeding babies who experience significant weight loss after birth tiny servings of formula may improve breastfeeding rates in the long run.
"It's a small, carefully managed volume of formula, so that the baby is still hungry for the next breastfeeding," study author Dr. Valerie Flaherman, an assistant professor pediatrics and epidemiology and biostatistics at the University of California, San Francisco, told HuffPost. "It's also temporary use with a predefined endpoint," Flaherman said. The approach may also help relieve maternal anxiety that mounts when brand-new babies lose weight, sometimes spurring aggressive formula feeding.
The study of 40 babies who had lost 5 percent of their birth weight and whose mothers' milk had not yet come in randomly divided the newborns into two groups. One group was fed two teaspoons of infant formula with a syringe after each breastfeeding session for the first few days after birth, until their moms' milk came in. The other group was breastfed exclusively. After that, some mothers supplemented breastfeeding with formula.
When they were assessed one week after birth, all the babies were still breastfeeding, but only 10 percent of the infants who had been given small doses of formula initially were still receiving it, compared with nearly half of babies in the second group.
At age 3 months, nearly 80 percent of the babies who were given formula early on were breastfeeding exclusively, compared with 42 percent in the second group. The findings were published in the journal Pediatrics on Monday.
"There's deep concern in the breastfeeding advocacy community that this will be over-interpreted," said Flaherman. "The solid majority of babies do not need formula, but the opportunity to use [it temporarily] to help some moms achieve the goal of continued breastfeeding can be a good thing."
"I worry that the headlines from this study will translate into 'A Six Pack of Formula Back In Every Bassinet!'" said Dr. Alison Stuebe, an assistant professor in maternal fetal medicine at the University of North Carolina School of Medicine, who did not work on the research. Stuebe said the next step would be to replicate the findings, ideally using donor human milk, to see if they hold up.
"This is very different from the way that formula supplementation is handled in many U.S. hospitals," Stuebe added. "Overall, one-quarter of breastfed infants are given formula by day two of life, and that number reaches as high as 40 percent in some areas."
In an accompanying commentary in Pediatrics, Dr. Lydia Furman, a pediatrician with Case Western Reserve University School of Medicine, Ohio, warned that "early limited formula is not ready for prime time." She commended the study's researchers for challenging existing paradigms, but questioned the use of 5 percent weight loss as a benchmark for inclusion in the trial. That level of weight loss generally does not put babies at risk for poor outcomes.
Breastfeeding continues to be a hot topic in public health, with campaigns hammering home the message that breast is best for babies' health. The American Academy of Pediatrics recommends that mothers breastfeed exclusively for the first six months and continue up to one year or beyond while supplementing with foods.
But while breastfeeding rates have improved in recent years, many women resist. Forty-seven percent of mothers in the U.S. breastfeed exclusively at six months, according to the latest Centers for Disease Control and Prevention estimates, and 25 percent do so one year out.
Many women report feeling unsupported in their efforts to breastfeed and attacked when they stop.
"Support for breastfeeding will improve outcomes. This study highlights one way to do just that," said Dr. Carl Seashore, medical director of newborn service at the University of North Carolina's Women's Hospital, who joined other experts in characterizing the new research as interesting, but preliminary.
"There are many others," Seashore continued, "spanning public health campaigns, public acceptance of nursing mothers, prenatal education, lactation support in the birth window and first weeks -- to months -- when needed, and support for workplace pumping."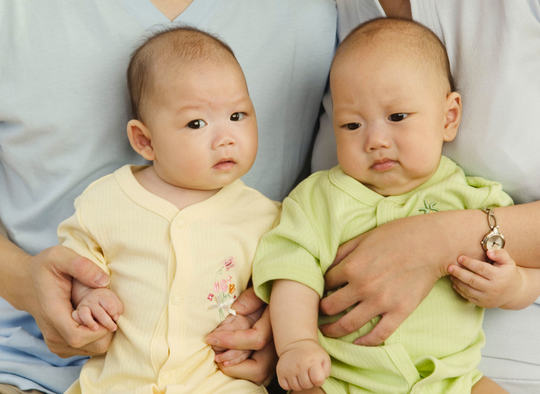 Children's Health Stories Of 2012