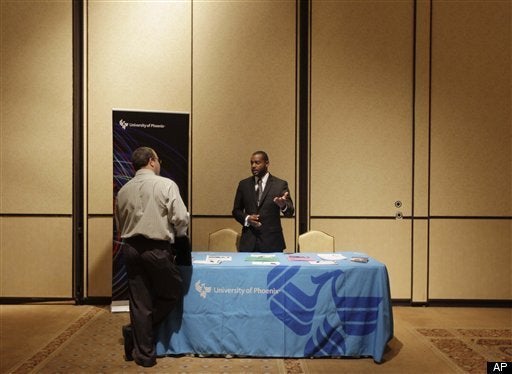 For-profit colleges graduated an average of 22 percent of their students in 2008, according to a new report from Education Trust.
That average palls in comparison to bachelor's-seeking graduation rates at public and private non-profit colleges and universities for the same year, which averaged 55 percent and 65 percent, respectively.
The report, titled "Supbrime Opportunity" (PDF) also reveals that for-profit colleges increased their enrollment by 236 percent from 1998 to 2009.
The median debt of for-profit college graduates -- $31,190 -- far outpaces that of private non-profit college graduates, which stands at $17,040, and is more than triple the median debt for those from public colleges, which is $7,960.
The University of Phoenix had one of the lower graduation rates at five percent, though the school said in a statement that when all of its students are accounted for -- not just those in federal data -- its graduation rate for bachelor's degree seekers rises to 36 percent.
Yesterday, the Pew Research Center reported that college students borrowed 50 percent more than in 1996, due in large part to a surge in enrollment at for-profit colleges.
For-profit colleges have come under heavy criticism for a number of offenses, including deceptive recruiting practices and reliance on federal funds through Pell Grants. See which for-profit colleges receive the most Pell Grant funding here.
What do you think of this report's findings? Let us know in the comments section.
Popular in the Community