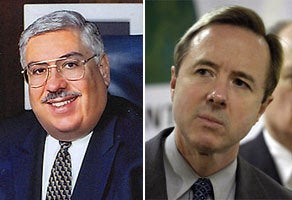 It happened to Meg Whitman in California, and Tommy Thompson in Wisconsin. Bill and Hillary Clinton both had to grapple with it, as did Madonna and Bruce Springsteen.
Now, cybersquatting -- the practice of claiming the URL of a person's name before he gets to it himself -- has come to Chicago, making an especially biting appearance in a Cook County political race.
Forrest Claypool, the independent candidate for assessor, launched JoeBerrios.com, a website with the name of his Democratic opponent. And as you might imagine, it's not the most flattering depiction.
The page quotes the Better Government Association, describing Joe Berrios as "pay-to-play personified." It recounts Berrios, in his role at the Board of Review, taking campaign donations from tax appeals attorneys, and giving tax breaks to their clients in exchange. Former state senator Miguel del Valle described one Berrios deal as "as close to an outright bribe as you can get," a quote which features prominently on JoeBerrios.com.
Berrios's tenure at the Board of Review is certainly fair game in the upcoming race. The Assessor's office, for which Berrios and Claypool are running, determines the tax rates for properties in Cook County. Those determinations can be appealed at the Board of Review, making the two posts closely related.
As for the website, it seems like Berrios will have little recourse. Hillary Clinton was able to reclaim HillaryClinton.com when the owner of the site didn't show up at a legal arbitration meeting. And Meg Whitman was able to persuade the owner of several sites related to her bid for California governor to sell the domains to her.
But it seems unlikely that Berrios will win back his domain through any of those means. In the meantime, his campaign site is located at ElectJoeBerrios.com.
Calling all HuffPost superfans!
Sign up for membership to become a founding member and help shape HuffPost's next chapter