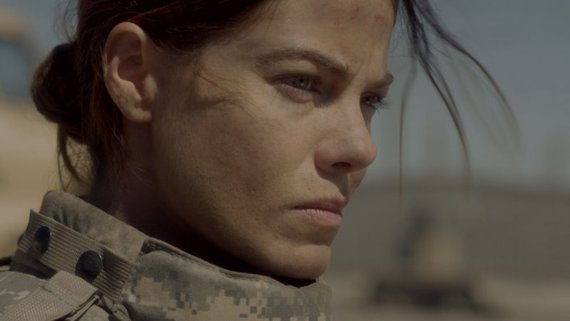 We constantly are reminded how tough it is to be a divorced parent, having so much to juggle between work and family. But that doesn't even scratch the surface of what it is like to be a divorced parent in the military. The sacrifice and stress of being deployed to war zones takes a toll on each and every soldier. Now imagine what it's like to leave your child with a neighbor for months at a time. Or have your ex's significant other raise your children. What would you do if your ex threatens to sue for full custody if you go on one more tour of duty? Even worse, your child may not even remember you when you return.
This gripping pain of being torn away from a child for months or years at a time is the subject of Fort Bliss, an indie film written and directed by Claudia Myers and produced by John Sullivan, Adam Silver, Brendan McDonald and Myers. Starring Michelle Monaghan and Ron Livingston, the film explores the life of Maggie Swann (Monaghan), a U.S. Army medic and single mother as she attempts to rebuild a lost relationship with her 5-year-old son while struggling with PTSD and nightmares of sexual assault during her deployment in Afghanistan.
The subject matter may be a bit heavy for some audiences. But the story of Swann's painful choice between her son and her career as a soldier is a compelling one that touches viewers young and old.
Producer John Sullivan hopes the movie calls attention to extended deployments and their impact on families, noting, when a solider goes to war, so does the entire family: "Mongahan's character underscores that plight in a powerful way that resonates with parents in and out of the military."
Congressman Alcee Hastings (D-FL), in a letter last month to Secretary of Defense Chuck Hagel, said he believes the film puts a human face on the difficult issues facing our nation's service members, particularly women.
"It is the right film at the right time to help bridge the military-civilian divide and provide all viewers with fresh insight into the complex and emotionally charged issues related to service."
The issues of balancing career and family as a single parent, coupled with military service, is a heart-wrenching reality for nearly half of all active duty women in the military. According to the Pentagon, of the more than 200,000 women on active duty, 40-percent are mothers. And nearly a quarter of them who serve in Iraq and Afghanistan have reported a sexual assault - a startling fact considering women are now the fastest growing group of veterans in the military.

Fort Bliss is showing in select theaters nationwide, with a special one week run in Oahu, Hawaii, starting Friday, November 14. The film is available On Demand and the DVD is available at Walmart on November 18.
Watch Fort Bliss with your family. And if you see a soldier, or their family, thank all of them for their service.
Popular in the Community