By Rod Nickel and Liz Hampton
CONKLIN/LAC LA BICHE, Alberta (Reuters) - A convoy of evacuees from the Canadian oil town of Fort McMurray drove through the heart of a massive wildfire on Friday guided by police and military helicopters as they sought to reach safety to the south of the burning city.
Some 1,500 vehicles began making the 30-mile (50-km) trip at 4 a.m. in groups of 50 cars. The residents had fled to oil camps and settlements north of the city earlier in the week and had to retrace their route through thick smoke on the only highway out of the area as the fire continued to spread.
"It reminded us of a war zone," said Marisa Heath, who spent 36 hours in her truck on the side of the highway with her husband, two dogs, a cat and seven kittens. "Eerie. All you could see was cement foundations of houses."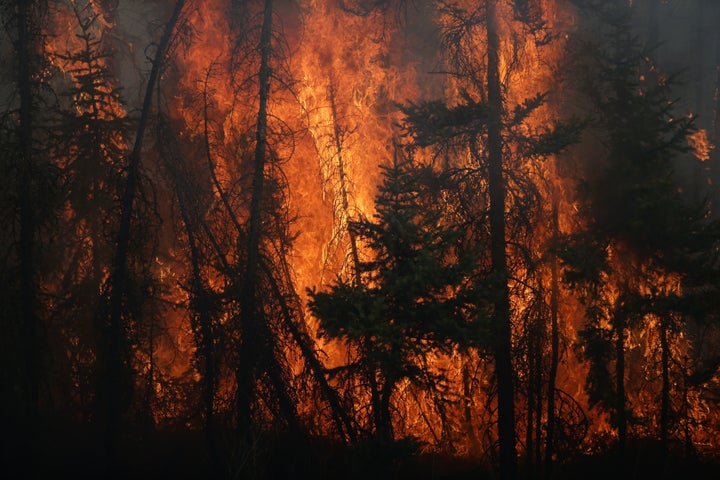 Helicopters hovered overhead watching for flames, and police set up emergency fuel stations along Alberta Highway 63 to keep the line of cars moving. They headed toward safety south of Fort McMurray in towns including Lac La Biche 180 miles (290 km) away and the provincial capital Edmonton.
Cecil Dickason, a Fort McMurray resident who was part of the convoy, said the battered city looked "awful." Others described the city as dark and smoke-filled, pockmarked with charred and abandoned vehicles and roadside spot fires.
Bill Glynn, who took part in the convoy, told the Edmonton Journal newspaper that he traveled through smoke so thick he lost sight of the car in front of him as they crept through the city.
"It was awful. It was scary," evacuee Sarah Babstock told the newspaper. "We came through with clothes over our mouths so we could breathe."
The fire enveloping Fort McMurray has grown to 247,000 acres (101,000 hectares) in Canada's energy heartland, forcing 88,000 people to flee this week and threatening two oil sands sites south of the city. Winds will push the main fire northeast on Friday, away from town but parts of the city still burned. 
"The city of Fort McMurray is not safe to return to, and this will be true for a significant period of time," said Alberta Premier Rachel Notley.
"So the town site is going to be secured and protected by the RCMP," she said, referring to the Royal Canadian Mounted Police.
The Alberta government has approved emergency funding for wildfire evacuees, and will be giving out C$1,250 ($966) per adult and $500 per dependent.
(Additional reporting by Ethan Lou, Allison Martell in Toronto, Nia Williams in Calgary, Catherine Ngai, David Gaffen in New York, David Ljunngren, Leah Schnurr in Ottawa; Writing by Amran Abocar; Editing by Jeffrey Benkoe and Cynthia Osterman)
Calling all HuffPost superfans!
Sign up for membership to become a founding member and help shape HuffPost's next chapter