The shooting outside the Club Blu Bar and Grill in Fort Myers, Florida, has left two people dead and up to 19 injured.

Two victims, Stef'an Strawder, 18, and Sean Archilles, 14, have so far been identified.

Three suspects have been detained for questioning and police have deemed the area "safe."
A shooting outside a Fort Myers, Florida, nightclub that was hosting an event for teens left at least two people dead and injured over a dozen others, police said.
Gunfire erupted in the parking lot of the Club Blu Bar and Grill at 12:30 a.m. on Monday as a crowd of 12- to 17-year-olds were leaving a party.
A total of 16 people were taken to Lee Memorial Hospital, where four patients currently remain ― two of them in critical condition, Sgarlata said. Up to three others went to other nearby hospitals.
"I've been here for now 17 years, and this is, in terms of gunshot wound victims, this is the worst I've ever seen," Drew Mikulaschek, a doctor at Lee Memorial Hospital, said in the same news conference.
Meanwhile, three people have been detained for questioning, authorities said. Although the circumstances surrounding the shooting remain unclear, Fort Myers Police Chief Dennis Eads said that "this was not a terrorist attack" at a news conference Monday afternoon.
Tatianna Nouhaioi, who was at the nightclub, described the chaotic scene as terrified youngsters ran for cover.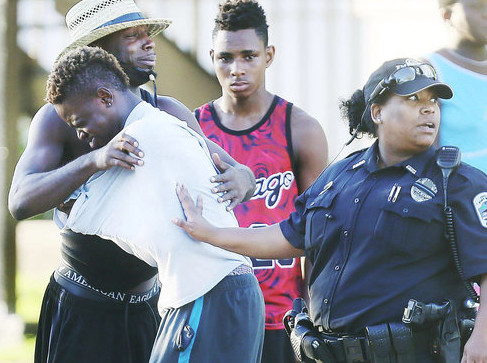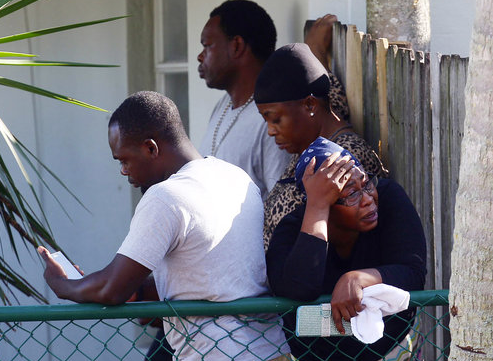 Frightened mom Syreeta Gary said her young daughter narrowly escaped being wounded. Her daughter's best friend, however, was shot in the leg.
"I just thank God that my daughter is OK, cause she could have been shot," Gary told FOX4 Now reporter Malcolm Johnson in a video posted to Twitter, which can be seen below. "Her dodging bullets and running, dropping between cars. It's ridiculous that these kids have to go through this."
Timothy Settles live-streamed this clip of himself from his hospital bed shortly after posting "I don't want to die" on Facebook.
In a Facebook post that was later deleted, Club Blu stated: "We are deeply sorry for all involved," adding, "There was armed security as well as full security, inside and out."
There was "nothing more we could [have] done," the message continued, clarifying that it was "not kids at the party that did this despicable act." It also said that the shooting took place "as the club was closing and parents were picking their children up."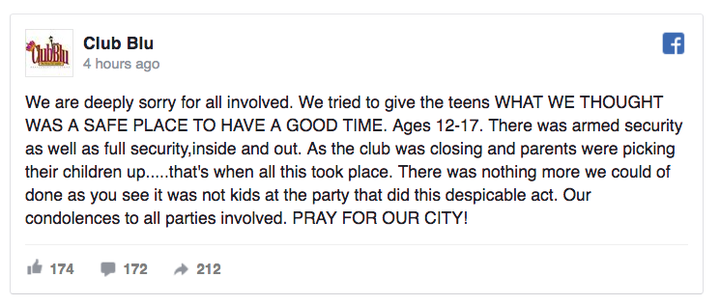 Fort Myers Mayor Randall Henderson Jr. issued a response to the shootings on Monday and asked anyone with information about the shooting to contact the Fort Myers Police Department:
Florida Gov. Rick Scott (R) also paid tribute to the shooting victims in a statement:
"We're at a 45-year low crime rate in our state, but every family we care about; we don't want this to happen to anybody at all in our state," Scott said in a news conference Monday afternoon.
According to police, officers are investigating two other active crime scenes that may be linked to the shooting: a home on Parkway Street that was reportedly sprayed with bullets, injuring one person, and a location on Ortiz Avenue where one of the three suspects was detained.
Police now say the area surrounding the nightclub is safe, but it remains sealed off as the investigation continues.
Monday's bloodshed comes just six weeks after a lone gunman fatally shot 49 people at Pulse, an LGBT nightclub in Orlando, Florida, in the deadliest mass shooting in modern U.S. history.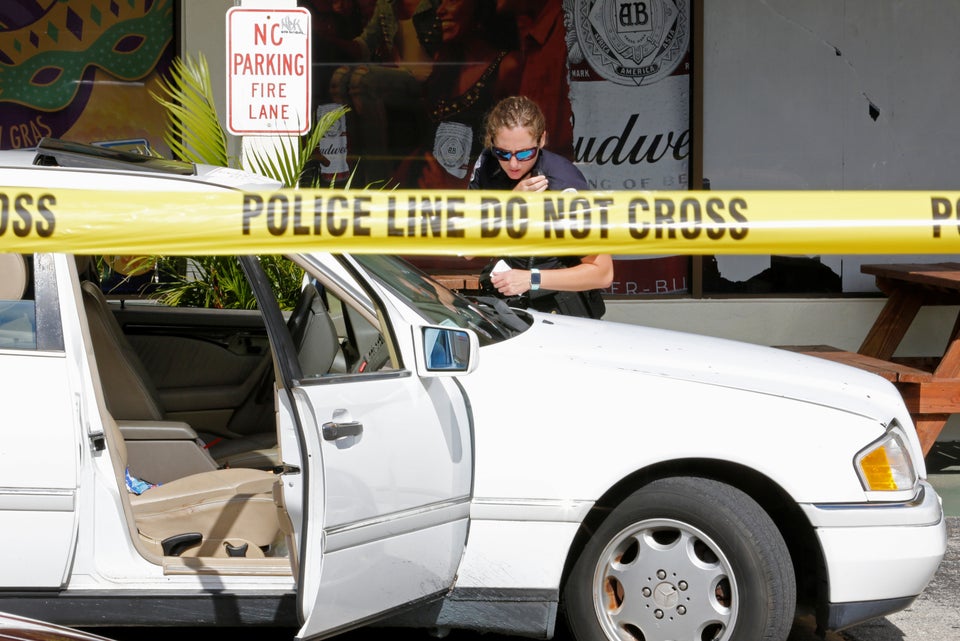 Two Dead After Mass Shooting In Fort Myers
Popular in the Community