Like an institutional hobbit hole, the graduated block facade breaks from the ground, rising up and over a massively thick set of blast doors.
The spires of an underground ventilation system reach through a packed mound of earth.
And what lies beneath is one of the most intriguing parcels of real estate in South Florida: a sprawling 1967 atomic bomb shelter built by AT&T, designed to keep five Floridians alive -- and communications systems running -- for 30 days in the event of a disaster.
So does the listing agent.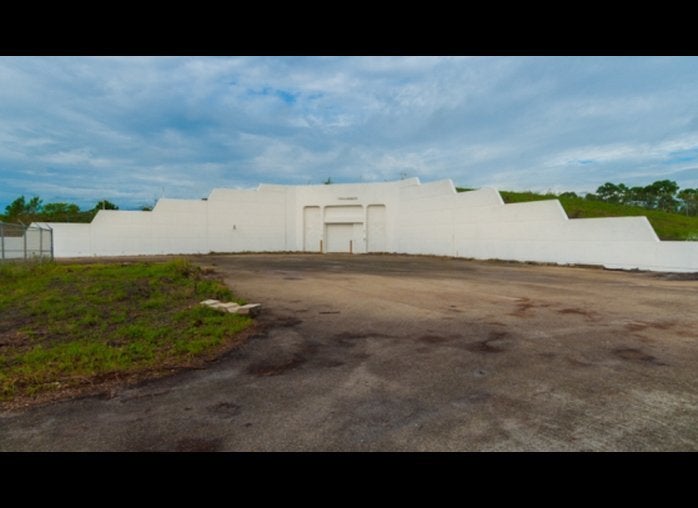 Bomb Shelter In Fort Pierce, Florida For $499,500
The shelter, which sprawls behind 30" reinforced concrete walls, stretches for some 7,000 square feet. Reports Zillow:
Unlike a fallout shelter that protects from radioactive debris, the main purpose of the building was to protect from shock waves and overpressure. Upon entering the bunker, decontamination showers greet visitors and lead into a massive room with 17-foot-high ceilings.

Murphy says the original design plans were recently discovered, showing how the property was rigged with 200-kilowatt generators, massive air-intake tunnels and a custom ventilation system to be used in the face of disaster. Even though the property was vandalized after it was abandoned as a bomb shelter in the '80s, there are still remnants of the Cold War era, such as canned sugar and milk solids.
Unfortunately for creative buyers, the bunker's a bit of a fixer upper: none of the equipment functions, according to the listing, and there is no functioning power in the building.
But according to Murphy, interested parties remain undaunted: "A week or so ago, we had some preppers from South Florida Survivalist Group," he said, "but probably the more practical use we've had is things such as antique car storage."
Related
Popular in the Community