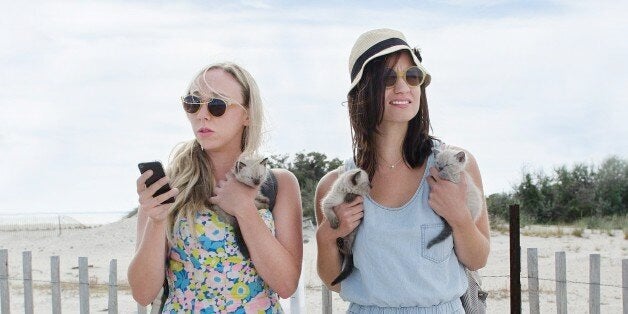 What hath "Girls" wrought? Thus far, it seems like a think piece for every viewer, a pretty cool "Star Wars" rumor, Lena Dunham's ubiquitousness and an easy shorthand with which writers and critics can compartmentalize indie films about post-college women living in New York. Fair or not, it's the last bucket that "Fort Tilden" calls home.
This year's South By Southwest Film Festival grand jury prize winner for best narrative feature, "Fort Tilden" focuses on Harper and Allie (Bridey Elliott and Clare McNulty), two Brooklynites in their mid-20s who spend a hot summer day attempting to get from Williamsburg to the Rockaways. Along the way, they watch helplessly as one of their bikes is stolen, fight with some outraged Cobble Hill parents, confuse a bodega owner with an order of iced coffee and conduct themselves with a narcissism that would make Hannah Horvath uncomfortable.
"It hasn't been so much polarizing as it has been starting conversations. But I'm interested to see if it will be polarizing in another setting," McNulty, who has worked in various theater companies in San Francisco and New York, told HuffPost Entertainment. "South by Southwest is a pretty specific demographic of people, and they're coming because they want to see things that are interesting and different."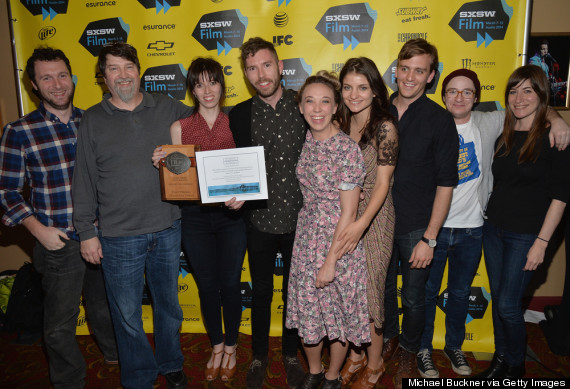 The cast and crew of "Fort Tilden"
Written and directed by New York filmmakers Sarah-Violet Bliss and Charles Rogers, "Fort Tilden" did garner strong reactions on both sides after its SXSW premiere last weekend. David Rooney, critic for The Hollywood Reporter, noted that one of the film's strengths is how "Bliss and Rogers never deny their affection for these unlikable characters." Andrew Barker at Variety, on the other hand, wrote that "the film may well alienate more audiences than it seduces." (Both critics referenced "Romy and Michelle's High School" reunion, which should provide some clarity about what audience "Fort Tilden" is striving to reach. Other films that spring to mind as comparable include "After Hours," "Quick Change" and "For a Good Time Call.")
"The director's mom said that when she saw it the first time, she was sort of overwhelmed by boobs and the open sexuality," said Elliott, a performer at Upright Citizens Brigade in New York and Funny or Die star (she's also the sister of former "Saturday Night Live" cast member Abby Elliott and the daughter of Chris Elliott). "Then she saw it again and was completely blown away."
The film's matter-of-fact nudity happens in the third act, right when Harper and Allie reach their final destination, but it's not the most shocking moment in "Fort Tilden." That comes just beforehand, when the two heroines stumble onto a litter of kittens left near the beach, make an effort to save them and then basically leave the cute animals to die.
"To the way it's presented in the movie, they just don't understand. They're blissfully ignorant," Elliott said. "It was cool to just be bad. The movie just shows the depths of their immaturity."
"When I read the script, one of my first reactions was, 'How would they forget about the kittens?'" added McNulty. "That seemed impossible to me. Now, of course, when I watch it as an audience member, I forget about the kittens, which is unbelievable. As an actor, I've always found it challenging to not judge my characters when I'm playing them. But that's really your job. So it was really fun to play characters like this."
McNulty also had fun with her animal co-stars. "Playing with the kitten was awesome."