In the San Francisco of some hundred years ago, the stretch of Market Street between roughly Van Ness Avenue and the bay contained a dozen theaters, many of which entertained audiences with both a vaudeville show and a "moving picture." Some were lavish affairs, such as the almost 5,000-seat Fox Theatre, at Polk. Others, such as the 729-seat Strand (built in 1917 and originally named the Jewel), between Seventh and Eighth, were less splashy ventures. Many of these theaters, including the ill-fated Fox, were eventually razed and replaced (the Fox with one of the city's ugliest buildings, the monolithic Fox Plaza).
The Strand, on the other hand, deteriorated mightily and was closed down but never torn down. Now reclaimed, renewed, and reopened just last year as a second site for American Conservatory Theater, it is a terrific addition to the cultural scene, especially in a developing stretch of an important part of town. The Strand features a 283-seat main stage and a small upstairs space that can be used for even more intimate musical, theatrical, and other events. It's still early enough to assume that sometimes we'll be surprised by what's on offer here. The lobby alone tells you the embrace is wide. Above the two-story lobby is a massive LED screen that can be seen outside the building; off to the side, in a cozy café area, is a wall screen with an ongoing film about the street's theatrical history. You can't link past and future more symbolically than that.
And The Unfortunates is an excellent introduction to both the offerings and the vibe of the place. It is an utterly original, wonderfully well acted and sung musical play. Its unique sound and look draw inspiration from both hip-hop and bedrock blues and ballads, graphic novels and mythology, action heroes and 1930s cartoon figures. The entertainment starts in the lobby. As Betty Boop and Koko the Clown cavort on the LED screen, three high-energy young men in work clothes and caps sing so engagingly, they draw your attention and then you right through the theater doors.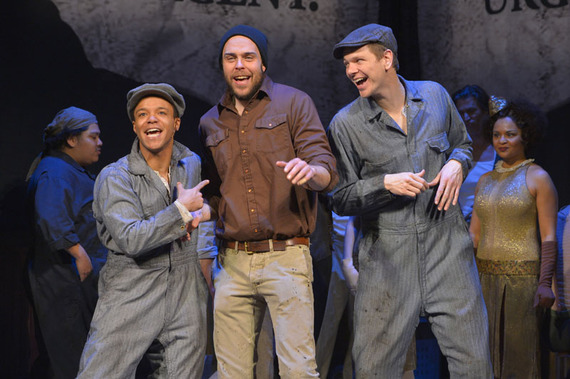 Turns out they are stars of the play. Big Joe (Ian Merrigan) and his best friends, Coughlin (Jon Beavers) and C.J. (Christopher Livingston), happen into a bar in which General Goodtimes (Ramiz Monsef)--and three Victory Girls, particularly Rae (Taylor Iman Jones)--entice Big Joe into enlisting in a war. His pals are less susceptible to appeals to macho vanity but would rather be six feet under with their friend, one says, than aboveground without him. The scene switches to wartime, with an Enemy Soldier (also Monsef) pointing a gun at them; Coughlin and C.J. respond by boldly thumping their chests, but Big Joe falls apart and pleads for his life. In disgust, the Enemy Soldier pistol-whips him and he falls unconscious.
Now Joe finds himself in a surreal, fever-dream world, one in which C.J. and Coughlin roam as ghosts, Rae has no arms, Koko the Clown takes a bullet for Joe and joins his dead friends as a Rook, and all the others he met earlier are in new guises. General Goodtimes is a crapshooter with a gun, like Stagger Lee of the old ballad, and, later, a doctor who says he can save the plague-afflicted, like Rae, who come to St. James Infirmary.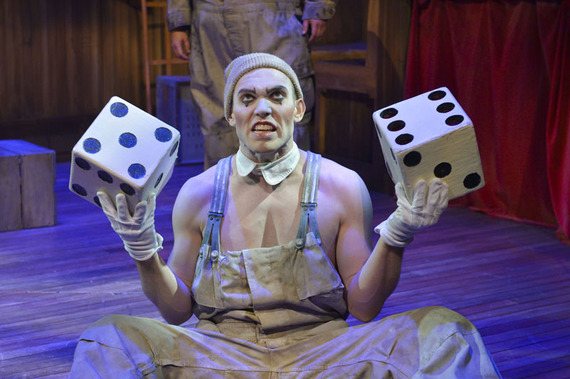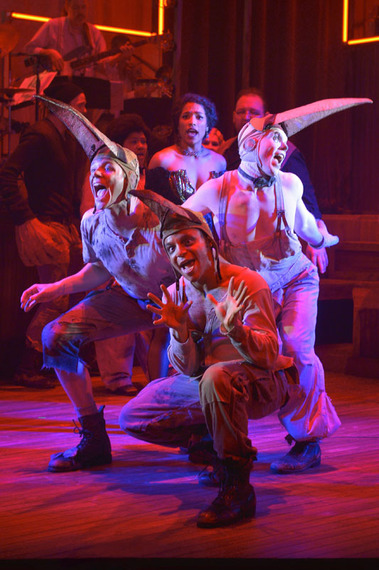 To convey its themes--war and injustice, power and pain and pride, love, friendship, and redemption--the musical narrative blends such classics with up-to-the-minute forms. The play's creators--Beavers, Merrigan, Monsef, Casey Lee Hurt (one of the onstage musicians), and playwright Kristoffer Diaz--want to "expand the definition of Americana," explains Hurt, enfolding jazz, hip-hop, and spoken word with the roots music of folk, gospel, ragtime, and blues in an innovative, highly entertaining way.
The six worked on The Unfortunates for six years, the past two here at the Strand with A.C.T. and director Shana Cooper. The play is harsh yet subtle and layered, angry yet heartfelt and moving. Since the tale unfolds through song, it rewards close listening. (With revised lyrics and two new songs, even the CD you can buy in the lobby is not up to date.) And like a literary novel, it deepens when revisited.
Through April 10, A.C.T.'s Strand Theater, 1127 Market St., S.F., 415.749.2228, act-sf.org.
Photos courtesy A.C.T.'s Strand Theater. Top (from left): Christopher Livingston, Ian Merrigan, and Jon Beavers. Middle: Eddie Lopez as Koko.