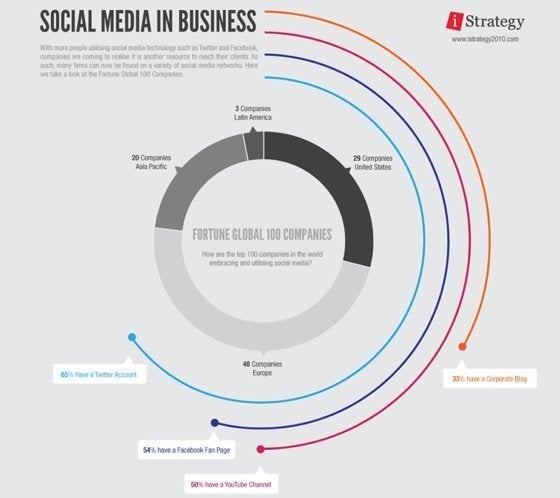 It's become increasingly commonplace for businesses to use social media to connect with and learn about consumers. So how social media-savvy are the world's top 100 companies? Are they social networking leaders--or does their online presence leave something to be desired?
According to a recent study by Burson-Marsteller, the Fortune Global 100 are members of the most popular social platforms, including Facebook, Twitter, and YouTube.
In fact, reports the Burson-Marsteller Blog,"Twitter is the social media platform of choice among the Fortune Global 100." Between blogging, posting to YouTube, updating Facebook, and tweeting, the companies seem, by and large, to be most active via Twitter.
Eighty-two percent of the Fortune 100 companies tweet on a weekly basis, posting an average of 27 tweets a week.
Some other highlights from the report:
79% of the Fortune 100 are present and listening, using at least of one of the main social platforms to communicate with their customers.
20% of Companies are using all four of the main social technologies (Twitter, YouTube, Facebook, and Blogs)
Fortune 100 Companies on average post 3.6 wall posts to their Facenbook page per week
50% of the Fortune 100 have a YouTube account and upload 10 videos on average a month
Via iStrategy comes an infographic that helps visualize the data on the Fortune 100's social savvy. See a full-size version of it here.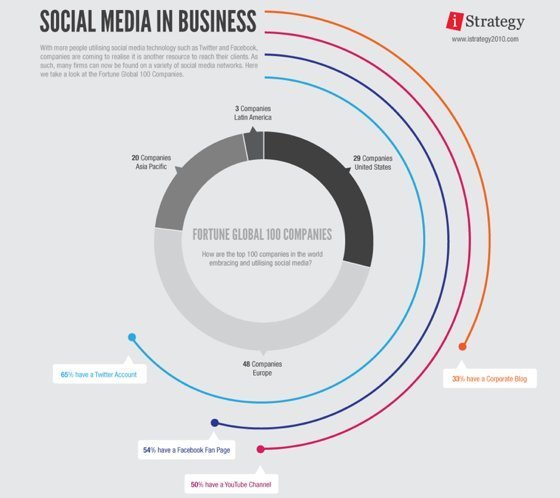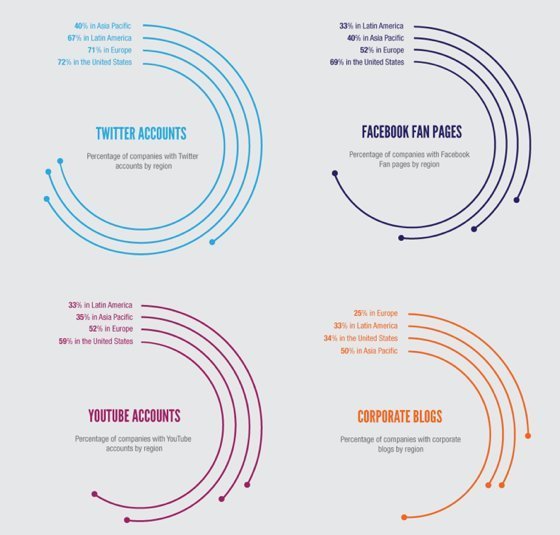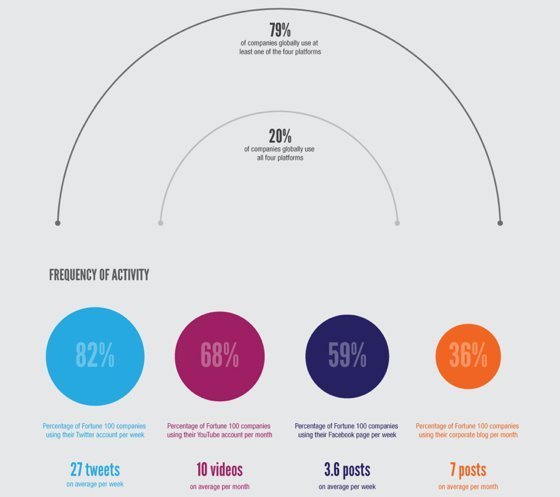 Are these social media stats better than you expected or are they a letdown? Tell us in the comments below.
Check out the top 50 most social media savvy companies here.
Calling all HuffPost superfans!
Sign up for membership to become a founding member and help shape HuffPost's next chapter