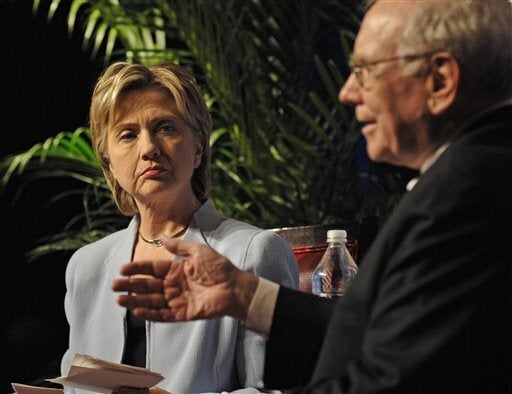 The following piece was produced by HuffPost's OffTheBus.
Within the elite group of 50, 17 CEO's have donated to a particular presidential candidate thus far; and while the corporate leaders are relatively split (8 gave strictly to Democrats while 7 gave strictly to Republicans), the Democrats are clearly winning the cash war. Democratic candidates have taken in $58,100 from the CEO's thus far, while Republicans have taken just $14,300.
Nearly all of the CEO's at the top of the Fortune 500 contribute to general company or privately organized political action committees. Research for this article focused solely on executives' personal political contributions.
The winner thus far? Senator Clinton has brought in the most cash from the CEO's to date with $18,400 in contributions. Senators Obama and Dodd trail closely at $14,800 and $13,800, respectively. In the Republican ring, ten CEO's contributed $7,700 to Senator McCain, $4,300 to Governor Romney and $3,300 to Rudy Giuliani.
The findings yet again seem to confirm that politics indeed makes strange bedfellows. Despite the reputed discomfort between Democrats and big business, the FEC data paints a vastly different picture of a dramatically changing political landscape. Clinton and Dodd each received $2,300 from Jeff Kindler, CEO of the pharmaceutical giant Pfizer. Even Jeff Rein of leading Republican supporter Walgreen Co. dished out for the Democratic senator from New York with $2,300. He gave Giuliani just $1,000. Donating to multiple Democratic candidates were multibillionaire Warren Buffett of Berkshire Hathaway and James Sinegal of Costco Wholesale. Collectively the two CEO's have contributed $29,500 to four Democratic candidates, including the former governor of Iowa, Tom Vilsack, who exited the race in February 2007.