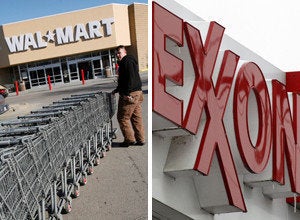 The going might be tough for America's citizens, but more and more evidence, most recently the newest Fortune 500 rankings, suggests the corporations are doing just fine.
On Thursday, Fortune released their list of the 500 U.S. companies with the highest gross revenue in 2010. According to the results, the top revenue-earning U.S. companies recorded the third-highest increase in combined profits since the list's invention. Big companies, many of which profited from a belt tightening in the form of job cuts and productivity increases, the AP notes, also continued to leave the U.S. behind, expanding more overseas than at home.
Walmart, despite declining sales, remains atop the Fortune 500 list, followed by three oil companies: Exxon Mobil, Chevron and ConocoPhillips, in that order. Also in the top 10 are two financial giants (Fannie Mae and Bank of America), two Detroit stalwart's (General Motors and Ford Motor), Warren Buffett's Berkshire Hathaway and energy company General Electric.
But while Walmart remains the highest revenue earner, it was far from the most profitable Fortune 500 company last year. On the strength of rising oil prices, Exxon Mobil, second to Walmart in total revenue, nonetheless recorded a net profit nearly double that of Walmart's, $30.5 billion to $16.4 billion, Fortune notes. Chevron, AT&T and JPMorgan Chase also had higher net profits than Walmart.
Within the top 10 revenue-earning U.S. companies, only Fannie Mae and Bank of America recorded a net loss last year. Fannie Mae, AP notes, jumped to 5th place from 81st in a single year.
Calling all HuffPost superfans!
Sign up for membership to become a founding member and help shape HuffPost's next chapter