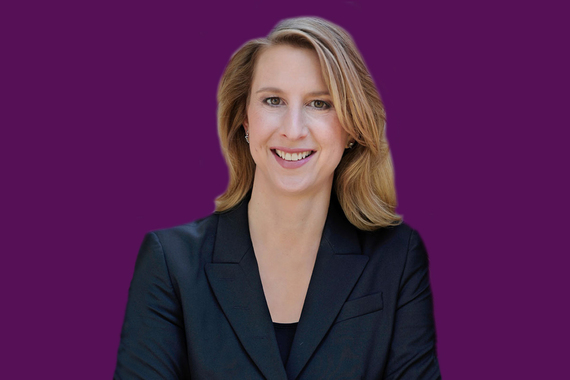 International Women's Day is a time to reflect upon what we can do to improve diversity in our companies. It's a time to contemplate what we can do to encourage employees to venture beyond the beaten path. Of course, a broader framework is required that gives people the opportunity to pursue goals and interests that might not be career-related at first glance. But individual action is necessary, too.
Fortuna favet fortibus: My story
Ordinary things bore me. At first sight, leading an orderly life and following a five-year plan might seem alluring, but in the long run I think it's a bleak perspective on life. That's why I have always tried to follow this principle: Fortuna favet fortibus, which means Fortune favors the bold. It's a Latin proverb that still holds true long after the Roman Empire has vanished. A modern interpretation comes from Sheryl Sandberg, who asked in her best-selling book Lean In "What would I do if I weren't afraid?"
While I don't want to promote anyone's publication here, it's a question I've asked myself multiple times in life. First, when I was in college and received a prize for the best chemistry degree in my class. My teachers expected me to pursue studies in this field, but much to their dismay, I opted for liberal arts instead, because it just tempted me more. It was a risk, for sure-with a master's degree in chemistry, I would have been on the safer side in terms of getting a job after my studies-but it was not what I truly wanted to do. So, with my liberal arts degree in my pocket, I went on the job hunt and did indeed receive attractive offers from multinational corporations. And then...I turned them down and instead decided for a small boutique consultancy in the UK.
My career path did lead me into the big corporate world in the end. In 2001 I joined Accenture, a global professional services company, where I have been working ever since. But even here, I try to go for the extraordinary as often as I can, for example by taking several weeks or even months off to work as a volunteer at a hospital, as an amateur researcher on a whale expedition boat in the Pacific (a true Moby Dick experience), or to become a certified safari guide in South Africa. The last one I did the same year I got promoted to senior manager. Everything is possible.
Lessons learned about breaking the mold
What all this has taught me is that there is no reason to be afraid of changes, of thinking outside of the box and of breaking gridlocked structures. You only stand to gain: new experiences, new people, and unexpected bits of knowledge that can come in handy in areas of your life you wouldn't have imagined. And more often than not, I have "leaned in" and was surprised at the support along the way. My company continues to do so until this day, and I am happy to do the same for my teams. Why? Because we know that people who look beyond their own nose are an invaluable asset, they are talents who need to be fostered.
A diverse and open-minded workforce is known to achieve better overall results. That is also the reason why none of us can risk having only one and the same type of person in management positions. Just think about it: If we notice that client meetings are held with no diversity in the room, then our clients notice it, too. And this is not only bad for business, it is bad for society in the long run.
In the course of my career, I have realized that a majority of us aren't even aware of the lack of diversity in large areas of the corporate world. Most of us start working directly out of university, at which point we are still surrounded by our peers, who usually form a group that is far from homogenous. We are used to receiving equal chances and treatment, but at one point or other, the infamous "glass ceiling" suddenly creeps upon us, hindering upward mobility for some-mainly for women and minorities. Those of us who for some reason pass beyond the glass ceiling might find themselves in the following situation: sitting in the office, looking around and only seeing white males. And then it hits you: Where have all the other bright minds gone who don't fit this pattern? How much talent are we losing along the way?
You will find-if you are willing to take risks and dive into new experiences-that there are supporters all around you. I believe that everyone is exceptional in their way, that everyone has unique skills and talents which, when nurtured, can have a huge impact. But in order to reach a truly diverse working world, all of us are required to take action. Fortuna favet fortibus.
Calling all HuffPost superfans!
Sign up for membership to become a founding member and help shape HuffPost's next chapter