LAGUNA BEACH - The top movers and shakers of the corporate sustainability world recently gathered at Fortune Brainstorm Green to examine, analyze and summarize the success of green B to B, and the simultaneous failure of green B to C commerce. At the end of an intense, informative and insightful three days, the clear verdict is in: sustainability is a viable and in many cases profitable part of B to B marketing. However, there is a question as to whether the green consumer market really existed in the first place, such is the perilous state of B to C green business.

I have attended this conference for three years running. Very noticeable this year was a higher proportion of large corporate CEOs and Presidents, not just Chief Sustainability Officers. And they did not speak and dash, they stayed for a couple of days and participated in other panels and presentations. Also noted was a much shorter list of startup CEOs and the VCs who funded them. Many of these guys have taken their hits and are either gone altogether or on life support, thus not as anxious to spend the $2,500 plus travel expenses required to attend.
I attended a number of sessions and conducted one-on-one interviews with several thought leaders to delve further into these issues. Here are some highlights: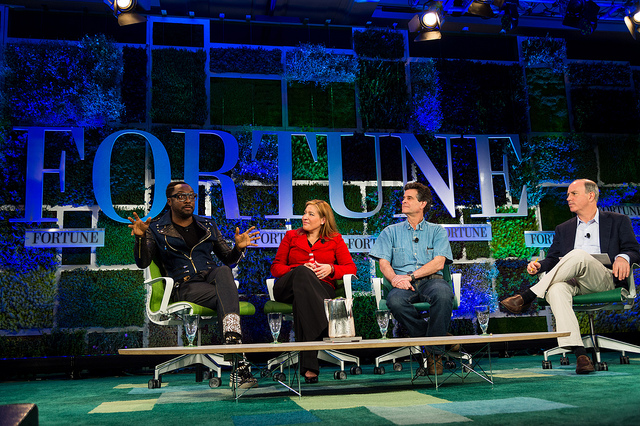 Not just CSOs - Fortune Brainstorm Green 2013 hosted diverse panelists, including musician and philanthropist will.i.am (Fortune Live Media, Flikr)
Panasonic is a glowing example of the above thesis on B to B vs. consumer green markets. This large Japanese company claims to be on track to become the electronic industry's greenest, and while we tend to think of them only as a consumer electronics company, a significant portion of their business is as a B to B supplier. Billing itself as "the green innovation company," Panasonic sells a growing volume of sustainable products to other companies, earning decent margins. Panasonic makes critical components such as lightweight in-seat airline entertainment systems, flat panel displays for a variety of applications, tapeless video production tools, avionics systems, even advanced lithium ion batteries used by Tesla for their electric cars. "Panasonic is the world's leading battery cell manufacturer," said Joe Taylor, CEO of Panasonic North America. "Less than 20 percent of our North American revenue is from consumer electronics. Many of our B to B products are not branded Panasonic, since they are sold as components to other customers."
Taylor gave a great example of why Panasonic has not aggressively tried to sell green products to consumers. "I was speaking to a business school class at a prestigious university. I asked the students if they would pay forty cents extra for a package of toilet paper. I asked them if they would pay extra for organic vs. conventional hamburger beef. Their answer was a resounding no on both counts. 'We're on student budgets,' they explained. 'We can't afford it.' I then countered with, 'So let me get this straight: you want us to invest millions to make our products green, but you are totally unwilling to spend even a few extra pennies to buy them?'"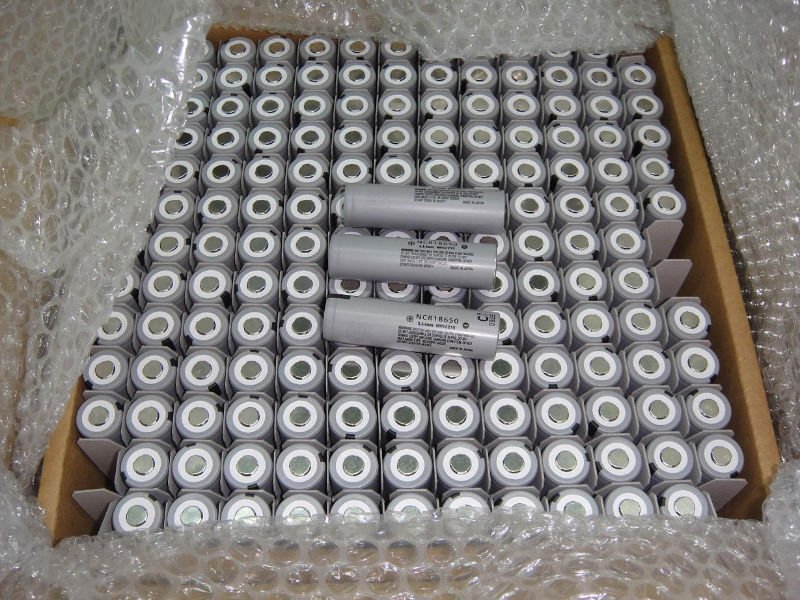 Panasonic battery cells - not branded, but everywhere (alibaba.com)

Keying on that thought, listen to Roz Brewer, President and CEO of Sam's Club: "Customers are asking about sourcing and organic goods. They are looking for sustainable packaging. But price is still a priority, as customers are managing very tight budgets." This was a recurring theme that has basically been the death knell for green B to C marketing. Consumers talk a good game, and are sympathetic to sustainable policies, but when it comes to voting with their wallets, they will buy the cheaper non-sustainable products most of the time.
One contrarian viewpoint in all this comes from The Nature Conservancy (TNC), the giant $1 billion conservation non-profit run by ex-Goldman Sachs partner Mark Tercek. TNC is actively moving toward a larger consumer voice and base of donors under the guidance of CMO Geof Rochester, who came over from World Wrestling Federation to promote TNC. "We have deep and wide corporate relationships, and are now seeking a broadened and expanded kind of consumer engagement," Rochester explained. He used the Susan G. Komen Foundation's efforts to fight breast cancer as a model of where he would like to go. "Think about an NFL team wearing green gloves on the field to make a statement about the environment," he said. "We would like to have 'All Hands on Earth' and we think of ourselves as 'Nature's Banker.'" And why not message environmentalism as consumer marketing companies would message their brands? It will be fascinating to check back with TNC a year and five years from now to see what traction they have gained, if any, with consumers using this strategy.

Another fascinating yet unusual participating organization was none other than the Philadelphia Eagles. "Our fans are here first and foremost to see an NFL football game. But as the owners, our primary concern is winning on the field and off the field," explained Christina Weiss Lurie, an owner of the team. "We were inspired to protect the earth by several factors, including the film 'An Inconvenient Truth,' wanting to leave a legacy for our children, and the idea of using sports as a catalyst for social change." The Eagles are green figuratively and literally; for example, back in 2003 Kimberly-Clark supplied paper products for the Eagles' stadium, Lincoln Financial Field. Lurie asked K-C to propose a post consumer recycled paper goods solution. This request was not sufficiently responded to. So, Lurie engaged SCA, a Swedish sustainable forest products company, to supply the post consumer recycled paper goods they were looking for. And how about this for sticking to your guns? "We then determined that all vendors should be using corn-based compostable cups, instead of those more common plastic ones," Lurie explained. "We simply didn't give our vendor, Aramark, a choice, so they made the switch." Impressive.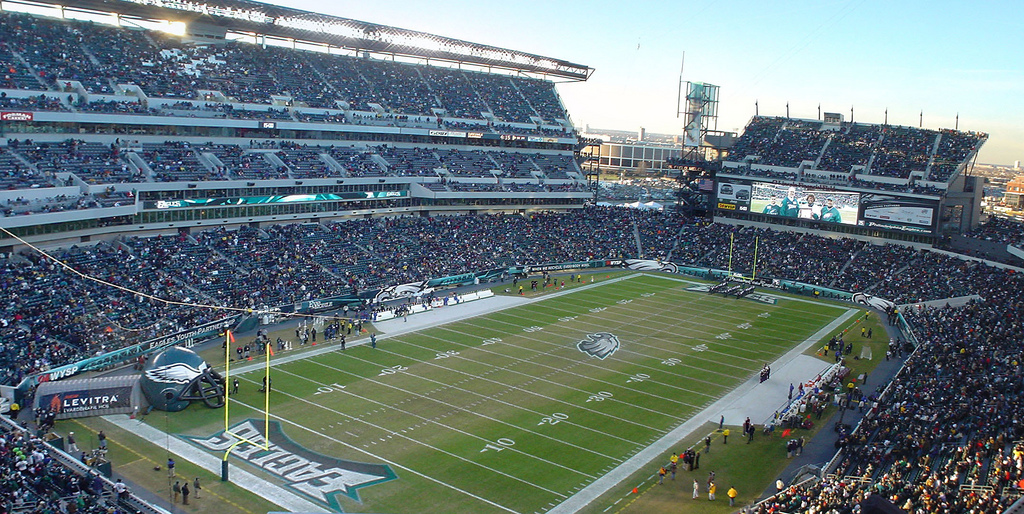 Lincoln Financial Field - home of the Eagles, a truly green team (seng1011, Flikr)
No waste goes to the landfill from the Lincoln Financial Field. Aramark recycles used cooking oil from the kitchens and concessions; then an oil recycling company processes the used oil and converts it into biodiesel fuel. The Eagles purchase this biodiesel to run various generators and other power sources. There is also an "Eagles Forest" where trees are grown to offset the team's carbon footprint including their air travel. They also built carports in the stadium parking lot in order to mount the more than 11,000 solar panels that generate four megawatts of power, about a third of the power needed to run the stadium for an entire year. The rest of the energy is purchased from additional clean sources like wind. Hey, maybe the Eagles should wear TNC's green gloves, what a natural fit that would be...?

And speaking of a natural fit, NIKE has a strong commitment to making its shoes more sustainable, according to NIKE Vice President of Sustainability and Innovation, Hannah Jones. "We have created a Footwear Sustainability Index to help designers work in real time to consider sustainable materials and processes," she explained. Jones reports directly to the CEO and supervises a staff of over 140, whose job it is not only to create sustainable solutions for footwear materials, but to innovate and devise new and better ways of building shoes from the ground up. Jones is also partially responsible for materials sourcing and factory and labor conditions at production facilities around the world. NIKE just hosted a two-day event for the State Department, NASA, USAID and NIKE designers to explore cutting edge sustainable materials. She cites an ancient African proverb to explain why NIKE chooses to partner with others to help with shoe design: "If you want to go fast, go alone. But if you want to go far, bring everyone with you." All this, but NIKE chooses not to promote sustainability to the consumer, thus no "green" shoes or sustainability advertising. Again, another example of corporate America functioning as a leader in sustainability policy and execution, but not advertising this at the consumer level.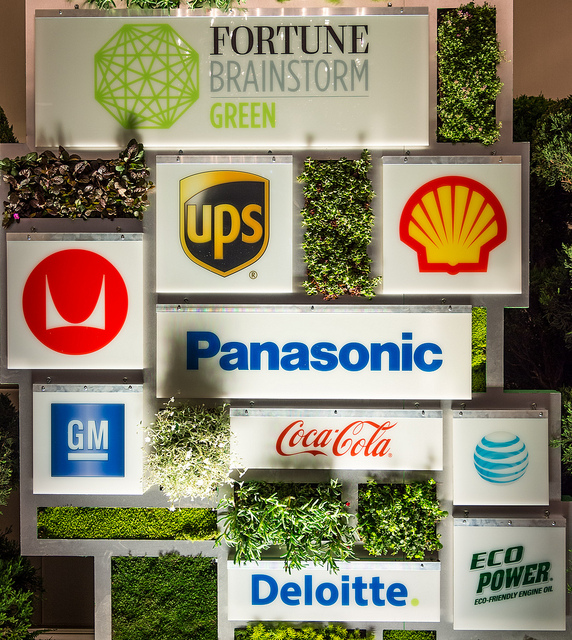 The players at Fortune Brainstorm Green 2013 (Fortune Live Media, Flikr)
A ubiquitous presence at any FORTUNE conference is the precocious, provocative and often brilliant editor/reporter, Adam Lashinsky. My favorite "Adam moment" at this year's event was when he point-blanked Patagonia and NIKE panelists, "While I am a customer and owner of your fleeces and shoes...wouldn't the world be better off (from a sustainability standpoint) if you did not make your products at all?" After a predictable pregnant pause, Patagonia VP of Environmental Initiatives Rick Ridgeway replied thoughtfully. "You might recall an ad we ran in The New York Times during 2011, which was headlined, 'Don't buy this jacket.' This was meant to start a conversation about consumerism and sustainability, and it did. Our founder, Yvon Chouinard, uses the brand and the company as a platform to discuss environmental stewardship."

Few companies will ever achieve the candor and insightfulness of that advertisement, or have the courage to do so. A breath of fresh air in this vein was a reply I received from Panasonic's Joe Taylor, when asked "if you had to look into a crystal ball, 15 to 20 years from now, do you think we will have cleaned up our environment in a meaningful way?" Taylor reflected on this, and concluded with some disappointment, "We have done a pretty good job so far of messing it up. I hope we can find a way to leave things better than we found them. Unfortunately, I am not optimistic about achieving this in our lifetime. We could do it, but we won't...we are lazy."
Calling all HuffPost superfans!
Sign up for membership to become a founding member and help shape HuffPost's next chapter