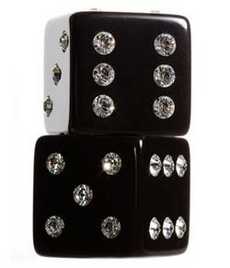 Last week I bought my eighth Mega Millions lottery ticket of the year. I'm not a gambler, but it's getting rough out there. And somehow the one dollar and 60 seconds of pride swallowing I invest weekly have become a minuscule price to pay for a shot at a financially worry-free existence. It seems I'm not alone in my new outlook.
A recent New York Times article detailed the record sales being experienced by many state lotteries around the country. And although the onetime immune casinos are starting to feel the recession's pinch, their online counterparts are raking it in. In spite of the current global financial crises, the world's gambling market is set to grow from $345 billion in 2007 to $433 billion by 2012 according to a new report published by Global Betting & Gaming Consultants (GBGC) entitled: "Change is in the Cards."
Looking around the world of aesthetics it seems the fashion and design houses are hopping on the Lady Luck bandwagon. From Hermès to Eames, Tiffany to Swarovski, symbols of chance are everywhere. Tiffany and Kate Spade have issued designer playing card decks. Brooks Brothers, Louis Vuitton, and Krug Champage have issued limited-edition poker sets (the latter comes with two bottles of the house's Tête de Cuvée and weighs in at a whopping $15,000.) And gold, crystal, and lucite dice have shown up in the Swarovski, Jack Spade, and Vuitton collections.
Whether or not diamond dice add insult to injury given what's happening around us is anyone's call. Yet somehow I can't help but feel optimistic that some day soon, mere mortals will once again have an extra hundred bucks to spend on some playing cards.
Below, (clockwise from top left) tools of the trade from Louis Vuitton, Swarovski, Ray and Charles Eames, Brooks Brothers, Krug, Kate Spade, Jack Spade, and Tiffany.