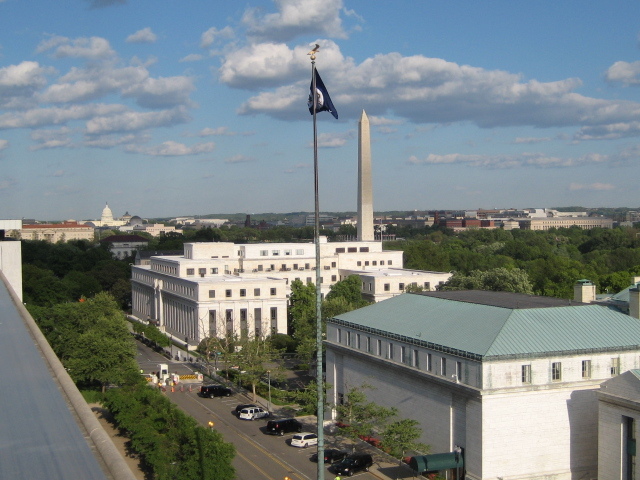 A very windy, chilly day in D.C. turned into an evening of women's celebration, which began on the terrace offering a spectacular view of Washington, with the Capitol in the one direction, the Air Force monument easily seen in the distance on a very crisp night.
When I was invited to the event, I wasn't sure what to expect or if there would be anything worth noting in a report. However, that changed very quickly, which is evidenced by my tweets during the festivities.
The young women bounded out on to the terrace as Frank Sinatra played, wine, water, soft drinks and hors devours were served, with excited conversation beginning the evening. Among those I met were Josephine Kairaba from Rwanda, Aicholpon Jorupbekova from Kyrgyz Republic, and Anna Grishchenkova of Russia who will spend her month in the United States being mentored by JP Morgan in New York City, later sitting next to Thailand's Sirinatda Panichapong, who handed several of us a pin with her country's flag melded to the U.S. flag, while inviting everyone to come visit her country, but please also call her to let her know we are coming. Every conversation charming and inspiring. The Hill has photos of many who attended.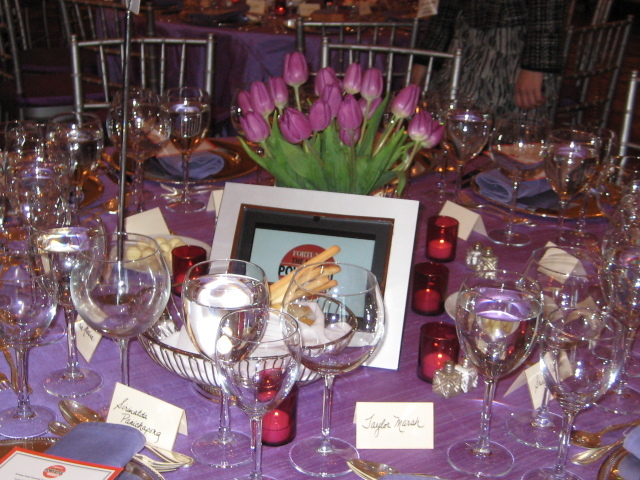 So, amidst the biodynamic wines from Quivira, Dry Creek Valley, Bergstrom, De Lancellotti Valley, Newburg; after the truffled goat cheese appetizer, the pesto crusted Halibut and creamed Yukon golds, and fresh berries with crème fraiche (though it was the ginger crisps that stole the dessert show), one thing stood out.
It was seeing my country through these young women's eyes. It quite simply blew me away.
The irony of 10,000 Women being one of the many sponsors didn't go unnoticed. This is Goldman Sachs' program, in association with education institutions from around the world, launched in 2008 under Lloyd Blankfein, to provide 10,000 "deserving" women from all over the globe with a business and management education. Considering the current firestorm surrounding Goldman Sachs, no one is going to sing their praises even on something as worthy as this program.
Economic politics wasn't in the room last night as economic justice took on a different look and meaning with the Fortune/State Dept. mentor program being celebrated, which started under Pres. George W. Bush and continues under Pres. Barack Obama. Melanne Verveer, Ambassador-at-Large Global Women's Issues, the first position of its kind, was there representing State.
The young women brought to the U.S. State Dept. to celebrate the program, but also their good fortune, represented Ghana, Jordan, South Africa, Pakistan, Argentina, Palestinian Territory (Gaza), Egypt, Nigeria, Russia, Kyrgyz Republic, Rwanda, Tanzania, Zimbabwe, India, Uganda, Brazil, Kenya, Thailand, Haiti, China, Afghanistan, Morocco.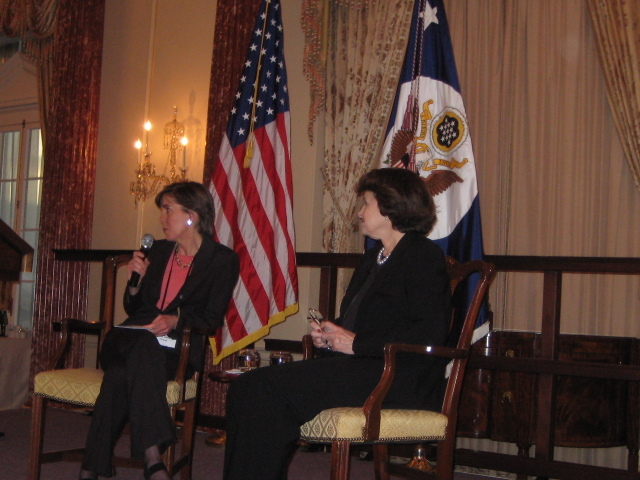 Senators Susan Collins and Diane Feinstein were also at the event, with Sen. Feinstein being interviewed about the importance of "paying it forward" to help young women. Feinstein saying that the key is to never give up. That failures will come, but you must just keep going.
Former mentee Rehmah Kasabe from Uganda closed the evening's remarks by simply saying, "Get rid of the dream takers, only have dream makers" around you.
What an evening it was. Highlighted by the beaming faces of these young women from around the world who are living their dream awake in the United States, compliments of the Fortune/State Dept. program that endeavors to make new entrepreneurs out of women from around the globe, along with some hefty lifting from U.S. corporations who make it all possible.
It hits on a constant theme in all the work and writing I do about women around the world. You simply cannot have stable, thriving and peaceful countries if half of the population is uneducated and untrained, either because of cultural prejudice, gender discrimination, or reality in a land of poverty.
Women can change the world, but only if we all pitch in to help.
Calling all HuffPost superfans!
Sign up for membership to become a founding member and help shape HuffPost's next chapter