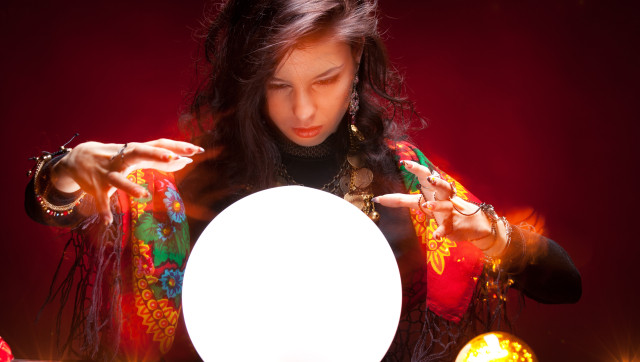 WASHINGTON -- Want to know the future? One Maryland town may soon have a lot of psychics opening shop.
Or one, anyway.
Gaithersburg, Md.'s mayor and council voted this week to overturn a law that outlawed accepting (or "demand[ing]") money "for forecasting or foretelling or for pretending to forecast or foretell the future by cards, palmreading or any other scheme, practice or device."
This change was prompted by another Maryland fortunetelling ban that, nearly three years ago, was struck down by Maryland courts. Maryland's Montgomery County was forced to give up its longstanding prohibition on for-profit fortunetelling when a self-described "gypsy" fortuneteller named Nick Nefedro successfully challenged the ban, arguing that it was violated his First Amendment rights and was steeped in discrimination against gypsies.
Indeed, while fortunetelling bans are frequently promoted as anti-fraud measures, they do intersect with other laws that are more explicitly linked to discrimination:
Ian Hancock, director of the Program of Romani Studies and the Romani Archives and Documentation Center at the University of Texas, points to a New Jersey law making it unlawful for any gypsies to settle without first obtaining a license to do so; a Pennsylvania statute allowing the department of health to kick gypsies out of the state; a Georgia statute imposing a $250 fee on gypsies who are engaged in trading or selling merchandise or livestock or the practice of fortune-telling, phrenology, or palmistry; and a Texas law charging gypsies $500 to live in the state.
A Gaithersberg spokesperson told The Huffington Post that one fortuneteller has, thus far, applied for a business license. It was applied for on Jan. 19, the spokesperson told HuffPost, and hasn't yet been granted.
More reading: No one -- not even fortunetellers themselves -- knows how many fortunetelling bans are now in effect. Law professor Christine Corcos, however, covers the frequent challenges to the bans on her Law and Magic Blog.
A 2010 Time magazine article examined jurisdictions' attempts to increasingly regulate fortunetellers -- and the psychics who favor measures like background checks and licensing requirements:
"I think it's wonderful," Julia Mary Cox, a Michigan psychic plying her craft near Warren, says of the town's new rules. "There are so many people practicing out there, doing it under false pretenses, giving honest people a bad name."
REAL LIFE. REAL NEWS. REAL VOICES.
Help us tell more of the stories that matter from voices that too often remain unheard.
BEFORE YOU GO
PHOTO GALLERY
Ancient Finds