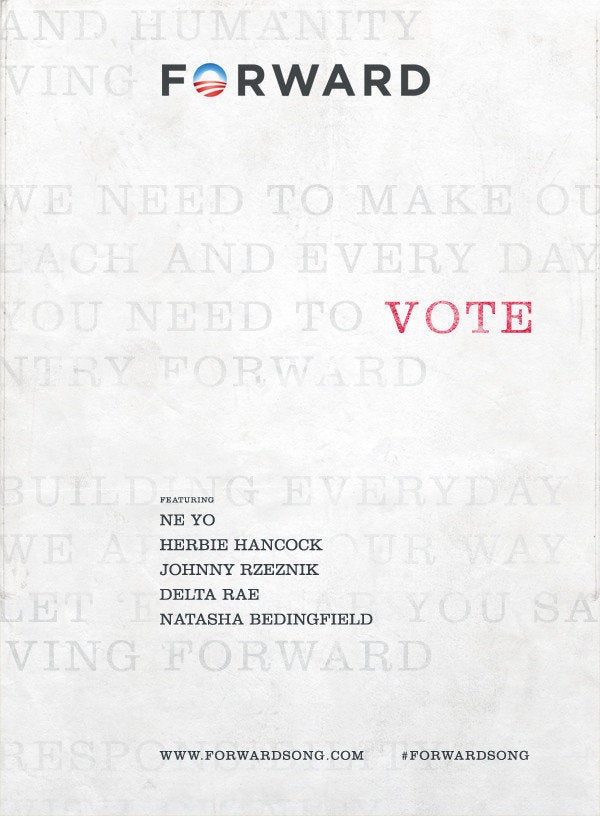 In 2004 when I was Chairman of Rock the Vote, I had the chance opportunity to meet and spend some quality time with then-Illinois State Senator Barack Obama, the day before he gave his now famous speech at the DNC in Boston. That meeting inspired me to do something I had never done before -- seriously support an individual political candidate.
When Barack decided to run for the presidency in 2007, I had the crazy idea that maybe the right song could get his message across and actually influence people to get involved. I observed that for some strange reason, music had never been effectively used as an emotional driver to engage and inspire people in politics. Sure, there were artists regularly performing at rallies and fundraisers, but were minds really being changed? Most of the people going to these events were either big music fans there for just the music, or they were already committed and didn't need to be persuaded. Yes, Bill Clinton had adopted the Fleetwood Mac song and its message, but it wasn't a song originally created for his campaign. Technology had also changed and what emerged was a viral and connected world, without distribution barriers. It was becoming much easier to get music in front of people from several different directions.
After months and months of false starts trying to get a song written with various artists and songwriters, and after a number of heart-to-heart conversations, I finally convinced my friend will.i.am to take a crack at writing something inspirational (and for the first time he seriously considered it only because I pointed out that Super Tuesday was then 10 days away and if Barack didn't make a good showing then, the game was over. It was a now or never moment).
To get Will in the spirit and give him some potential ideas and themes to ponder, I sat down at his computer at his home studio, linked to Barack's New Hampshire and Iowa speeches on YouTube, and left him alone to absorb and do his creative thing.
Several hours later, Will called to tell me he had "written a song to the speech." I wasn't quite sure what he meant since showing him the speeches was just supposed to be for his inspiration. He then played me a demo of the song over the phone -- and I was stunned and began tearing up. I suggested we quickly mobilize as many of our supporter talent friends as we could, record the song with them, film it and try to get it out virally before Super Tuesday.
Luckily, several key people jumped on board right away to help like director Jesse Dylan, producer Mike Jurkovac, and singers John Legend and Scarlett Johansson. And the following Friday night, after an incredible team effort and a lot of exhaustive guerilla marketing on my part, we released to the world what has now become the iconic "Yes We Can" music video.
Fast-forward four years to another presidential election and, not surprisingly, friends started asking me what I had in mind for the 2012 race. Frankly, trying to produce another song and video was not something I had ever seriously considered since last time we had created something unique and historical. And whatever we tried now would inevitably be compared to "Yes We Can" and the enormous impact it had had.
But I was getting really nervous about this election, sensing a palpable and growing discouragement and worrisome apathy among even previously strong supporters of the president. People were becoming disillusioned from the constant barrage of negativity and mudslinging, and the incredible enthusiasm of 2008 was dormant and diffused. The bar had been set so unrealistically and impossibly high, that there was an unfair focus on what hadn't been achieved by the president in his first term, rather than the significant gains that had been made in the face of unyielding obstinance from the right. It was also evident that the campaign slogan "Forward" was everywhere you turned, but I did not feel it was connecting with people on any visceral level.
As the race really began to tighten recently, I started to think that maybe it was worth chancing a try at moving the needle even a little bit again with the right music (as the old saying goes in the record business, "a hit song can cure cancer," which I certainly wish were actually true). Having two daughters in college, I feel the stakes in this election are just too high for them and their generation -- particularly with the right's clear mandate to roll back women's rights. That is just an unacceptable future.
So about two weeks ago, a song popped into my head in the middle of the night, and literally woke me up. I went downstairs, grabbed a pad and a pen, wrote down the lyrics to the chorus, and went over to my piano before I forgot the tune. Inspired by the genius of what will.i.am had done last time combining Obama's speech and music (but this time layering the speech into the song rather than writing the song around the speech), I re-watched the president's DNC speech on YouTube, got some more ideas for lyrics, and wrote down what I thought were the appropriate sections of his speech to incorporate.
The next morning, as a reality check I called some well-known hit songwriter friends who had also been very early supporters of the president, Danielle Brisebois and Gregg Alexander (they are also the band The New Radicals) to play my song idea over the phone. I was encouraged when they suggested I come over to Danielle's and her husband, Nick Lashley's, home studio later that day to try to flesh out a full song.
So that afternoon, Danielle, Nick, Gregg (via Skype from London) and I co-wrote and finished the song "Forward," and produced a demo recording. I then began reaching out to artists, and a few artist friends like R&B star Ne Yo, music legend Herbie Hancock, Johnny Rzeznik from The Goo Goo Dolls, the fantastic up-and-coming young band Delta Rae, and pop singer Natasha Bedingfield, all readily agreed to lend their amazing musical skills. We enlisted the help of Grammy winning record producer, John Shanks, to produce the track, and Graham Henman and his immensely talented team at Hello and Company dropped everything and pulled out all the stops to produce our beautiful and moving music video.
And somehow I am back here again, proud and honored to have worked the last two weeks with an incredibly passionate, motivated and inspired (but different) team in a completely grassroots effort where we had no time and only a little money, just our creative ingenuity, looking to again accomplish the impossible with art.
We hope that our anthem will quickly inject into the public consciousness some sorely missing positivity, optimism, and emotional resonance in the final days before the election. We hope that our message inspires people to get out of their complacency zones and actually go cast a vote (for the president that is). We hope that from here out, people will get a smile on their face, a tear in their eye, a spring in their step, and our little tune in their head whenever they see the word "forward."
But mostly, we hope the underlying theme of our song -- that we all need to move forward together -- resonates for all the people of this country during the next four years and beyond.
If what we've done touches and moves you, please help to quickly spread our song and video as far and wide as possible.
You never know, it might just make a difference.
Learn more about the song here.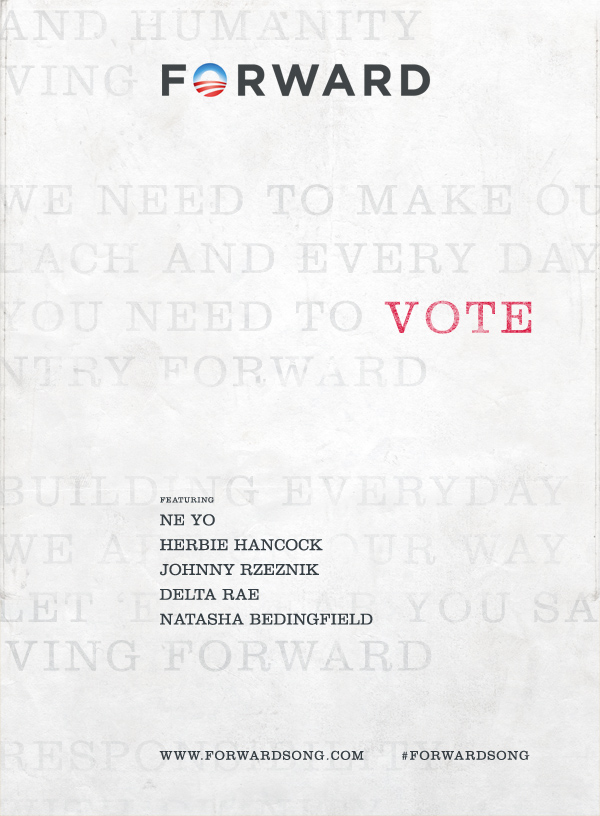 Support HuffPost
The Stakes Have Never Been Higher
Popular in the Community