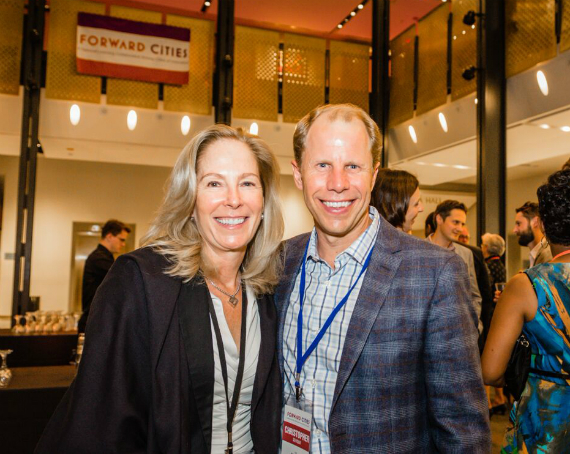 Christopher Gergen and Denise Byrne, photo courtesy of Forward Cities
It is said that Detroit reinvents itself every 100 years. Two hundred years ago it was the shipping industry and going into the 20 century it was automobiles. But now it is not one big idea but thousands of small ideas.
Like many cities in the process of a post-industrial transformation, Detroit is reinventing itself through the pioneering spirit of entrepreneurs and small business owners.
But as Detroit leaders develop a robust innovation ecosystem that can foster entrepreneurial growth, how can it also nurture a diverse array of entrepreneurs and create opportunities for inclusive innovation? And what opportunities are there to learn from others and find opportunities for collaboration?
Helping cities accelerate efforts towards inclusive innovation while strengthening opportunities for multi-city collaboration is at the heart of Forward Cities.
The first four participating Forward Cities are Detroit, Cleveland, New Orleans, and Durham.
Each of these cities is in the process of reinventing itself as a dynamic, high-growth entrepreneurial hub in the wake of economic collapse. Witnessing this transformation as one wanders through high-tech incubators, emerging food hubs and popular downtown lofts is electric.
At the same time, each city is also trying to figure out how these boom times can benefit parts of the city that are at risk of getting left behind -- specifically under-developed commercial corridors in poorer communities of color. In New Orleans, for instance, 60 percent of the city is African-American while only two percent of the business receipts are generated by African-American owned businesses.
In joining Forward Cities, each city has committed to addressing this challenge collectively. Within each community, an inclusive Innovation Council has been formed of community, business, policy and university leaders. Each council will focus on as many as three neighborhoods to support the growth of more locally- and minority-owned businesses. The councils are working with the Urban Institute and local data partners to map current conditions and track progress against a commonly agreed set of outcomes.
Members of each city's Innovation Council, along with national thought leaders and funders, meet four times over the course of two years to compare notes, share best practices and explore opportunities for collaboration.
The kick-off meeting took place in December in New Orleans, where city teams had a chance to tour distressed communities, visit with incubators such as Propeller, 4.0 Schools, and Idea Village, learn from investment funds focused on minority entrepreneurship such as PowerMoves NOLA, meet with Mayor Landrieu and city leaders about inclusive innovation strategies, and meet with one another to talk about current strategies and future goals.
From June 24-26 over 150 national funders, partners, local business and community leaders from the Forward Cities met in Detroit. Participants toured communities like Mexican Town and learned how Southwest Solutions has enhanced the community's main commercial thoroughfare through a combination of innovative public-private housing and business development investments and technical assistance services in partnership with organizations like ProsperUS Detroit. Tech Town shared how it leveraged its high-tech incubator in Mid-Town to provide business support and investment in seven surrounding, poorer neighborhoods. This includes a highly successful retail boot camp that connects emerging entrepreneurs with a network of mentors and investors, such as Detroit Economic Growth Corporation and the Detroit Micro Loan Collaborative through the Michigan Women's Foundation.
Additionally, panels of experts from across the four cities explored topics ranging from developing next generation entrepreneurs in our public schools to revitalizing communities through food enterprises to supporting the growth of women and immigrant entrepreneurs. Local Detroit entrepreneurs were also featured including Pashon Murray of Detroit Dirt, Gina Reichert of Power House Productions, Sebastian Jackson of Social Grooming Club and Andy Didorosi of the Detroit Bus Company.
For a recap video of the Detroit convening check out this link.
Accelerating innovation in our communities is hard, yet absolutely critical, work. For our cities to prosper, we need to foster strong collaborative partnerships within our communities and between cities.
Fortunately, there are many promising examples of efforts that are starting to work. Keep your eyes on Forward Cities to see how some important cities in our nation are helping shape what the future can look like.
Christopher Gergen and Denise Byrne are the co-founders of Forward Cities.