An estimated 40,000 people gathered in Washington, D.C. on Sunday for the Forward on Climate Rally on the National Mall. The rally preceded a march to the White House to urge President Barack Obama to take action against climate change and reject the Keystone XL pipeline.
350.org founder Bill McKibben said at the rally, according to a statement, "For 25 years our government has basically ignored the climate crisis: now people in large numbers are finally demanding they get to work." He added, "We shouldn't have to be here -- science should have decided our course long ago. But it takes a movement to stand up to all that money."
Sierra Club Executive Director Michael Brune, who was arrested last week protesting the Keystone XL pipeline in front of the White House, reiterated environmentalists' call for Obama and the State Department to reject the permit for TransCanada's international oil sands pipeline.
He said, "President Obama holds in his hand a pen and the power to deliver on his promise of hope for our children. Today, we are asking him to use that pen to to reject the Keystone XL tar sands pipeline, and ensure that this dirty, dangerous, export pipeline will never be built."
Along with denying the pipeline's permit, organizers 350.org, Sierra Club and the Hip-Hop Caucus hope to see the president work to limit U.S. greenhouse gas emissions and transition to renewable energy.
Actor and environmentalist Robert Redford previously wrote about the planned rally, "This is the beginning. The beginning of a real battle, for America's future." Redford echoed activists' call for Obama to take action. "President Barack Obama's legacy will rest squarely on his response, resolve, and leadership in solving the climate crisis."
Along with the rally in Washington, D.C., environmental groups planned simultaneous rallies in cities across the U.S. A rally in Los Angeles, California, organized by a coalition of over 90 groups, was expected to be the largest climate change rally ever staged in Los Angeles, according to an emailed Statement from the Sierra Club.
In his 2013 State of the Union Address, President Obama said, "We can choose to believe that Superstorm Sandy, and the most severe drought in decades, and the worst wildfires some states have ever seen were all just a freak coincidence. Or we can choose to believe in the overwhelming judgment of science -- and act before it's too late." While Obama's speech was marked by sweeping rhetoric, it included "little detail on how to tackle climate change and propel green energy," noted The Huffington Post's Lynne Peeples.
Related
Before You Go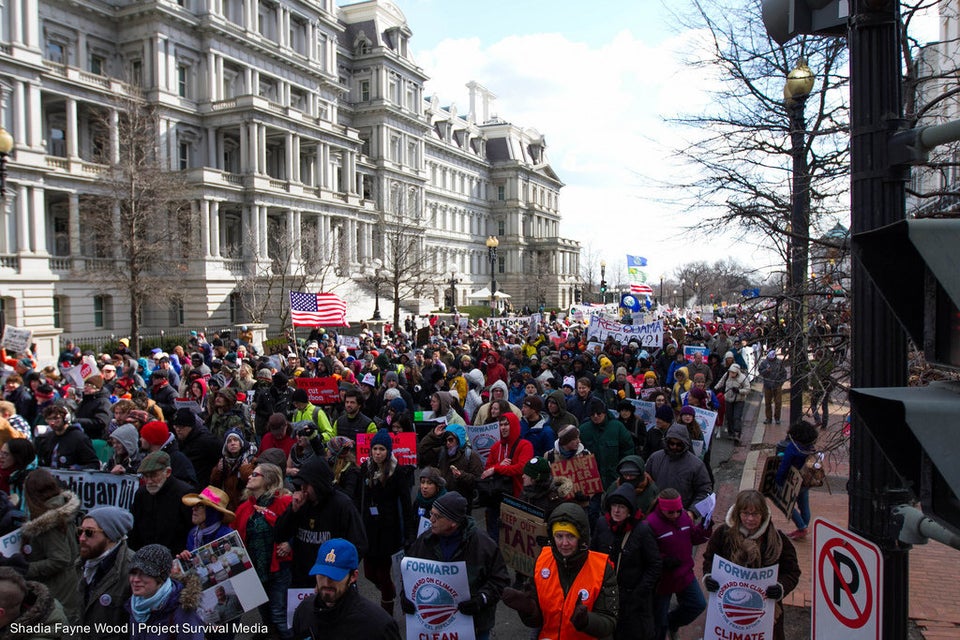 Feb. 17, 2013 'Forward On Climate' Rally
Popular in the Community