 Ok, this really is what democracy looks like. On Sunday, over 40,000 people poured into the streets of Washington, DC to protest the Keystone XL pipeline and push President Obama "Forward on Climate."
I'm sitting just a few blocks from the White House and marchers are still coming by me, flooding back onto the national mall for a closing concert, but one thing is already clear: there is no doubt anymore that there is a newly powerful climate movement in this country.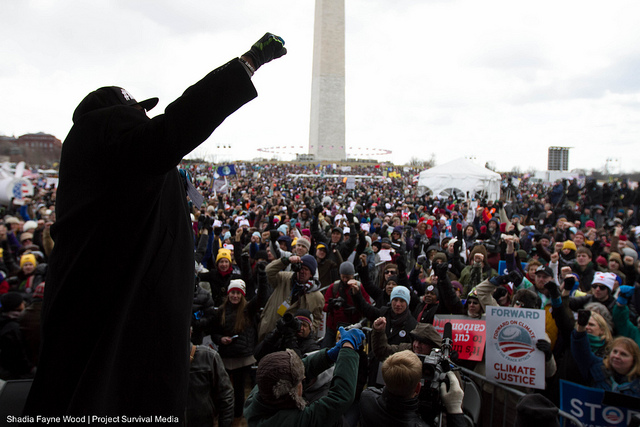 It's a movement that has united nearly every environmental group in the country, from grassroots coalitions like the Indigenous Environmental Network to big green groups like the Sierra Club to a new generation of upstarts like 350.org.
But it's also a movement that extends far beyond "traditional environmentalists" -- last Wednesday, civil rights leader Julian Bond, the president emeritus of the NAACP was arrested at the White House in a sit-in against Keystone XL. Today's march was led by Hilton Kelley, an environmental justice advocate from Port Arthur, Texas who won the Goldman Environmental Prize for his work fighting pollution in communities of color.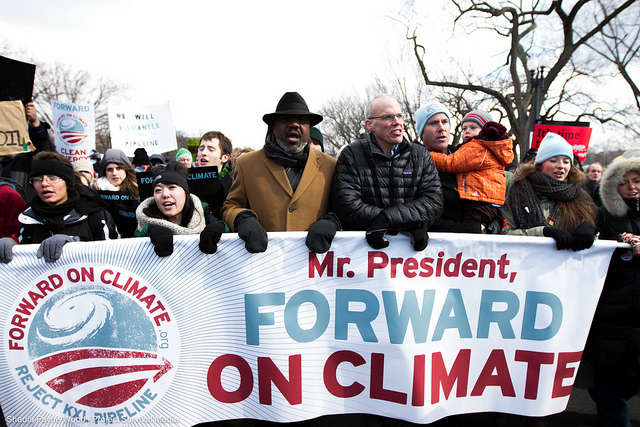 It's a movement that spans generations. I saw grandparents and toddlers marching together and chanted with thousands of college students, many of whom have taken up the fight for fossil fuel divestment on their campuses. This generation of young activists are a practical radicals, just as comfortable making a formal presentation to their board of trustees as they are occupying the streets of DC.
And this is movement that is ready to act boldly. From the Tar Sands blockaders in Texas to the tens of thousands marching through DC today, the environmental movement has clearly realized that to win true action on climate change, we can't just be working inside the halls of government, we need to be pushing from outside in. It was a big deal this week when the Sierra Club lifted its 120 year ban on civil disobedience and club executive director Mike Brune got arrested at the White House sit-in. Get ready for more brave demonstrations and actions in the future.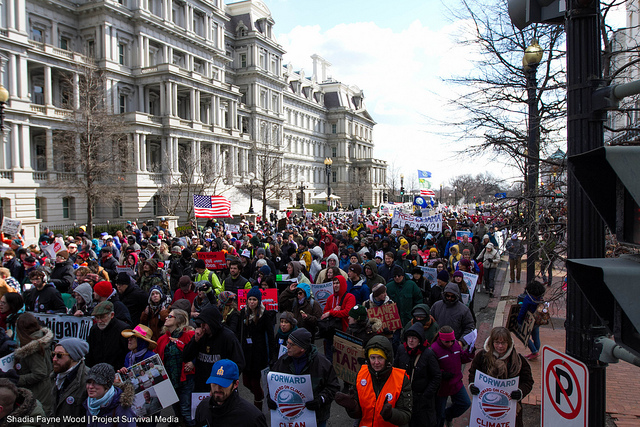 This fight against Keystone XL started with indigenous leaders who saw first hand the devastation of the tar sands in Canada. It spread to farmers and ranchers along the pipeline route, Nebraskans and Texans who are still fighting for their homes. At 350.org, we picked up the fight in August 2011, helping start Tar Sands Action, a campaign that coordinated the largest civil disobedience in 20 years at the White House (1,253 people were arrested over those two hot-weeks, turning Keystone XL into the highest profile environmental fight in the country). In November 2011, we were back to surround the White House with 15,000 people.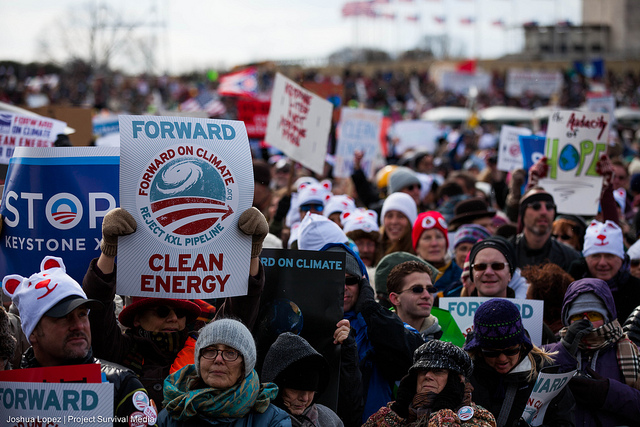 And now here we are again, twice as strong, twice as loud, and twice as convinced that this president can do the right thing and say no Keystone XL. For those of us who have known Bill McKibben for a long time, it was a touching moment to see him on stage today, surveying the massive crowd assembled on the mall and hear him say, "All I ever wanted was to see a movement to stop climate change. And here it is. You all look beautiful."
Related
Popular in the Community