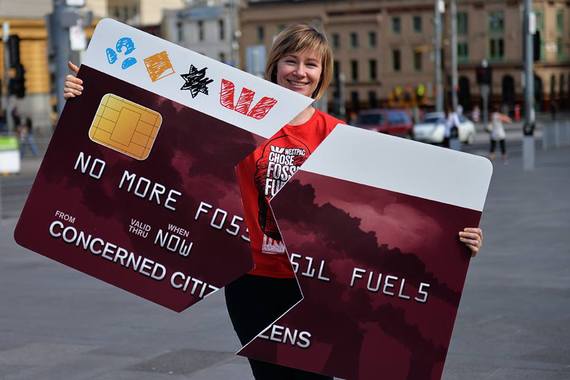 In their announcement on Wednesday, both countries made it clear that they are committed to "deep decarbonization" in line with the globally agreed upon goal of limiting global warming to below 2°C. In the short term, the U.S. is pledging to reduce its greenhouse gas emissions 26 to 28 percent below 2005 levels by 2025. China is committing to generate 20 percent of its electricity from non-fossil fuel sources and peak emissions by 2030.
In order to truly combat climate change, these pathways need to become much more ambitious, but even the current pace of reductions is completely incompatible with the fossil fuel industry's business plan. Right now, the fossil fuel industry is spending as much as a trillion dollars a year (that's not a typo) on capital expenditures, much of which goes towards further fossil fuel exploration and the development of new reserves. Meanwhile, the World Bank, International Energy Agency, Intergovernmental Panel on Climate Change, and many others have all concluded that upwards of 80 percent of fossil fuels will need to stay underground in order to keep global warming below 2°C. The two are simply incompatible, placing the fossil fuel industry plans for expansion and government plans for greenhouse gas reductions on a collision course.
Up until now, the fossil fuel industry has been counting on governments to blink. Earlier this year, when shareholders forced ExxonMobil to comment on how impending climate regulations might impact their profitability, the company responded by saying that they didn't think governments were actually serious about trying to meet the 2°C target. Think again. When the president of the United States is talking about "deep decarbonization," it's wildly reckless for these companies to be putting so much money into new tar sands mines and deep water drilling.
It's high carbon fuels like coal and tar sands which are going to be hardest hit by the shrinking carbon budget. According to calculations by analyst Michael Levi, a 26 percent emissions reduction in the energy sector alone would require cutting power plant coal use by roughly 75 percent in the next decade. Faced with elimination in the U.S., the industry has been counting on demand in China to keep it afloat. But today's announcement poked a big hole in that life raft. After years of off the chart air pollution and environmental devastation, the Chinese public is demanding that the country move beyond coal -- and the government is responding.
The U.S.-China announcement will continue to increase concerns about this carbon bubble resulting from the overvaluation of fossil fuel stocks. Up until now, oil prices, capital expenditure costs, alternative energy competition, and other market forces seemed more likely than government regulation to lead to a rapid devaluation of fossil fuels and pop the bubble. Now that governments are stepping in, the situation for the fossil fuel sector is becoming all the more precarious -- and a pop, all the more likely.
Along with strengthening the financial case for divestment, the recent announcement sharpens moral contours of this fight. In a blog post, White House officials John Podesta and John Holdren wrote, "President Obama believes we have a moral obligation to take action on climate change, and that we cannot leave our children a planet beyond their capacity to repair."
That moral obligation should be even clearer for institutions like universities who are set up to educate and act in the interest of future generations. Investing in companies who are dedicated to breaking the planet far beyond anybody's "capacity to repair" is not just foolhardy -- it's profoundly wrong.
No one strategy can combat climate change and divestment is no exception. But as the U.S. and China just demonstrated, the possibility of failure isn't an excuse for inaction. Universities, cities and religious institutions have an obligation to do their part in this growing effort. Divestment is the perfect place to start. The case for going fossil free is getting stronger everyday.
REAL LIFE. REAL NEWS. REAL VOICES.
Help us tell more of the stories that matter from voices that too often remain unheard.