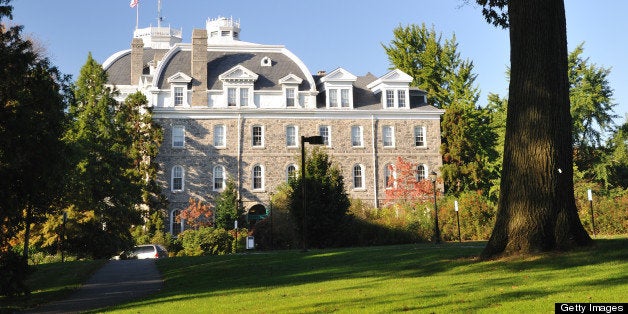 A group of Swarthmore College students wants action.
They're willing to interrupt meetings. They're willing to piss off their peers. And, in some cases, they're willing to go to jail.
That was the guiding thought behind a protest earlier this month, in which students commandeered a Group of Managers meeting, a move that led the right-leaning National Review to declare "Swarthmore Spinning Out Of Control."
The demonstrators were organized by Mountain Justice, an advocacy group campaigning for Swarthmore to divest from companies that produce fossil fuels. But the students interrupting the meeting also included those roiled from recent campus controversies surrounding sexual assault and urination outside the school's Intercultural Center.
After several meetings with the administration, Swarthmore agreed to hold an open meeting in which its Board of Managers would present on divestment. Because the other campus controversies also left students feeling uneasy about the administration's responsiveness, Mountain Justice decided to change the format entirely.
A large group of students walked into the meeting with signs. They clapped, chanted, and grabbed the microphone. Students then lined up at the microphone to question the managers.
Kate Aronoff, a student who works with Mountain Justice, said the group saw their actions as a way to "open up the space" and change the format of the meeting into a way for the board "to be accountable" to students. "This idea that we have the luxury to sit back and have long, drawn-out conversations is false to me. We want to start getting these changes made," she said.
But the group's actions and impatient attitude didn't sit so well with other students. A video of the meeting shows Danielle Charette and Preston Cooper, members of the Student Conservative Society, contesting the interruption -- before being shouted and clapped down.
"The way that the meeting was overthrown was disrespectful and hypocritical in the way that they silenced anyone with a dissenting opinion," Cooper said in an interview. "It took a little while to get my head screwed on again."
Aronoff, on the other hand, claims students "were able to voice their concerns" during the meeting, and that anyone could line up to grab the microphone.
The protest didn't exactly surprise Rebecca Chopp, Swarthmore's president. "College campuses have long histories, not just Swarthmore, of robust civic discourse. We want our students to be engaged," she told The Huffington Post. "The board has a firm policy of not trying to shout down students. So long as it's fairly orderly -- and this one was fairly orderly -- we know that it's just one point."
The movement to divest from fossil fuels is lighting up college campuses across the country, as The New York Times has reported. According to Bill McKibben, a prominent environmentalist whose organization has spawned many divestment campaigns, most universities invest in companies that produce materials that are harmful to the environment. While McKibben was not personally involved in Mountain Justice's protest, "I think they're doing a great job -- and shame on Swarthmore, with its long Quaker tradition, for not having divested ages ago," he told HuffPost in an email.
McKibben has said that some students will need to go to jail for the cause. It's a risk Mountain Justice takes into consideration when it plans its protests, Swarthmore Gazette Editorial Editor Aaron Dockser told HuffPost. ("I doubt many students will be imprisoned," McKibben told HuffPost.)
The research on the financial effects of divestment isn't definitive, since other entities can pick up stocks of targeted companies. "You don't bankrupt companies, but you do place them under extreme pressure, and eventually it tells," McKibben said.
Harvard students have also been pushing divestment, but Harvard's divestment protests haven't escalated to the same level as Swarthmore's, said Hannah Borowsky, a Harvard student involved with divestment efforts. "We're still in dialogue with the administration," she said.
A few weeks ago, Borowsky's group held a rally, and an administrator walked outside to accept a copy of a divestment petition. "Our campaign hasn't escalated to that [Swarthmore's] level yet -- that doesn't mean that it wouldn't ever," she said.
Calling all HuffPost superfans!
Sign up for membership to become a founding member and help shape HuffPost's next chapter