You might think you love dinosaur poop, but there's nobody more excited about jurassic fecal matter than auctioneer I.M. Chait.
OK, the company might just be excited that they have six fossilized specimens that will go for $4,000-to-10,000 when they hit the auction block July 26, but just look at the descriptions they gave us for these photos. They're a labor of love, like a vintner describing the steak au jus to be paired with a vintage cabernet:
COLLECTION OF 5 COPROLITES
Estimate at auction: $4,000-6,000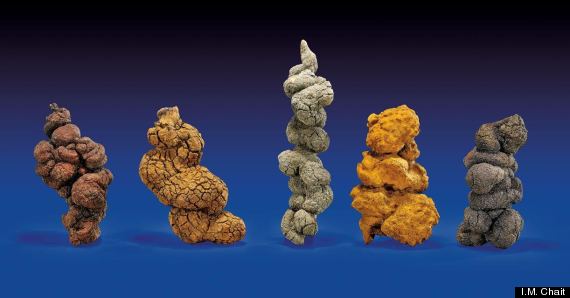 Although it is often impossible to tell which species produced these fascinating petrified feces, it is supposed that the fine examples found in a small area of Washington State are from a Miocene turtle. It is also suggested that rather than being coprolites, they are in fact cololites, internal casts of the intestine. What is undeniable is their evocative and varied form, superbly demonstrated in this collection of five different examples, two of finely textured botryoidal form, one in rich rusty red, the other a dark purple-brown, attractively speckled in white; one from a creature apparently in need of a more fibrous diet, of unusually soft definition in warm orange-ochre; and two with deeply cracked surfaces exactly like dried excrement, in green-gray and burnt umber, 4 to 6 inches long.
ENORMOUS AND RARE COPROLITE
Estimate at auction: $8,000-10,000

This truly spectacular specimen is possibly the longest example of coprolite - fossilized dinosaur feces - ever to be offered at auction. It boasts a wonderfully even, pale brown-yellow coloring and terrifically detailed texture to the heavily botryoidal surface across the whole of its immense length. The passer of this remarkable object is unknown, but it is nonetheless a highly evocative specimen of unprecedented size, presented in four sections, each with a heavy black marble custom base, an eye-watering 40 inches in length overall.
UNPRECEDENTED, 40-INCH DINOSAUR FECES WITH A BLACK MARBLE CUSTOM BASE. SHUT UP AND TAKE MY MONEY.
REAL LIFE. REAL NEWS. REAL VOICES.
Help us tell more of the stories that matter from voices that too often remain unheard.