A cache of what is believed to be one of the world's richest collections of Triassic-era fossils has been discovered on national land in Utah where Donald Trump recently eliminated protections to open up the wilderness area to mining.
Researchers, led by paleontologist Rob Gay of the Colorado Canyons Association, unearthed intact remains of phytosaurs — ancient crocodile-like animals — in federal land in what was formerly part of the Bears Ears National Monument.
Trump reduced the 1.35 million-acre national monument by 85 percent in December. The Grand Staircase-Escalante National Monument, also in Utah, was cut by some 800,000 acres. This month, the president opened up the land to new drilling and mining claims.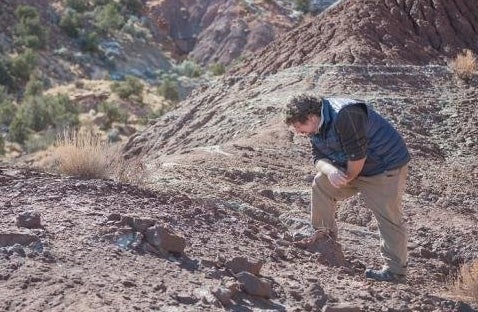 Three intact long-snouted phytosaur skulls were found. The phytosaur, a late-Triassic reptile that resembled crocodiles in appearance, developed after the first mass extinction that killed 95 percent of the species on Earth. The creatures existed from 251 million to 199 million years ago.
Despite the excitement about the find, there is still an "incredible amount of work yet to be done," conference coordinator and paleontologist Tracy Thomson, said. "We hope that paleontological sites like this one will get the protection they need before more of our prehistoric past is forever lost to looting or irreplaceably damaged by mining in the region."
Scott Miller of the Wilderness Society said in a statement that protecting such resources was the "very purpose of the Bears Ears National Monument. That president Trump acted to revoke protections for these lands is outrageous, and that he did so despite the Department of the Interior knowing of this amazing discovery is even more shocking. I hope the courts will act quickly to restore protections for Bears Ears before any more fossils are looted from the area and lost to science."
The fossil bed of the specimens is part of the Chinle Formation. It runs through the center of the monument that former President Barack Obama designated in 2016. But that sedimentary rock also contains uranium appealing to mining companies.
Looting of fossil sites could also become a renewed issue. A portion of skull from the Bears Ears site had been removed by an unlicensed collector, who eventually turned in his find to an office of the Bureau of Land Management, before the national monument was created.
"Some people think that the natural resources of Utah should be controlled by a small handful of very distant bureaucrats located in Washington," Trump said when announcing the elimination of protections for the area at Utah's state Capitol. "And guess what. They're wrong. Together we will usher in a bright new future of wonder and wealth."
Gay wrote in a blog post after Trump's announcement: "We all knew something like this was coming. We hoped for an asteroid or an outbreak of common sense, but neither happened."
Support HuffPost
The Stakes Have Never Been Higher
Related
Popular in the Community