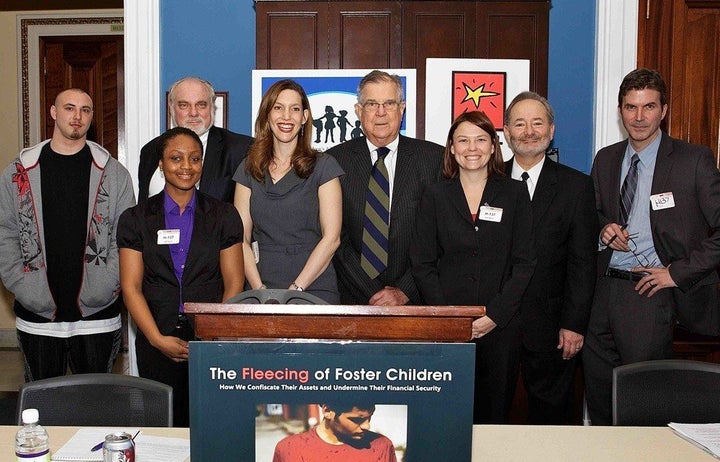 A Bay Area Congressman tackles the controversial confiscation of foster children's Social Security survivor and disability benefits.
Child welfare administrations across the country systematically confiscate Social Security survivor and disability benefits from foster children, according to a report released by the Children's Advocacy Institute (CAI) at the University of San Diego and First Star last week.
To combat this practice, Rep. Fortney "Pete" Stark (D-Fremont) pledged to re-introduce the Foster Children Self-Support Act, which he discussed at a press briefing at the nation's Capitol alongside advocates and foster youth.
"This is their money," he told a crowded room interspersed with former foster youth from both coasts. "And they should have this nest egg."
But for foster children, getting their hands on that nest egg rarely happens. Social Security's Old-Age, Survivors and Disability Insurance program (OASDI) provides financial aid for elderly and disabled workers along with their survivors and dependents. In addition, Supplemental Security Income (SSI) provides income to people unable to work because of age, blindness or disability and applies to children under 18 if a physical disability impairs their ability to function.
Both streams of federal money are intended to provide case-specific assistance for people in need. This is easy enough with adults, who can receive the funds directly from the federal government. But when it comes to children, things become more complicated; when it comes to foster children, complication leads to practices incongruous with the best interests of individual children in need.
Before the press briefing started, a large, muscular young man named Alex Myers stood by the door next to his attorney, Dan Hatcher. Myers, now 23, entered foster care when he was 12. Two years later his father died, and since he had paid into Social Security, the younger Myers was entitled to survivor benefits.
"I didn't find out about the money till Dan [Myers' attorney] told me," he said. That was when he was 18, after Hatcher's lawsuit alleged Baltimore County Social Services had collected $11,500 in benefits.
The money was used, rightly, to pay for Myers' care in the system, according to the county. Associated Press reporter David Crary offered a cogent summary of the dispute in a story that ran the day of the report's release. In it, county officials point to a 2003 Supreme Court ruling that asserts the child welfare administration's right to use the money for the best interest of the child, even if that is simply to pay for his or her care.
And this is where the moral debate, one that must be contextualized by the continued under-resourcing of child welfare administrations from the San Francisco Bay to Baltimore, truly begins.
For foster children like Myers, access to OASDI and SSI benefits can be a critical boon. But according to the report, state administrations redirect $150 million a year in such benefits to pay for the routine administration of foster care: shelter, food and other necessities. As the payee, foster care administrations can collect the money, and, according to the 2003 Supreme Court ruling I referenced earlier, that money can be used to pay for foster care. So this is not a clear-cut case of unlawful theft; rather, it's a moral question with a clear answer.
Our public child welfare system exists and is obligated to care for those children who have experienced such severe abuse and neglect that they had to be removed from their parents' custody. These children are entitled to -- have a right to -- the system's care regardless of whether or not they are entitled to any other support from any other administration.
So, in very real terms, foster care administrations can and do systematically confiscate money intended to support the best interests of individual children to pay for the general costs of foster care that they are required to provide anyway. It is hard to argue that such a practice serves the best interest of the children who are entitled to those benefits.
But instead of wagging an indiscriminate finger at the bad intentions of child welfare administrations, we must take pause and acknowledge that across the country, social workers and administrators are grappling with some of the most critical situations cataloged in the human experience: the abuse and -- sometimes fatal -- neglect of children. These needs require much vaster resources than are currently provided. In such an environment, one which the general public has helped create by not crying out to better support the system, it should be little surprise that such morally discordant practice would be employed in an effort to support the system as a whole.
The chain of responsibility for children in the foster care system culminates with us, and by virtue of our Democratic process, those who represent us.
Rep. Stark's Foster Children Self-Support Act would ensure that all foster children are screened for Social Security eligibility; that a child's attorney or guardian ad litem is notified of eligibility or receipt of benefits; and that individual accounts are created for eligible children to be dispersed when they age out of care along with other key mandates.
It is in these moments, when the best interest of children is pitted against the best interest of the system, that legislative reform supported by public will has power to speak for children who cannot do so for themselves.
REAL LIFE. REAL NEWS. REAL VOICES.
Help us tell more of the stories that matter from voices that too often remain unheard.