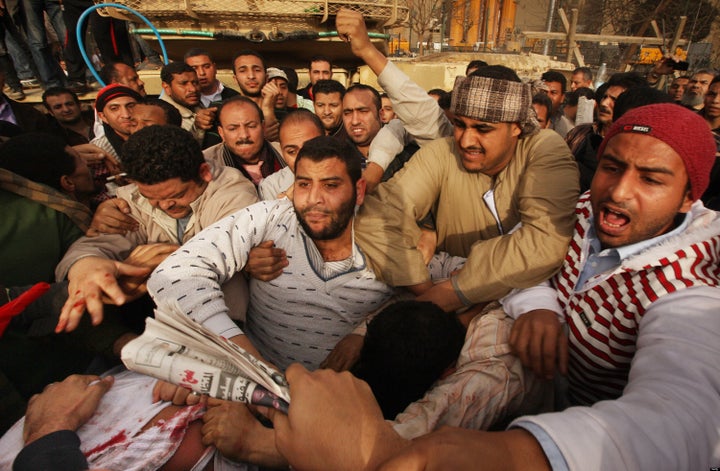 It is now one year after the Arab Spring overturned the Middle East, opening channels for democracy in a once-solid map of autocracy. A region thought to be immune to democracy was transformed within the span of months, buoyed by a young population no longer willing to wait for change. In order for this nascent democracy to fully take root and flourish in the Middle East, popular calls for dignity must be answered with an expansion of opportunities for high-value employment. After the immediate crises abate, how will new governments ensure that they can provide their people with economic opportunity?
Protests around the region have been and continue to be fueled by young people who have no jobs or income. Unemployment, which officially hovers around 10 percent regionally, is greater in the Arab world than in any other region. Arab youth are twice as likely as their counterparts in other regions to suffer from unemployment. With roughly 100 million Arabs about to reach employment age, their economies must create tens of millions of jobs over the next 10 years just to maintain the current unemployment rate -- a rate that this year was high enough to spark regional revolt.
In grappling with the question of persistent unemployment, an Egyptian financier recently argued that the root of the problem in the Arab world lies not in a lack of resources or wealth, but rather a lack of deal flow, a term that in financing describes the rate of opportunities for investment. Indeed, despite the economic dislocation associated with political unrest, there is no shortage of wealth in the Arab world today. Many countries in the region sit atop vast fields of oil. Others boast beaches and historical relics capable of attracting tourists the world over. Most importantly, Arab countries have approached a demographic sweet spot in which the average Arab, with a median age in the 20s, is ready to produce.
And yet, despite these endowments, Arab private sectors have remained lethargic. A large part of the reason lies in a business environment that has restricted rather than facilitated business. Objective indictors from the World Bank and World Economic Forum consistently rank Arab countries near the bottom of the list for the health of their business environments. For the justice that the Middle East wants to arrive, entrepreneurship must be at the center of plans to bolster and remake economies around the region. As we have seen throughout the world, entrepreneurship is the great generator of jobs, which in turn creates income and wealth for individuals and families. It is a key to reinvigorating stagnant economies and transforming business sectors into true engines of growth. But what happens when the rules are rigged and existing institutions favor the already enriched?
Beyond the indicators, the business environment has long made starting a business in the Middle East an extraordinarily risky proposition. In many countries in the region, entering the formal economy requires a prohibitive amount of time and capital. According to a study by Hernando de Soto's Institute for Democracy and Liberty (ILD), Mohamed Bouazizi, the Tunisian fruit vendor whose self-immolation sparked the Arab Spring, would have needed to raise 12 times his monthly net income in capital and complete 142 days worth of administrative steps to register his business and join the formal economy. The authors of a recent Economist article estimate that starting up a firm in Syria or Yemen would require 20 times the average annual income. As much as half of the region's entrepreneurs remain in the informal sector, a position that leaves them vulnerable and prone to failure. Some civil society organizations have been filling the gaps; for example, CIPE partner in Egypt, the Federation of Economic Development Associations, has been addressing the plight of street vendors as early as 2008, long before the Arab Spring drew world attention to the issue. But governments need to do more.
In order to meet this daunting challenge, Arab countries must actively work to foster an inclusive culture of entrepreneurship. Only by encouraging those with potentially marketable ideas to start businesses and those with capital to finance them can the Arab world create the jobs needed to meet the demand for dignity. Doing so will require a revision of the rules of the game that have long set up a business climate that makes both starting a business and financing one extremely risky. Historically excluded groups, like women and youth, must be encouraged to use their ideas and abilities. Schools and universities must equip students with the skill sets required of successful business owners and employers. Companies must insist on internationally-recognized codes of corporate governance that will help them reach new markets and encourage investors from beyond the region. Governments must agree to focus on reducing opportunities for corruption, and on punishing those who actively engage in it.
Governments in the region can immediately look at three distinct areas for reform: improving public-private dialogue, lowering the barriers to business and combating corruption. Members of the private sector must be encouraged to participate in the process of reform in order to turn the business environment into one that encourages entrepreneurs and financiers alike. By including small and medium-sized business owners and members of the informal sector in the conversation, public-private dialogue can become a critical component in developing participatory democracy. Regulatory reform, too, will be most likely to meet the goal of supporting entrepreneurs if it incorporates the voices of businesspeople who best understand the regulatory environment and its effect on business. Likewise, an anti-corruption campaign will be most likely to succeed if it includes the participation of those who have most often been solicited for bribes.
The Arab world does not lack the wealth needed to transform its societies into incubators for dignified participation and employment. Instead, it needs the public-private dialogue that will expand opportunities for participation in policymaking and the institutional reform that will facilitate deals and empower a generation of Arab entrepreneurs.
Abdulwahab Alkebsi, Regional Director for the Middle East and Africa at the Center for International Private Enterprise, contributed to this article.
REAL LIFE. REAL NEWS. REAL VOICES.
Help us tell more of the stories that matter from voices that too often remain unheard.