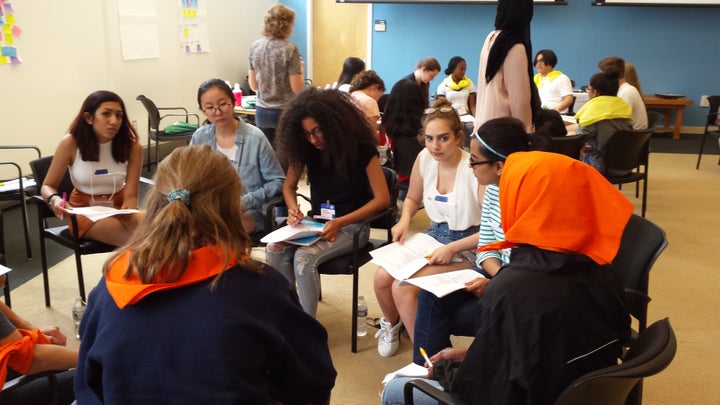 Much has been reported about the international crisis of forced migration around the globe. The United Nations estimates that there are more than 65 million displaced people, the largest number ever. Individuals and families are fleeing a host of dire conditions, including war, famine, and pandemics. Today, the largest numbers of displaced people are from Syria, Afghanistan, and Somalia. Some cross international borders and are thus classified as refugees, while others stay in their country of origin and are referred to as internally displaced persons. In both cases, those displaced often find themselves in camps the size of large cities. The Dadaab Refugee Camp in Kenya is home to nearly 300,000 refugees, mostly from Somalia. The front line personnel serving these people work for international aid organizations.
The news is awash with stories of the political and social ramifications of forced migration. A particular focus has been Europe, the destination for the bulk of refugees. In the U.S., the Trump administration has capped the number of refugees coming into this country at 50,000 this year, down from 110,000 during the last year of the Obama presidency. We are now all too familiar with the harrowing journey that Syrians face. But reporting in and of itself doesn't necessarily lead to more willingness by Americans to support refugee needs. Daily we hear news of how local communities respond to refugees: some are positive stories of integration, but the stories of conflict and resentment by local communities tend to make the front pages.
My work at the Forage Center for Peacebuilding and Humanitarian Education focuses on providing opportunities for graduate students and professionals to build the skills they will need to work in complex emergencies that are characterized by war and natural disasters, like hurricanes and earthquakes. Recently, we have focused on the plight of refugees and how we can improve the ways in which aid workers serve their immediate and longer term needs. As our world becomes more impacted not only by conflict, but by natural disasters that cause environments to be uninhabitable (consider the potential impact of climate change), our most urgent task is to prepare professionals for the work to come. And this includes youth.
Recently, I was invited to participate in a program for high school youth at George Mason University in Fairfax, VA, sponsored by the School for Conflict Analysis and Resolution, where I teach part-time. Never has there been more focus on career awareness in secondary education. High school graduates entering the workforce or off to college are expected to have well developed ideas of what they wish to pursue as a career. Some might believe this unrealistic (I do), but it is the reality today. Likewise, because our society is constantly changing demographically, young people need to build skills and awareness - including empathy and listening skills - that will assist them in working with others. A recent Washington Post article referred to a study that found that only when individuals imagine themselves as refugees do they become interested in taking supportive action. As such, for us to ensure that we have professionals tomorrow to respond to refugee needs, getting youth today to step into the shoes of those on the move is important.
I knew that I needed to place these students, even if only for a short period of time, in an environment where they would not only work to support refugees as aid workers, but also act as refugees themselves. For my activity - a simulation - I divided the class into two groups: aid workers and refugees. The aid workers were responsible for meeting with groups and families from Syria to obtain basic information from them such as their health conditions, experiences during flight, and what they were hoping for in the future. The students playing Syrians were divided into groups of families and in one case a group of unaccompanied males. They were given names and specific identities that included health conditions such as being the victim of violence or not having eaten in several days. Some of the role-playing students were asked to exhibit signs of trauma. The aid workers were then required to interview the refugees to obtain this information.
This was not an easy task for the refugees or the aid workers. The students acting as aid workers had difficulty asking personal questions such issues related to hygiene (including female related concerns). The aid workers felt they were being intrusive at times. An added challenge was that not all of the role-playing refugees spoke English, and the aid workers only spoke English. Often the only person who spoke English in a family was a child. The refugees also struggled to tell their stories. They felt that the aid workers were often interested in unimportant information like what a child studied in school (which would be important to aid workers in restarting education in a refugee camp). These refugees had just that day come off of an overcrowded raft in the Mediterranean Sea: they had more pressing needs like food and medicine. On top of this, the aid workers had to act quickly in that another group of arriving refugees was awaiting processing.
What did these students learn? Afterwards one student commented that during the preparation process when she and other role players were waiting to be interviewed, she had been annoyed that she was waiting for 10 minutes with nothing much to do. Now after the simulation when we were talking about the experience, she was embarrassed she had felt annoyed. Some of these refugees have been waiting over 10 months to be interviewed, she said! Most had experienced inhuman conditions. They had families, homes, and friends they had left behind never to see again. We needed to offer them hope for their future and be patient with them. If all the students came away with this level of awareness, my time was well spent.
Support HuffPost
The Stakes Have Never Been Higher
Related
Popular in the Community