This Monday, January 30, 150 current and former foster youth will converge on the Capitol building in Sacramento, CA, to advocate for their rights, an example of a broadening foster youth-led political movement laying roots across the nation.
In an advocacy effort that would impress K Street lobbyists, members of the youth-run, youth-led California Youth Connection (CYC) will meet with 120 state legislators in 24 hours. On this year's agenda, CYC, which has grown into a political powerhouse in Sacramento since it was founded in 1988, is calling for equal access and support for foster youth pursuing higher education.
The theme of this year's Day at the Capitol builds on CYC's effective advocacy on behalf of youth as they transition to adulthood. In previous years the boisterous group has used this marquee advocacy event to support the California Fostering Connections to Success Act, which extended foster care in California from age 18 to 21, and AB 1393, which requires colleges to give priority to current and former foster youth for on-campus housing, among a much longer list of clear political victories.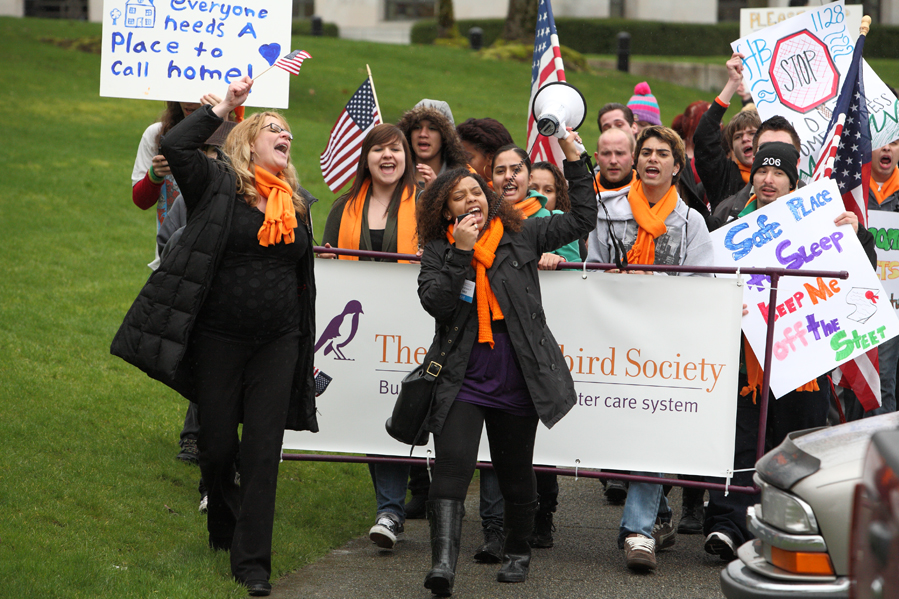 Diamonique Walker, 19, of Mockingbird Society, leading youth at last year's Youth Advocacy Day. Photo Credit: Jerry Davis Photography
"I see how empowered youth are when they know decision makers are listening to them," says Chantel Johnson, 26, Legislative and Policy Coordinator at CYC. When Johnson emancipated from foster care, she began working in Sacramento to provide a voice for the need of other youth. She says each year more and more young men and women realize how important it is for them to advocate for themselves.
"People are inspired by the fact that legislative staff are inspired by them. They expect to be in the learner's seat but they realize it's reversed," says Johnson.
This motivation for foster youth to take their future in their hands isn't unique to California, but part of a nationwide movement of current and former foster youth working to provide better outcomes for those who experience foster care in the United States.
"Everyone is much more interested in hearing directly from young people," says Janet Knipe, Executive Director of the National Foster Youth Action Network (NFYAN). Knipe, who founded CYC, started NFYAN to take CYC's proven advocacy model nation-wide. In the five years since the NFYAN was launched, six states have already signed up with three more likely joining the fold by the end of 2012.
Knipe believes adults should take a behind the scenes role and guide youth by asking critical thinking questions to empower them to be successful themselves, a philosophy adopted by one of the Network's member organizations the Oregon Foster Youth Connection (OFYC).
Over the summer, OFYC won the fight for free college tuition for students who had experienced foster care. The Tuition Waver Bill (HB 3471) will make those who have spent at least a year in foster care after the age of 16 eligible for the waiver, which will include all tuition and extra fee costs, with the goal of encouraging more foster youth to attend college. Only 2.5 percent of foster students in Oregon earn a four-year degree, compared to 19 percent of the general population, according to Children First For Oregon. Legislators estimate that over 240 kids will take advantage of this program by 2013.
"Not only does it help foster youth financially, it also helps with the hope of going to college," said Nicole Stapp, OFYC program coordinator and one of the students who worked to pass the legislation.
While not a part of the Action Network, the Mockingbird Society up the coast in Washington has built a strong advocacy model of its own. Currently, Mockingbird is in the midst of preparing for their annual Youth Advocacy Day on February 10, when over 250 youth will gather in Olympia, WA, to raise awareness for the need for safe housing and push policymakers to follow California's lead and implement the federal Fostering Connections to Success and Increasing Adoptions Act, which would extend foster care to age 21 in Washington..
"On a personal level as a therapist, the best anecdote to Post Traumatic Stress Disorder is being a part of something great," says Jim Theofelis, President of Mockingbird Society. "They see themselves as more than someone for someone else to fix," says Theofelis.
The youth who work with Mockingbird have helped pass 17 pieces of legislation in the past 10 years. For Diamonique Walker, 19, the experience of working with Mockingbird over the last 4 years changed her from being known as "the girl who didn't say a word."
"Meeting me when I was 15 is very different than meeting me at 19. I didn't have the confidence but being at Mockingbird has given me the skills," says Walker, the skills to lead a group of 250 youth to the capitol and chant over a megaphone like she did at last year's Youth Advocacy Day. She plans to do it again this year.
"I learned how to speak up not only for others but for myself. You have to know how to speak for yourself before you can speak up for others," says Walker.
But the movement is not limited to the West Coast. In Maryland foster youth are advocating for better transitions from foster care. Youth leaders at the Maryland Foster Youth Resource Center (MFYRC) help youth find affordable housing, food vouchers, attend financial literacy workshops, and other services which help make the transition from foster care easier.
"When youth are in care, youth aren't learning how to budget, or skills your mom or dad would teach you," says Rachel Chew, 22, a former foster youth who serves as a youth leader.
"Child welfare isn't perfect, we know that. We're here to be an added layer of support to help them avoid homelessness and incarceration. Our young people need hope, motivation and inspiration," says MFYRC Founder Shalita O'Neale.
This push by youth to depend on themselves for better futures is not only expanding opportunities for foster youth, but building a nationwide community for youth to belong.
"Clearly all the legislative change is extraordinary, but when I think about what the movement is about, it's the community that we're able to build," says Knipe. "It's a sense of permanency, feeling respected, valued, broadening connections, and a place that provides altruism that I think is extraordinary."

Related
Popular in the Community