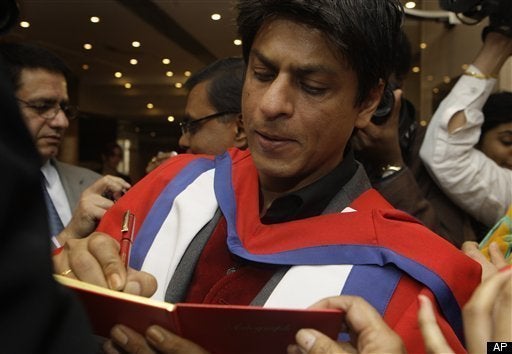 Making her feature debut with Dhobi Ghat (Mumbai Diaries), writer-director Kiran Rao unveils a deft cinematic portrait of her adopted hometown of Mumbai (Bombay) as well as displaying a rich sensitivity to character complexity, which many directors achieve only by their fourth or fifth films. True, true, she is married to Indian superstar Aamir Khan (best known globally for the stunning musical cricket-match epic, Lagaan), and the two share producer credit (dream job!) -- however, Khan's poignant presence here only highlights Rao's rich milieux, as she works his character not into a star showcase but a tricky ensemble "love square." The result is sleek, subtle, sensual, a very human time-capsule of now. Take note: Dhobi Ghat is no Bollywood musical (and it runs under two hours; roughly half-English/half-Hindi), but rather a scintillating, universal paean to life anywhere in the world, which happens to focus astutely on the highly distinctive character of modern Mumbai.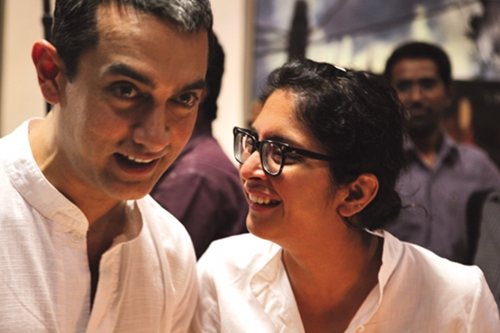 "KHAN!!!" Rao directs her hubby.
Photo: Aamir Khan Productions
We explore the teeming metropolis via Shai (effervescent Monica Dogra, of hit musical combo S+F), an Indian New Yorker taking a break from investment banking to research Mumbai's traditional businesses -- via some rather excellent street photography. An upper-crusty sort on holiday to play sociologist, Shai (who is anything but shy) becomes increasingly intrigued by Munna (breakout star Prateik Babbar), a rough, uneducated but good-natured dhobi (laundry-man) who also works nights crushing alley rats with a big stick. Sexy. However, prior to their mutual entrancement, Shai enjoys a quick fling with the well-to-do but surly painter Arun (Khan, purposefully smoking and scowling), who moves into new digs in Mumbai's old town, only to discover the abandoned videocassette diaries of poetic Yasmin (Kriti Malhotra), whose plaintive swooning for the city reinvigorates his creativity and sense of mystery.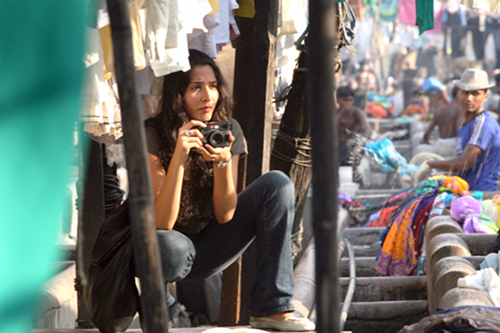 Too-shy Shai? Hardly. Monica Dogra snaps away at the dhobi ghat.
Photo: Aamir Khan Productions
What makes Dhobi Ghat (so named for Mumbai's massive outdoor hand-laundry) so special is its multi-tiered portraiture -- figuratively and literally. On the primary level it's about these characters' complicated relationships, and especially their interdependency: as Shai snaps away at Munna's salty shirtlessness while he dreams of movie stardom; or as Arun stumbles past Shai's affections and affluent awkwardness while he's gazing longingly through his television at Yasmin -- his completely open, inspirational mystery woman. And then there are the well-drawn class and cultural factors, daunting walls which block intimacy (made all the more ironic as Shai's fey, party-boy friend stops to buy a nickel-bag from Munna's somewhat slimy dealer brother). And then there is the city itself, as Arun puts it at his art opening: "To Bombay: My muse, my whore, my beloved."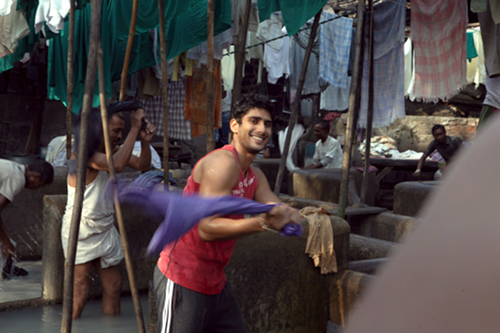 Ladies, he will wash your blouse. Twice. Prateik Babbar as Munna.
Photo: Aamir Khan Productions
Of course, we've seen cities romanced many times at the movies -- from the Berlin of Wings of Desire to the Tokyo of Tokyo! -- but Rao's got one hell of an eye: Indeed, Dhobi Ghat is a love-letter to Mumbai, but it's an incredibly honest one, with every rainstorm, street market, hipster hang and craggy elder's face depicted with balanced artistry and finesse. The nearest I've been to India is the garlic naan at local restaurants or viewing Indiana Jones and the Temple of Doom seven million times, but after this film I feel a dawning appreciation for, and almost familiarity with, this distant locale. And once more on the directing chops: From Yasmin's rainy POV video-camera opening sequence in the back of a taxi, to the heart-tugging tour-de-force tracking shot of Shai literally being driven away from a highly-conflicted Munna, this is cinéma: The technical and the emotional merging as one. Brava!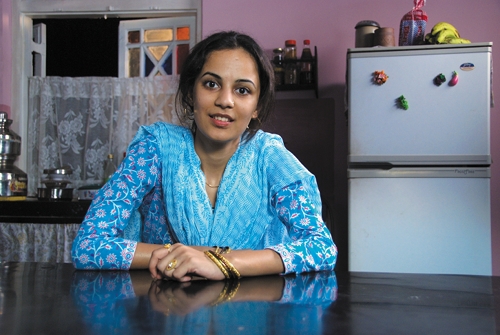 International Woman of Mystery: Kriti Malhotra as Yasmin
Photo: Aamir Khan Productions
Um...and sometimes I'm a critic. And always a man. Lest you think I proclaim perfection, I did have to chuckle into my hand a few times at Rao's depiction of Munna as "noble savage" or something. Prateik is a good actor, inhabiting memorable and textured locations, but he gets the romance-novel treatment here, and occasionally it's unintentionally funny. (He flees his crush like a terrified schoolgirl? Has all that oozing testosterone yet is afraid to steal a kiss? Come on. A guy like that would be working the girl like a sock-puppet.) But likewise Rao brings creative choices, somewhat based on gender, which I find interesting: Such as when Shai and Arun very hastily seduce each other, and Rao chooses to mute their visible dialogue, opting instead for caressing hands and flashes in the eyes and other such nonverbal nuances -- all of which may convince me to give up forever the practice of bothering to talk on dates. Illustrative! Yes, that's what Dhobi Ghat is: Illustrative. Of place. Of people. Of presence. Here we have a rich and vibrant film worthy of two or three views plus provocative discussion. And world cinéma is already off to a great year.
REAL LIFE. REAL NEWS. REAL VOICES.
Help us tell more of the stories that matter from voices that too often remain unheard.