In a dimly lit room, clothing designer Farrukh Ershad pulls out his notebook filled with doodles made on various flights and train rides. He rips out a page and pins it on the wall for a more precise perspective. After scrutinizing and then adjusting every symbol, motif, and letter that doesn't satisfy his critical, artistic eye, he selects garments to pair each design with and decides on which color schemes to use. 5ive Pillars has transformed into much more than just a clothing line; it's become a platform for customers to express themselves in a way that people of all backgrounds can relate to.
"I've always loved fashion and clothing, but I never had a deeper inspiration," Ershad said. "And for me personally - I don't do anything anything unless it has meaning or depth to it. [When] I launched 5ive Pillars, around the same time, I found God and Islam."
The idea for 5ive Pillars came about in 2011. Ershad was sitting in a room with his cousins, discussing how to give back to the community that has given them so much. They wanted to create a platform where they could have clothing, dawah (sharing one's faith with others), and charity. Sitting there, contemplating over a name, him and his cousins noticed that the NBA Live '08 on PSP (PlayStation Portable) had a team called "Starting IV."
That was the start of it all.
The first hundred t-shirts were made about a week later -- sold at a Pakistan Independence day event.
"It was so funny; we made 100 t-shirts and didn't know where to get them made from or any of that stuff," Ershad chuckled. "They were like some Hanes t-shirts. But all of our friends, family members, cousins, aunts, and uncles -- they all came and bought. We almost sold out of everything in that one show."
At the time, the now 24-year-old clothing designer was still in school and running his automotive shop. His clothing line didn't make a profit that year and the team had several opportunities to quit, but instead, they kept hustling. By 5ive Pillars' third year running, it became too difficult for Ershad to manage all that he had on his plate. He was working 70-hour weeks at his automotive shop and going to school at the same time, while still trying to make moves with 5ive Pillars. He eventually had to close down the shop, was in a lot of debt, and had to pick up a job working 12-hour graveyard shifts. He would work from 6 p.m. to 6 a.m., with class from 8 a.m. to 11 a.m.
"At that job, I would get 15-minute breaks, and one of those days, [former American football free safety] Husain Abdullah sent me this crazy message" he said. "He told me that Fox News wants to interview him and he'll be wearing a 5ive Pillars shirt. He sent me photos and basically told me that this is going to be on national television."
At the time, Ershad was going through several difficult situations, but realized that his hard work was surely paying off. Renowned figures like Husain Abdullah and French Montana grew to become his mentors.
Learning how to deal with negativity and growing a deeper trust and relationship with God was one of the entrepreneur's biggest struggles. However, it also became a huge motivating factor in creating his best work.
"A lot of the growth and a lot of the things that happened with 5ive Pillars is stuff I go through in life, and then it reflects within it," he said. "A lot of the clothing I've created is created from a darker, sadder place in life... and the want to express myself in a positive manner - whether it's clothing, graphics, or art."
Initially, 5ive Pillars was overtly Islamic, but as Ershad's knowledge grew within the religion, he realized that everything is intertwined.
"A lot of people want to paint different religions and cause a lot of grief amongst us... but at the end of the day, we all come from the same roots," he said. "The concepts are the same."
5ive Pillars' previous two collections have been broader, in the sense of expressing various narratives and creating colorways that reach different types of people. Ershad says that the people who are open-minded have always shown the clothing line a lot of love, regardless of where they were in the world or which religion they associated with. Those are the people he's going to keep pushing to -- the ones who are willing to learn.
Ershad does not shy away from presenting his true self and identity to his audience. He says that every piece of clothing he makes is for himself, first and foremost. The 24-year-old entrepreneur has used his identity as a Muslim-American to bring people together and find a common ground: the desire to express oneself.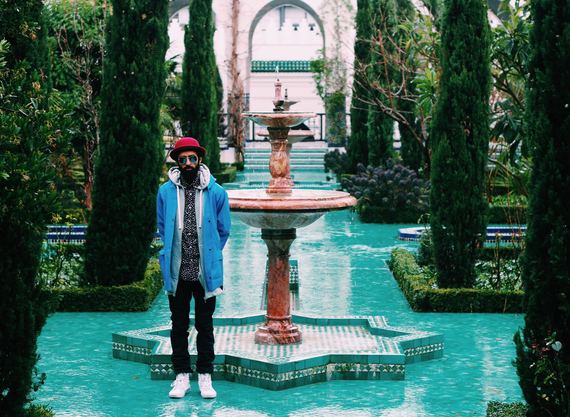 "Because all of this is an extension of myself and what I want to bring out to the world -- there's nothing commercialized about it," he said. "So when we portray what we're portraying -- it's a universal theme -- everything within Islam. We use a lot of positivity, a lot of calligraphy with messages of love, peace, and hope. These phrases and the messages behind them transcend every religion, every faith, every person, no matter where or who they are."
The clothing line has clients purchasing items all the way from the islands in Madagascar to Poland, all over Europe, the Middle East, Africa, the U.S, and Latin America.
For holding true to 5ive Pillars' core messages, they received a lot of backlash - especially from Muslims themselves. However, Ershad reinforces the idea that we as Muslims shouldn't be afraid to share our stories. We should tell people where we're from and who we are, because we have nothing to hide.
"My identity as a Muslim... that's me as an individual," he says. "I feel like if I change that, either I'm selling out, or I'm just not being myself. And the moment I feel like I'm doing that, I'll walk away from this, because to me, I'm not in it for that. I'm in it to kind of bring something to the world that somebody, you know 10-15 years from now, can say "Yo, remember that brand, I still have pieces from there... or I really love their work." Or, just to have some 12-year old kid right now, that's sitting in his basement, that's thinking of doing something on the creatosphere, hoping and praying that he might be able to say "Yo, if Farrukh did it, I can do it... and he pushes him/herself to do it."
In light of helping budding-entrepreneurs create their own lines, Ershad recently launched SourceLA, a brand that has helped over 90 other brands launch within the past year. He says he aims to offer them everything from the best pricing, quality, and help -- to give aspiring artists and entrepreneurs what he was lacking when first starting 5ive Pillars.
By taking his setbacks and using them as building blocks to rise above, Ershad has determined the purpose of everything he does: to make the lives of people around him easier.
Support HuffPost
The Stakes Have Never Been Higher
Related
Popular in the Community