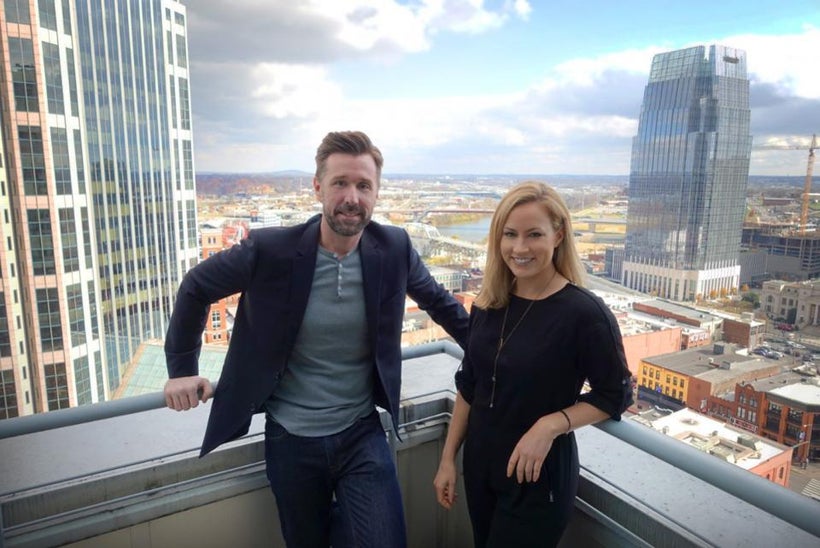 After more than a decade in the music industry, Jeremy Holley, former SVP of Marketing at record label Warner Music Nashville, and Laura Hutfless, a Music Sponsorship Agent at talent agency CAA, came together to fill what they saw as a void in the world of brand/music partnerships.
In 2015, they formed FlyteVu, a marketing agency that aims to connect brands to consumers through storytelling, experiences, and the power of music. "Our positioning allows us to bring opportunities to our clients that others don't have access to and make some really innovative ideas come to life," Hutfless says. "Our clients consider us their 'Black Opps' team. We go in to execute on a specific mission."
Over the past two years, FlyteVu has built an impressive roster of brands, including the social discovery app Bumble, Victoria's Secret's youth line VS Pink, The Red Cross, the Department of Tennessee Tourism, Lee Jeans, Cracker Barrel, the Pilgrimage Music & Cultural Festival, and several others.
They've also racked up some pretty big awards for a startup—the company and its campaigns have collectively received a GRAMMY, an Emmy, a Clio, Addy Awards, and Davey Awards. They've also landed on the short list for a prestigious Cannes Lions.
Despite the impressive roster of clients, FlyteVu encourages brands of all sizes to invest in the music space. "Any brand of any size can afford to play in the music space if they have a good strategy, an honest advocate, and understand how to leverage their own assets," Hutfless says.
Holley says that despite the ever-changing landscape of the music industry, one thing is consistent: an insatiable desire from fans for new content. "Music is never going away," he says. "For as many obstacles as the industry has seen, the community that drives the business will continue to adapt and evolve."
I spoke with the co-founders about how they've carved out such success so early, how they stay ahead in the constantly-evolving landscape of the music industry, and what's coming up next.
What initiated the founding of FlyteVu?
Hutfless: There was a gap in the industry for a neutral agency that sits inside the music/entertainment industry and works on behalf of brands. We started FlyteVu to fill that void. There are labels, talent agencies, promoters, and managers, all trying to broker sponsorship deals. But, their allegiance is to their artists, venues, or properties. We recognized that brands were making costly mistakes - brokering deals via third parties who take significant commissions and executing music campaigns using traditional ad agencies who don't understand the nuances of the music space.
Holley: We wanted to create our own path and help brands build scalable music programs. Both of us are passionate about music and helping brands navigate it. It is the most powerful tool to authentically engage with people from all ages and backgrounds.
How do brands get it wrong when it comes to investing in music and partnering with artists?
Hutfless: Brands don't know what they don't know. They try to broker deals directly with artists without the help of a neutral representative who understands the politics, agendas, and players in the industry. Brands spend significantly more money than needed because they (1) broker deals with the wrong rights holders, third party brokers, or agents who inflate pricing; (2) use traditional ad agencies to execute a music initiative instead of hiring a specialized agency with music expertise; and (3) don't leverage their own marketing and brand assets to negotiate better pricing.
What is the most common misconception brands have when working with talent and vise versa?
Holley: Neither party, brands or artists, speak a common language, and both go into conversations thinking they bring more value than the other. The biggest mistake artist representatives make when approaching brands is to think of things only from the artist's perspective: how will this brand boost their reputation or market saturation? Is the brand a great fit for their upcoming tour, single, or album launch? Instead, savvy reps approach the conversation from the brand's point of view. They vet the mutual benefits.
Your clients include major international brands. What is FlyteVu doing differently that is making you stand out to these brands?
Holley: We start with their goals in mind and build custom programs that amplify and extend the story the brand wants to tell. We also put a heavy focus on earned media. Our PR team understands how to find ways to amplify our clients' campaigns better because we have a deep understanding of the space.
What changes are you seeing in how consumers engage with a brand—especially with today's social media?
Hutfless: Consumers want more consistent and compelling content. They want to consume it in shorter formats and they want it on their mobile phone. Brands need to be thinking about how to extend the life of their stories through multiple distribution options. Untethered consumer devices have also forced brands to focus on content that is easily digested on mobile devices.
FlyteVu will celebrate its two-year anniversary soon! What are you most excited for in the next year?
Hutfless: Growth. I am most excited about finding, teaching and nurturing the next generation of talent who come to work at FlyteVu. Growth and the development of people is a huge responsibility and an honor that we don't take lightly. Our staff give us their time, which is the most precious gift a person can give. We, in turn, seek to give them opportunity, knowledge and the tools to succeed.
REAL LIFE. REAL NEWS. REAL VOICES.
Help us tell more of the stories that matter from voices that too often remain unheard.
This post was published on the now-closed HuffPost Contributor platform. Contributors control their own work and posted freely to our site. If you need to flag this entry as abusive,
send us an email
.