In a rare joint-column between "TechScape" and "BizScape," join us as we take a look at a business that satisfies both sectors in that it is a business that helps other start-ups AND a software technology which does that work for users.
I love entrepreneurs. Anybody who's ever read any of my columns knows that. And I'm not the only one.
"I love start-ups and entrepreneurs," Nathan Beckord said stridently with feeling. Because he is one too.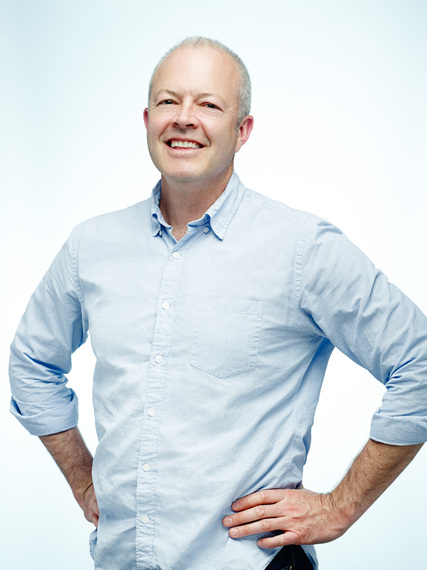 And so it was that Nathan Beckord started his own company to serve other entrepreneurs.
Foundersuite is the company Beckord started after becoming fascinated by starting and building businesses since he began selling fireworks on the Sacred Heart elementary school bus in Boulder, Colorado as a kid.
But Beckord's background in business-building isn't limited to incendiary products, nope it isn't. In addition to getting his MBA in Entrepreneurship and Finance degrees, Beckord is also Chartered Financial Analyst (CFA). Parchments and certifications not being the only ingredients necessary to make it in today's churning, hyperactive start-up world, Beckord has worked with several crowd-funding companies, including Kickstarter and Appbackr; and worked for years with over 150 start-ups. He has served as interim CFO, Business Developer, and Advisor through his consulting business, VentureArchetypes.
Currently, he is on the advisory boards of five startup companies, where he helps shape the business strategy and make introductions to investors and partners to prepare the companies for acquisition. While he's at all that, Beckord also hosts StartupBD.com and StartupExits.com, conferences set out to educate start-ups on business development and exit strategies; has taught classes at the General Assembly on raising capital; and collaborated with Pivotal Labs ("Agile Software Develpment" one of my faves) to produce the ProjectStartup series. Though Beckord is fast attaining 'expert/guru status,' he remains aware of how much there is to learn; he's always learning.
And like Henry Ford and Thomas Edison before him, Beckord has failed too. Failure seems to be a crucial rite of passage for any entrepreneur who's ever made it. (Zuckerberg aside.) "When I was in Austin (Texas) at business school," Beckord recalled wistfully, "I started a software company for clinical trials at medical centers. That business failed." Failure had struck, but Beckord picked himself up.
"So I headed back to the Bay Area and asked myself, 'What do I do?' Well, I said to myself, 'I love entrepreneurs and I love start-ups,' so I hung out my shingle and founded Venture Archetypes where I could learn first-hand from the entrepreneurs themselves what their problems were; what they needed. I immediately saw the huge changes coming in industry through funding/incubators like Y Combinator."
And Beckord possesses that true entrepreneurial passion, "I'm fired up about this," he practically shouted at me, "It's kind of like a virus -- if you've worked for a start-up or been around one, you'll really get bitten by the bug. I'm making a big bet on entrepreneurship growing." It's a solid bet.
What was Beckord's 'Aha Moment' in starting Foundersuite? Beckord didn't miss a beat, "Most of why we started Foundersuite was built around the entrepreneurs' funding activities--the sloppy spreadsheet that didn't work too well and was difficult to maintain. As we started developing our software, we didn't want to be encumbered by a big 'legacy system' like Salesforce. So we started from scratch."
Only starting Foundersuite in October of 2012, Beckord has worked fast and conscientiously. Based in San Francisco's bustling start-up gulch, the company currently has nine employees and is bracing for growth.
From the crucial founding activity of getting early-stage angels and larger venture capital investors to the fundamental "idea validation" to the more established, but no more mundane tasks of competitive tracking, corporate document templates and media targeting, Foundersuite offers wild-eyed entrepreneurs a soup-to-nuts software platform. It is a true SaaS software.
And I found it very cool that Foundersuite automates the Internet collection of data and info by 'scraping' much like a bot would from data sources like LinkedIn, Twitter, Crunchbase, AngelList, Alexa and photo images from the worldwide web.
From the very outset of the pure idea, Foundersuite's "Idea Validation" area helps the founders of start-ups answer central questions. "Is it good? Will it work? Is there a market?"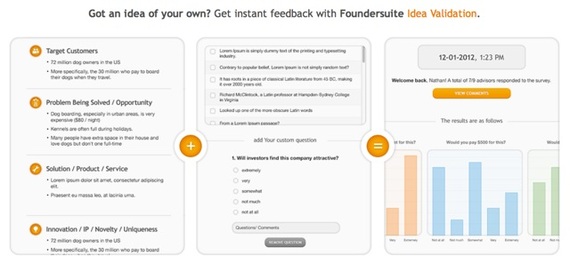 The tracking ability of Foundersuite's "Progress Tracker" is not to be overlooked and can provide that extra push over the top we all need. "Entrepreneurs wear multiple hats and sometimes serve multiple positions simultaneously as they are starting a new business; thus, maximum productivity is key," said Beckord.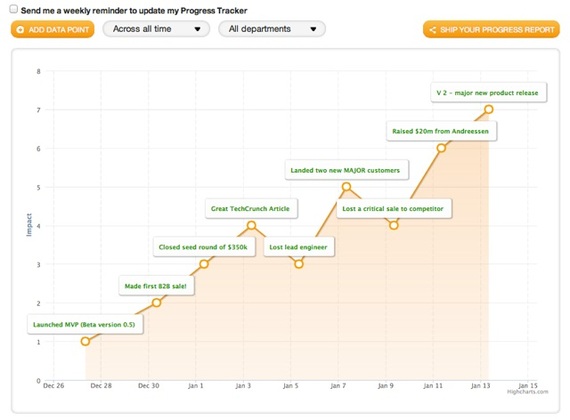 I tested Foundersuite and found it to be a really cool compendium of all the documents, templates and guidance one might want to have--at any point in the agonizing, frustrating, fulfilling and hopefully, heavenly process. Containing 69 templates for key functions and "nuts & bolts work," Foundersuite is a solid road-map for the aspiring entrepreneur and start-up CEO.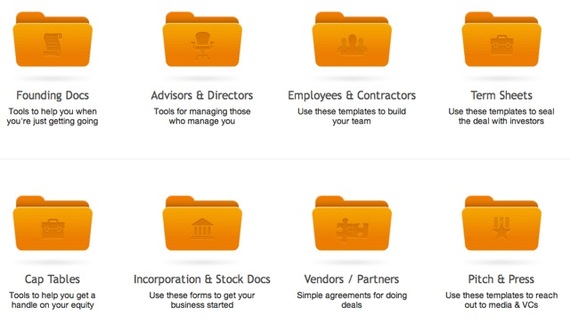 For instance, under the "Startup Docs" section the very first document is "How To Start a Startup Step-By-Step Checklist." It's only a two and a half page PDF, but what a crucial 2.5 pages they are. Of course, some might grimace and say, "And I need such a checklist why?" These would be the people who add to the zenith-horrific small business failure rates because they think they know it all and everything's under control. The only thing under control in a start-up is that it's out of control. Whatever. But I quickly found that I had overlooked about 10% of all the important things even in the Startup Docs area; which was worrisome to me because I've not only started my own business but also been involved in the building of legions of others. I didn't know what I didn't know.
Here are the eight documents which are only in the first, fundamental silo of Foundersuite, "Starting Up:"
**How To Start A Startup Step-By-Step Checklist
**Business Model Canvas
**Pre-Funding Founders Agreement
**Company Launch Announcement Template
**Executive Summary Template
**Naming Your Company Worksheet
**Corporate Entity Choice Wizard
**Founders Equity Split Wizard
In checking out each of these areas, I was confronted by numerous things I didn't have previously or hadn't considered and I'm almost 20 years into the founding of my own business. I imagine this would be true of many, many other wannabe, budding and even, experienced entrepreneurs.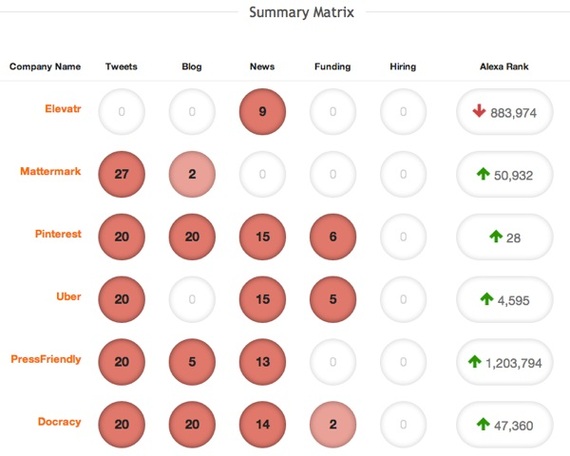 "Our template bundles are developed from 10 years of small business consulting," Beckord told me, "I want to capture entrepreneurs as customers at the point-of-start-up to say, 50 employees."
The main Foundersuite areas include:
· Idea Validation - use the question database and social survey tools to test and refine new ideas
· Corporate Docs - templates that help to split up equity, recruit advisors, and much more
· Progress Tracker - provides a simple way to track your progress and share it with those who matter
· Competitive Matrix - allows you to monitor the competition through new funding announcements, blog posts, or news
· Media CRM - manages your own press outreach efforts and organizes follow-ups and successful placements
· Investor CRM - allows you to visualize and accelerate your funding process
For getting the attention of the major media, always an important early opportunity for a start-up's future, Beckord has created a section of Foundersuite called, "Media CRM."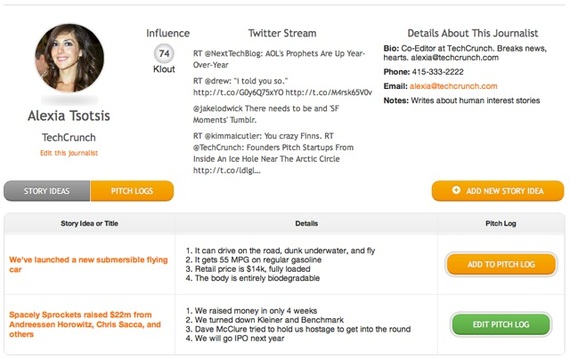 In terms of "the soul-destroying chase for venture capital," Foundersuite has an "Investor CRM 2.0" module with an 'auto-populate' feature that instantly pulls investor information and images from AngelList and a CRM system that helps manage investor outreach, communications, and the overall process of acquiring funding. Investor CRM 2.0 offers a necessary platform for start-ups to organize and cultivate relationships and includes features such as:
· Multi-user functionality - CEOs can invite their co-founders, team, advisors, attorney, etc. to be members of an account, and they can collaborate on a specific investor target list.
· Visual Dashboard - Entrepreneurs can pull data on target investors from AngelList and make connections through LinkedIn. All of the funding progress will be tracked in the "Visual Dashboard" where users will go to monitor the status of each relationship.
· Tagging and Sorting - Tagging provides users with the ability to add more granular data around each investor, for example: Role (e.g. VC, angel, banker, and consultant), interest level, lead or follower, etc. Sorting allows the user to run dynamic screens to better view and analyze their target investor list.
· Integration with Google Calendar - CRM 2.0 enables users to log upcoming to-dos for each investor and export the items into a Google Calendar.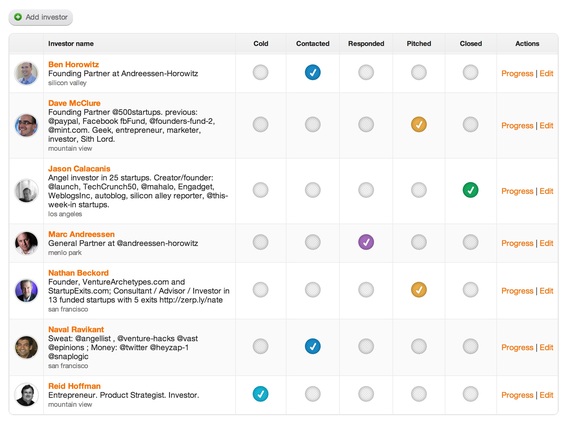 "The road to building a startup can be incredibly overwhelming, particularly if it's your first time," said Nikka Umil, co-founder of Sooligan. "When Sooligan was chosen to participate in an inaugural accelerator in Northwest Arkansas, the logistics seemed unmanageable given our current headquarters are in the Bay Area. Foundersuite has allowed us to seamlessly coordinate the day-to-day investment activity in both locations. Our investors also really appreciate the ease of communication through the Foundersuite software."

And it's not all about the software either; relationships are the essential result from the Foudersuite code. "Starting a new venture can be extremely frustrating and time consuming," said Seibo Shen, CEO and Founder, Vapexhale. "Without having the tools to guide you and keep you on course, you are likely to veer off the path to success. I found that Foundersuite not only gave me those tools, but provided a better understanding of how to leverage industry information and relationships, which in turn helped facilitate Vapexhale's growth in a market full of opportunity."

And releasing founders from the tech-drudgery is also an imperative. Richard Goodrum, COO, RaceYourself says "From my own personal experience, I believe that successful fundraising comes from being to build many meaningful relationships with ease, which is why I'm so excited about Foundersuite. Clear, simple and beautifully designed, it makes building databases actually enjoyable!"

"As an entrepreneurial finance professor and investor, I've been exposed to multiple start-up opportunities," began Gerry Hays, entrepreneurial finance & venture capital professor, Kelley School of Business. "It's my experience that many founders and entrepreneurs, particularly first-timers, don't understand the start-up management process as it relates to capital formation, vetting ideas, equity, document control, and deal making. As a result, many decisions are made in a vacuum, which usually leads to inefficiency and likely dysfunction down the road. Foundersuite helps guide founders during the formative period of their start-up which saves time, money, and aggravation."
Recently, Foundersuite celebrated the one year anniversary of their official launch. "We want to be in the place in five to ten years," Beckord wished, "where people are asking how entrepreneurs did it--how they built their businesses--in the dark days before Foundersuite. Pulling data and putting it in the system ... building structure around the entrepreneurial process ... most entrepreneurs are doing that for the first time and don't know how to do all these things. We bake all of it into our product."
Pricing is currently $39 per month for access to the entirety of Foundersuite, but customers can also buy and try the different components individually like Idea Validation ($5/mo.); Progress Tracker ($7/mo.); Investor CRM ($15/mo.) and others. A free 14-day trial for all the modules is also offered.
Thus far, Beckord has self-funded Foundersuite. "We're just about to start raising a seed round," he said, "of about $750,000. We're looking for the real champions of entrepreneurship," Beckord finished with a flourish.
Where do Beckord and Foundersuite go from here? How does Beckord see an exit; acquisition or IPO? "I think we're doing something pretty pioneering," he told me, "so I'd like to keep control of it as it grows. The more VC's on your board, the more masters you have to serve. As far as an IPO, that's more likely. I adore Zuckerberg because of the way he kept control through super-voting stock. Not to compare ourselves to Facebook," Beckord laughed.
Calling all HuffPost superfans!
Sign up for membership to become a founding member and help shape HuffPost's next chapter