I recently caught up with my friends from Fountain Gallery at Mad About Art, the Gallery's Annual Art Auction and Benefit, held this year at the Waterfront. More than 400 guests turned out for this gala evening in support of Fountain Gallery, New York City's premier venue representing artists with mental illness. It was quite a night.
I was gratified to see many fresh faces at this year's event -- first-time guests joined longtime supporters, and new artists have come aboard since I last attended a Fountain Gallery wingding. The electronic auction featured 100 works by 50 Gallery artists, who range in experience from highly trained to self-taught. This gifted and prolific group perpetually produces works in a dazzling array of mediums, and on this evening I saw oil, acrylic and watercolor paintings, collage and mixed media pieces, pen and ink and pencil drawings, digital art and photographs and more. Simply fantastic!
Fountain Gallery was established in 2000 by parent organization Fountain House, which was founded in New York City in 1948 with the belief that people living with mental illness can be active participants in their own and each other's recovery. Fountain House members, in partnership with staff, operate employment, education, wellness and housing programs, and Fountain House has inspired the creation of hundreds of similar programs worldwide. This year, the Conrad N. Hilton Foundation recognized Fountain House's global reach and the efficacy of its evidence-based model with the prestigious Conrad N. Hilton Humanitarian Prize.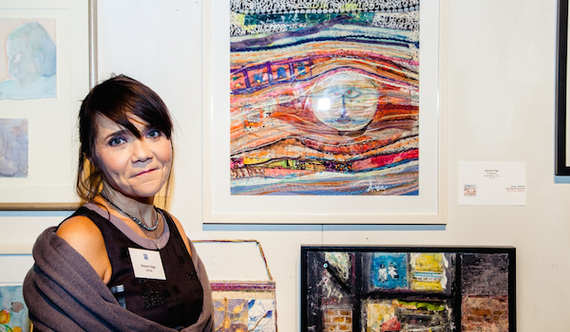 Fountain Gallery artist Alyson Vega with "Trainman."
During the program she shared her personal story with the assembled guests.
Photo: Saskia Kahn/Fountain House.
A freestanding exhibition space where Fountain House member-artists exhibit and sell their work via a cooperative business, Fountain Gallery is a standout among Fountain House's impressive roster of projects and programs. Gallery Director Ariel Willmott said:
Fountain Gallery is a place where people living with mental illness can define themselves as artists rather than by their diagnoses. Each day, our artists change perceptions of what people with mental illness are capable of contributing, and each time they display their work they challenge the stigma surrounding mental illness.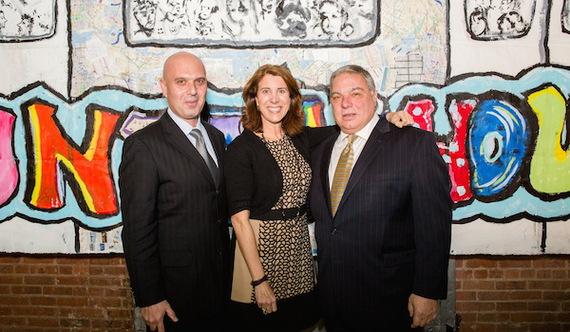 Event Founding Chair Dario Gristina and Event Chairs
Leslie Harwood and Gabriel Stefania. Photo: Saskia Kahn/Fountain House.
The Waterfront venue, located in the historic Terminal Stores complex on Eleventh Avenue in the West 20s, is itself a conversation piece. Once a major West Side distribution center due to its water and rail proximity, the Waterfront retains vestiges of that role in its interior train platform, soaring steel girders and 20-foot ceilings. This was a majestic, "industrial chic" setting in which to view original art while sipping cocktails and nibbling delectables.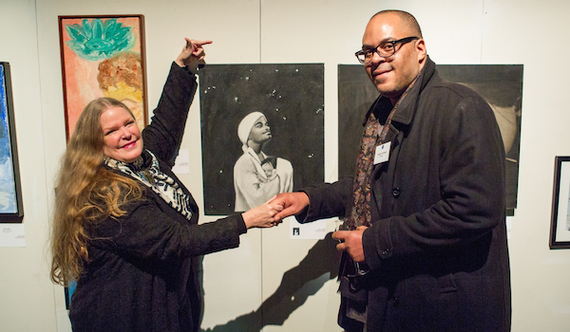 Rebecca Hoffberger, Founder/Director of the American Visionary Art Museum,
with Fountain Gallery artist George Williams and his "Amongst the Stars."
Photo: Saskia Kahn/Fountain House.
The electronic art auction, curated by Sasha Nicholas, buzzed along as guests viewed the art, spoke with the artists about their work and entered bids. By evening's end, the numerous winning bidders departed the Waterfront with newly acquired artworks to add to their collections. I am pleased to have several Fountain Gallery artists' pieces in my collection.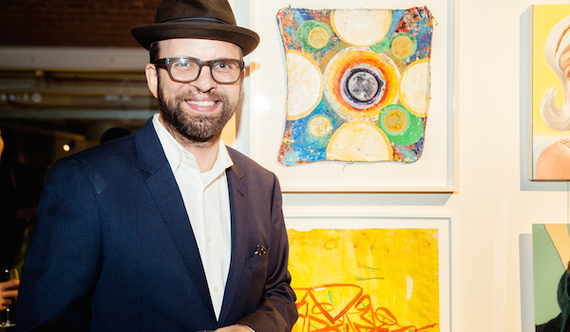 Contributing Artist Chair Jason Rohlf donated his "Portals" for auction.
Photo: Saskia Kahn/Fountain House.
This year's event honored William Louis-Dreyfus, The Louis-Dreyfus Family Collection and Frank Maresca, Partner, Ricco/Maresca Gallery. The Louis-Dreyfus Family Collection, comprised of more than 3,500 paintings, sculptures and works on paper, includes American and European works and an important selection of works by self-taught artists. Ricco/Maresca Gallery has championed and showcased the art of self-taught masters working outside the art-historical mainstream, focusing both on significant contemporary art in various media and on historically important American art of the 20th century.
I chatted with William and Frank after the program about the importance of the arts and philanthropy, as well as our mutual admiration for Outsider Art.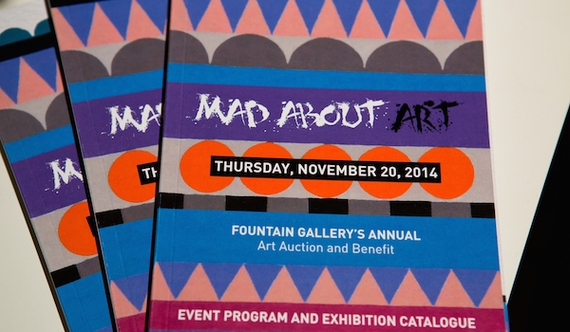 Exhibition Catalogue. Cover art by Fountain Gallery artist Barry Senft.
Photo: Saskia Kahn/Fountain House.
The event's Founding Chairs are Dario Gristina and Gerard V. Schumm. Serving as this year's Event Chairs were John P. Casaly, Carmel and Brett Fromson, Leslie Harwood, Frank and Bonnie Pratt and Gabriel Stefania, buttressed by Vice Chairs Carol Farris, Martha and Richard McDermott and JuneAnn Patrick, and a dedicated Committee. A cadre of art world luminaries, including Contributing Artist Chair Jason Rohlf, graciously donated their works for auction: Ky Anderson, Katherine Bradford, David Cohen, M.J. Levy Dickson, Douglas Florian, Joan Mellon, André Pretorius, Carol Radsprecher, Kristen Schiele and William Wegman (I always get such a chuckle out of Wegman's dog portraits!).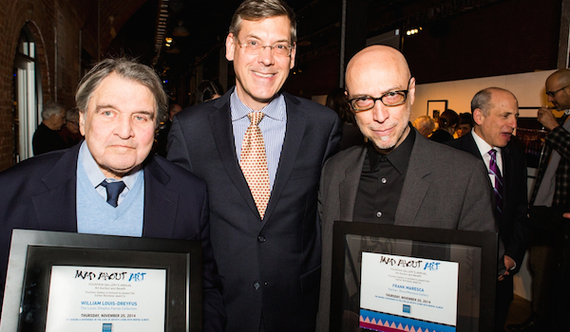 The author (center) with Honorees William Louis-Dreyfus and Frank Maresca.
Photo: Saskia Kahn/Fountain House.
I'm long overdue for a return visit to Fountain Gallery's home base at 702 Ninth Avenue, which recently celebrated its Grand Reopening after closing for renovations last fall. I urge you to head over, too, to see the inspired and inspiring work by these artists and to support their unique and worthy enterprise.
Written in collaboration with Camille Tibaldeo.
See Stories by Jim Luce on:

The James Jay Dudley Luce Foundation (www.lucefoundation.org) supporting young global leadership is affiliated with Orphans International Worldwide (OIWW), raising global citizens. If supporting youth is important to you, subscribe to J. Luce Foundation updates here.
Calling all HuffPost superfans!
Sign up for membership to become a founding member and help shape HuffPost's next chapter