I'm interested in mental health issues, but I'm not a physician and have no medical training. That's why I look forward to the annual Fountain House Symposium and Luncheon, where cutting-edge information is presented by top-drawer experts in terms accessible to a lay audience.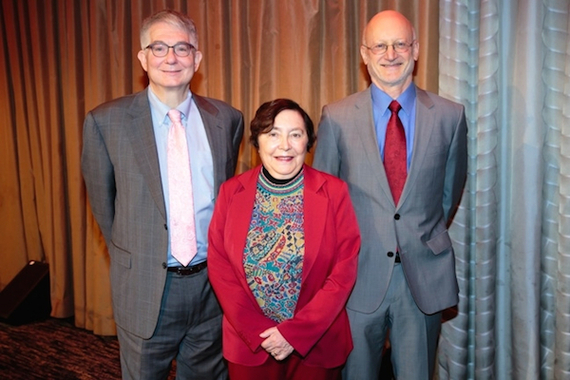 Panelists Peter Weiden, M.D., Nancy Andreasen, M.D., Ph.D., and John Kane, M.D. Photo: Leslie Barbaro Photography/Fountain House.
This year's event at The Pierre, attended by more than 500 guests, addressed schizophrenia and raised over one million dollars. We convened on this recent afternoon not only to learn but also to support Fountain House, winner of the 2014 Conrad N. Hilton Humanitarian Prize.
Fountain House is the first mental health organization to be honored with this, the world's largest and most prestigious humanitarian award.
The symposium was titled "Challenges and Possibilities: New Research on Schizophrenia." The panelists, three of the world's preeminent physicians in the field, pulled no punches as they chronicled the very real challenges of living with this serious mental illness. But they also illuminated the possibilities for recovery, and for the realization of a meaningful life. What a panel this was!
The distinguished triumvirate was composed of: Nancy C. Andreasen, M.D., Ph.D., a recipient of the President's National Medal of Science, who is Andrew H. Woods Chair of Psychiatry and Director of the Iowa Neuroimaging Consortium at the University of Iowa Carver College of Medicine; John M. Kane, M.D., Senior Vice President of Behavioral Health Services at the North Shore-Long Island Jewish Health System and Professor and Chairman of Psychiatry at the Hofstra North Shore-LIJ School of Medicine, who directs the Advanced Center for Interventions and Services Research in Schizophrenia at the Zucker Hillside Hospital; and Peter J. Weiden, M.D., Professor of Psychiatry at the University of Illinois Medical Center in Chicago and Chief Medical Officer of Uptown Research, Inc., whose research has focused on bridging psychopharmacology and public health in the treatment of schizophrenia.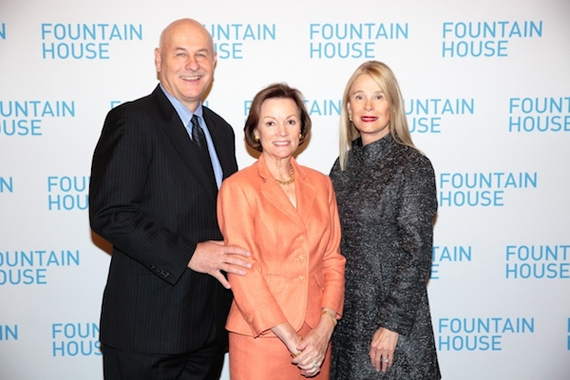 Fountain House president Kenn Dudek and Conrad N. Hilton Foundation
director Hawley Hilton McAuliffe with Lorna Hyde Graev, who founded this event
with Lynn Nicholas. Photo: Leslie Barbaro Photography/Fountain House.
Consuelo Mack, managing editor and anchor of public television's Consuelo Mack WealthTrack, was the superb emcee.
The Fountain House Symposium and Luncheon was founded by Lorna Hyde Graev and Lynn Nicholas, Psy.D., to advance community knowledge about mental illness and to reduce the associated stigma. I've written in the past about the stigma that prevented members of my family from "coming out" about their mental illness. Silence prevailed, even when one was lost to suicide.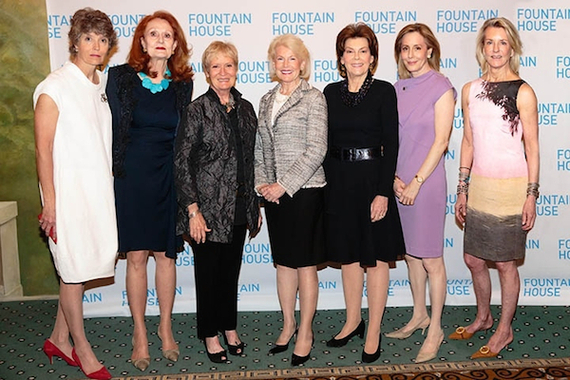 Event chairs Alexandra Herzan, Patricia Begley, Anne Mai, Carolyn MacKenzie, Kitty de Chazal, Ilyse Wilpon, and Podie Lynch. Photo: Leslie Barbaro Photography/Fountain House.
Whenever I attend a Fountain House event or visit their home base on West 47th Street, I witness this organization's members as they go about the business of living, with gusto, and I think of my family and wonder what might have been.
Hawley Hilton McAuliffe, director of the Conrad N. Hilton Foundation, graciously addressed the assembled guests. In announcing the recipient of the 2014 Hilton Prize last July, the Foundation cited Fountain House/Clubhouse International as a "pioneering organization that has created a proven model to help those suffering from mental illness reclaim their lives and realize their potential through work and the support of a caring community." I was pleased to have the opportunity to chat with Hawley. She reminds me so much of Queen Silvia of Sweden, a fellow humanitarian and global thought leader.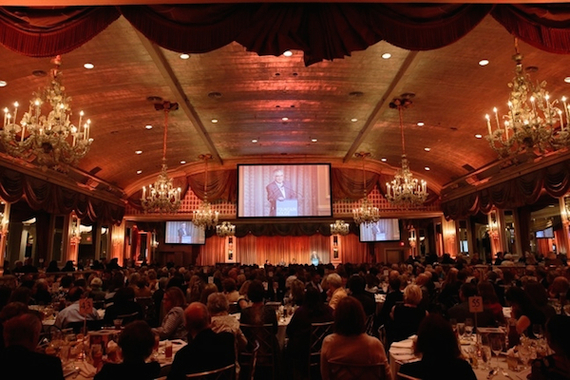 The Grand Ballroom of the Pierre. More than 500 guests turned out to support Fountain House. Photo: Leslie Barbaro Photography/Fountain House.
Fountain House, founded in New York City in 1948 upon the belief that people living with mental illness can be active participants in their own and each other's recovery, has inspired the creation of hundreds of similar programs in 32 countries that serve more than 100,000 people annually. Each year, more than 1,300 members come to Fountain House to contribute their talents, learn new skills, access opportunities and forge friendships.
One such Fountain House member is Betty Eastland, who held the audience rapt as she recounted her battle with mental illness - harrowing, and heartbreaking. But the eloquence, lucidity, and candor of her words gave evidence of her remarkable recovery - inspiring, and exhilarating.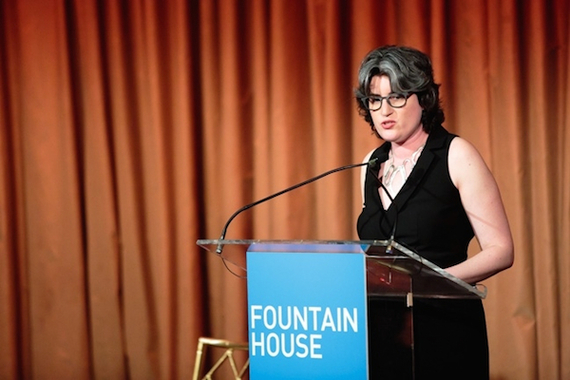 Fountain House member Betty Eastland inspired the assembled guests with her remarkable story of recovery from mental illness. Photo: Leslie Barbaro Photography/Fountain House.
I was glad to put a face to the name; I had seen Betty's striking artwork displayed at Fountain House Gallery, a freestanding exhibition space on Ninth Avenue at 48th Street, founded by Fountain House in 2000 as a cooperative business that enables member-artists to show and sell their work.
The Gallery is but one of the groundbreaking projects and programs of Fountain House, which provides services to members in areas including employment, education, housing, and wellness.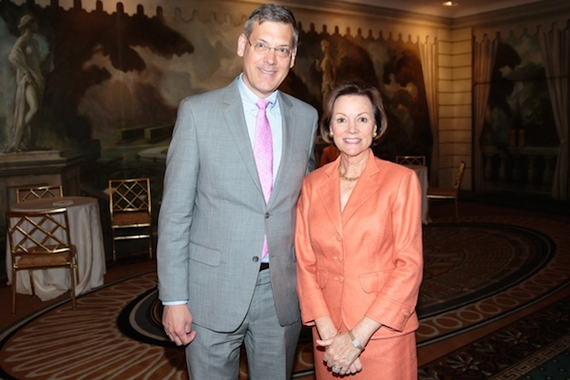 The author with Hawley Hilton McAuliffe at the Fountain House Symposium and Luncheon. Photo: Leslie Barbaro Photography/Fountain House.
The Fountain House Symposium and Luncheon always leaves me on a "high." The hope engendered at this event is not a pie-in-the-sky pipe dream. Learning the latest on mental health, meeting brilliant physicians who are working tirelessly toward achieving improved outcomes for people living with mental illness, and seeing the Fountain House mission in action are causes for optimism.
Next year's Symposium and Luncheon will take place on May 2, 2016. That date is marked in my calendar.
Written with Camille Tibaldeo.
REAL LIFE. REAL NEWS. REAL VOICES.
Help us tell more of the stories that matter from voices that too often remain unheard.