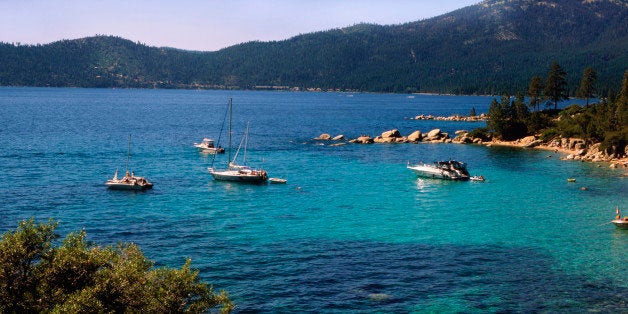 With summer in fulleffect, why not head to the mountains for fresh air, a dip in the lake and some amazing outdoor adventures? The crystal blue water of Lake Tahoe covers approximately 192 square miles offering plenty of space for paddling, swimming, or simply relaxing on the shore. Although you may be using the vacation for some much needed R&R, we've got a few must-see adventures that you should add to your list - between working on your tan or relaxing at one of the lakeside cafes.
1. Stand Up Paddle Meeks Bay
This paddle is great as an early morning workout, midday adventure, or a perfect way to end the day with a sunset over the lake. Long story short, there's never a bad time for this paddle. Follow the buoy line if you want to stay in more shallow water or head out to deeper, darker blue water. Learn More.
2. Take in the Views at Emerald Bay
This scenic viewpoint is a quick stop on the southern end of the lake. Pull the car over, get your camera or phone ready and take your amazing photo of the bay and Fannette Island. If you're up for it, head down the path to Check out Vikingsholm, a 38-room mansion on the National Register of Historic Places. Need to cool off after? Jump in the lake for a quick swim! Learn More.
3. Catch a Sunset at Bonsai Rock
This popular attraction is a quick five minute hike from the parking area down to a unique boulder just off the shoreline with trees growing on top of it. The still water created by the rocky shoreline allows you to take in just how blue Lake Tahoe is. Make sure to get here an hour or two before sunset to stake out the best spot. Learn More.
Stretch your legs and hit the trail for this 2-mile out-and-back hike to a picturesque waterfall. Even better, this trail is dog-friendly, so you can enjoy this cascading waterfall with your best friend. Learn More.
Related