Emily and Melissa Elsen do not lead slow lives. Owners of Four and Twenty Blackbirds pie shop, these sisters founded and run what has quickly become one of Brooklyn's most beloved and successful small businesses. Innovative pies like Black Bottom Oat, Buttermilk Chess and Salted Caramel Apple put them on the map and drew crowds almost instantly. Since it opened in 2010, Four and Twenty Blackbirds has grown at a rapid rate, expanding from a two-woman operation to one that employs roughly 20 and sells pies all over Brooklyn and Manhattan. A new, larger location that will include a cafe, garden and space for classes -- not to mention five more ovens than the current space -- is slated to open in early 2015. In a borough bloated with artisan food companies, Four and Twenty Blackbirds stands out for its exceptional quality and for the character of the women behind it, which shines through in everything they do. What's more, in a city known for its hurried pace, the Elsens are models of slow living. Although their business continues to grow, they prioritize what's important to them and are deliberate in everything they do, from sourcing local ingredients to perfecting new pie recipes. With Thanksgiving around the corner, now is one of the busiest times of year for Melissa and Emily. You wouldn't know it by talking to them.
All In The Family
Emily and Melissa grew up in Hecla, South Dakota, a town of 225 people. Their mother and aunt ran a restaurant called The Calico Kitchen, where the sisters worked after school and during the summers, and where their grandma baked the pies. When the sisters each left home, they took pretty different paths: Emily moved to New York City for art school in 1999 and has been there ever since, while Melissa went to business school and worked abroad in Australia and New Zealand. Eventually, however, Melissa landed in Brooklyn with her sister, and the pair's pie-baking journey commenced. In 2009, Emily and Melissa started a custom-order business in their Crown Heights apartment, and in 2010 they opened Four and Twenty Blackbirds in Gowanus, where the pie shop still stands. Their tremendous success has left them practically bursting at the seams in this original location, however; hence a highly anticipated new space in the works.

When I visited Emily at the new location, she was immediately disarming. The space, an old auto shop, is still under construction, and Emily had to struggle with the garage door a bit to yank it open. "I think it needs oil," she said casually as she walked me into the space, before darting back out to bring a few more items inside from her car. Emily told me she never thought she'd be in the food business. As an artist, she always had creative ambitions, but didn't see herself going to culinary school or working in food. When she and Melissa decided to start a business together, however, they were inspired by their childhood, surrounded by pie baking in the family restaurant. They quickly realized they not only had a knack for baking pies, but that there weren't a lot of places in the city selling the handmade pies they grew up with. Four and Twenty Blackbirds was born, founded on a practically innate love of pie.

Not So Humble Pie
From the very beginning, Emily and Melissa understood and worked off of the great interplay between tradition and innovation. The sisters have an almost instinctive way with pie, but their experience simply informs their creative decisions; it doesn't restrain them. One of the first things Emily and Melissa decided when starting Four and Twenty Blackbirds was to make an all-butter pie crust, which differed from their grandmother's lard-based crusts. They wanted a signature crust for their business and after much experimentation, decided on all butter because they prefer the mouthfeel and flavor. The decision was carefully considered. Casually rattling off the array of options for pie crust, Emily told me, "There's lard, there's butter, there's margarine, there's Crisco, there's hot oil, there's hot oil with butter, there are a million different ways, you can add an egg, you can add milk..." Emily won't put down these alternatives to their all-butter crust, however. Politely and judiciously, Emily explained that her and her sister just "don't care for Crisco." The by-now-famous Four and Twenty Blackbirds all-butter crust, which is flaky but doesn't break apart when you bite into it, also contains a little cider vinegar. The vinegar adds a bit of tang, a slightly savory note and a little tenderness, Emily explained to me. Her deeply rooted knowledge of and appreciation for pie-baking was undeniable.
Get the Four and Twenty Blackbirds All-Butter Pie Crust recipe from Food52
The artist in Emily and entrepreneur in Melissa are continually thinking up new flavor combinations and ways to distinguish themselves. From their very first pie, they've been adding savory, salty, herbal and aromatic elements to their work. Edible Brooklyn explains that the duo "quickly became famous for unexpected flavor combinations," and with new flavors like Pink Peppercorn Chocolate, they're continuing to hatch up flavor-forward ideas.
When they started their business, Emily and Melissa were also really excited for the bounty of local fruit available in the Northeast, as opposed to what grows -- or doesn't grow -- in their home state of South Dakota. One of their first pies, which continues to be one of the most popular, was the Salted Caramel Apple Pie. For this pie they use fresh apples from Hudson Valley-based Wilklow Orchards, which makes a huge difference, Emily explained. Not only are the apples fresh, but they come from a farm that puts the same kind of love and care into their produce as this sisters put into their pies. Emily and Melissa have formed a close relationship with farmer Albert Wilklow, whose family has run the farm for six generations. Four and Twenty Blackbirds sources most of its fruit locally, and will occasionally get fruit from Florida or California. The pie shop does't import any fruit from other countries, however, so as much as Emily admits she loves tropical fruit, you won't find any of it in the shop's pies.


The Salted Caramel Apple Pie isn't the only rave-worthy pie on the menu. The Plum Streusel is tart and crumbly, and the Bourbon Pear Crumble is boozy but lets the pears speak for themselves. (You can find the genius trick for this pie in The Four and Twenty Blackbirds Pie Book. It involves letting the pears sit and then straining them to remove the juices, so that the final pie crust isn't soggy.) It's difficult to choose a favorite when every pie on the menu is so unique and spectacular. The Salty Honey pie is what Melissa explained as a "cult favorite," because it's beloved but "not for everyone." After trying and devouring this luscious pie, I can attest, however, that is actually is for everyone. Black Bottom Oat, which is like a chocolate oatmeal cookie in a pie, is also a popular pie at the shop. The Brown Butter Pumpkin is at once rich and fluffy and the Birch Beer Float is mellow, subtly bitter and custardy.
A Pie Shop Grows In Brooklyn
Emily and Melissa's pies were an instant sensation in Brooklyn, and their business grew much more quickly than they were expecting. While they love their original pie shop, they have simply maxed out the space at this point. Their new location will offer them the room and freedom to keep up with their demand. Emily and Melissa have completely designed the new space themselves. There will be a cafe, a workshop for classes and eventually a garden cafe. The kitchen, of course, is where the real magic happens, and Emily was proud and excited to show me around. They put in windows behind the sinks and dishwashing station so that everyone in the kitchen, from dishwashers to the bakers, can work in natural sunlight. "Having your dishwashers as happy as your bakers is important because they are your support staff," Emily told me. They'll have their first walk-in refrigerator, six ovens -- as opposed to the single oven they currently have -- and a temperature-controlled room completely dedicated to flour work. The temperature of butter is crucial in pie-making, and this separate room, with its own air conditioner, will allow bakers making the crusts and lattices to work in precise conditions. That's right. They have a their very own room dedicated solely to pie crust.
With six ovens, Emily and Melissa anticipate churning out roughly six times the pie that they make in their current space. Currently the shop maxes out at about 140 pies each day. With a self-designed kitchen to maximize efficiency, however, and with more space for the bakers to work, Four and Twenty Blackbirds very well may be producing even more pies than six times their current output. (Good news for all of us.) Despite some speculation circulating around this bigger, newer space, Emily stresses that they haven't and won't compromise on quality. In fact, it's just the opposite. The sisters are simply looking to improve their products by making conditions more consistent, spacious and pleasant for their staff. They strongly believe that a comfortable and positive environment, coupled with locally sourced and high quality ingredients, are the real recipe for the best pies.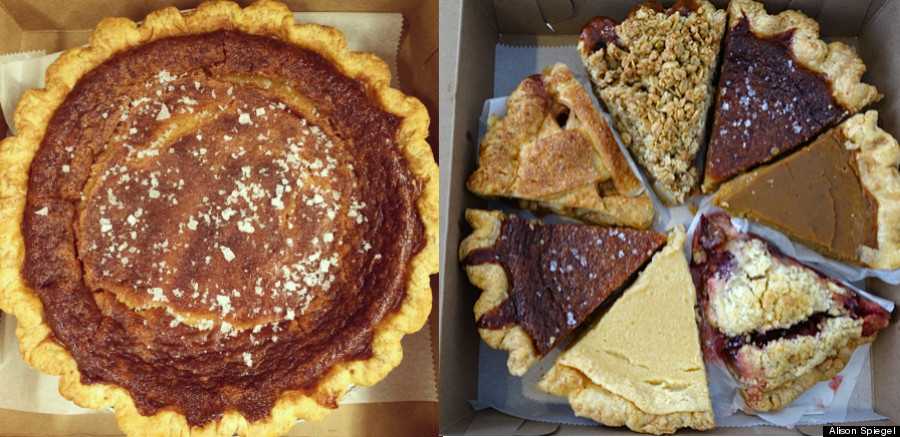 Emily and Melissa carry the same values that they've poured into their new kitchen into their business relationships. Not only do they carefully source their ingredients from producers like Wilklow Orchards, but they are also selective about their clients. "We want the places that our pies go to, to have the same values that we do about our products," Emily said. She shops for produce at the Fort Greene farmers market and values connecting with the Brooklyn artisan community in different ways. Two large vats of rye-soaked cherries from New York Distilling Company sat on a table in the kitchen when I visited. The Brooklyn-based distillery had a bunch of cherries leftover the other day, and just called Four and Twenty Blackbirds up to see if they wanted to use them. Emily wasn't sure exactly how the potent cherries were going to work and was eager to start recipe testing.
She laments the that some people perceive the artisan food community as elitist, Four and Twenty Blackbirds included. Emily told me they view themselves as a "populist" pie shop, open to everyone -- old and young, pie aficionado or novice. Emily is really excited about their Cafe at the Library, where pastries are made on site and pie slices cost a little less ($4.75 for a slice versus $5.25 for a slice at the main shop). She also values the pie shop's location in Gowanus because of the neighborhood's, and surrounding neighborhoods', diversity.
With the incredible intention and integrity Emily and Melissa bring to their business -- hands-on every step of the way -- it's a wonder they have any time at all for themselves. Emily explained they realized early on that the couldn't be the only two people in the kitchen and accordingly hired more staff. These days they try to make sure to take one day off a week, even if they end up doing something work-related during that day, and to fit in some vacation time here and there. Exercise and eating well is important as well, but they also eat a lot of pie, Emily told me. (Wouldn't you?)
Their lives are full and fast. They multitask. They work long hours. But the care and conviction they bring to everything they do grounds them in an unshakeable way. Although they are the busy owners of what has become nothing short of a made-from-scratch pie empire, Emily and Melissa are exemplars of slow living. This is because slow living is not about reduced speed, but about greater intention. It's about purposeful decisions and sturdy values. It's about carving out space and time by prioritizing the things that matter. Just as laying out a kitchen to maximize efficiency will result in better and more pies, premeditation and care at every stage of operation has given Emily and Melissa room to grow Four and Twenty Blackbirds. Ultimately, it's all about balance -- between tradition and ingenuity, exceptional ingredients and community values, sweet and savory. Balance is, after all, "the mark of a good dessert," Emily casually noted before launching into praise of the fresh apples they use in their Salted Caramel Apple pie.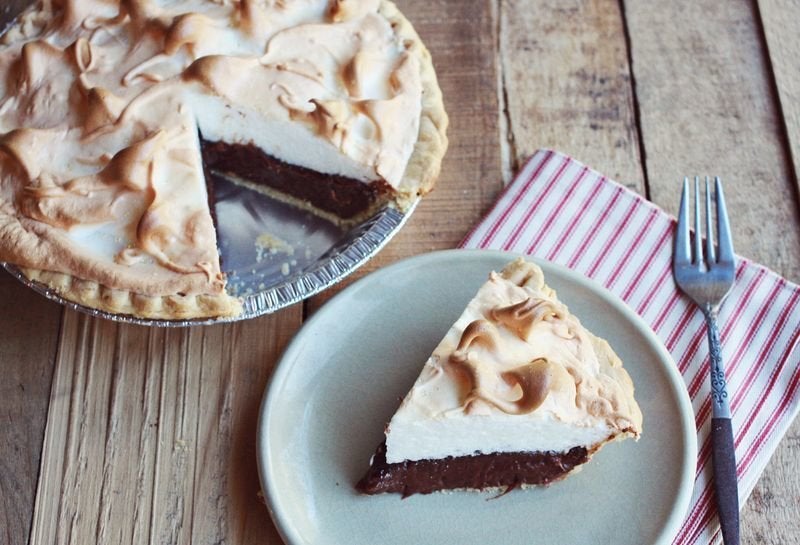 Pie Recipes
Popular in the Community