Authorities have arrested four people in connection with the brutal killings of 21-year-olds Alize Ramon Smith and Jarron Keonte Moreland.
The suspects, now in custody, are reportedly all related. According to police, they are Crystal Rachell Boettler, 40, her boyfriend Johnny Shane Barker, 43, and her children Kevin Garcia-Boettler, 22, and a 16-year-old juvenile.
Court documents obtained by Oklahoma City's KOCO 5 News say authorities in Moore, Oklahoma, filed a variety of charges against the suspects this week, ranging from first-degree murder to accessory after the fact.
Smith and Moreland were last seen alive on April 14, when they allegedly went to meet the two younger suspects at a Moore grocery store. Moreland had posted a classified ad for a gun online and one of the suspects had agreed to purchase it, police said.
Relatives of Smith and Moreland reported them missing when they failed to return home.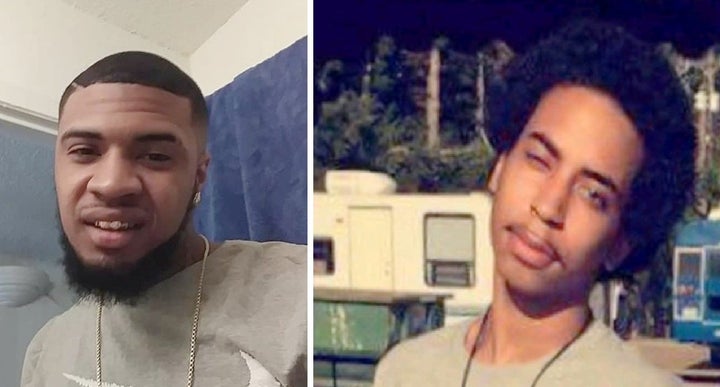 Police suspected the two missing men were connected to a report they'd received from the same grocery store earlier that day.
According to police, someone had found a handgun and sandal in the store's parking lot. Witnesses allegedly told investigators they'd seen a black male covered with blood inside a white Chrysler minivan. Another black male was allegedly seen hanging out of the van as it sped off.
Investigators got their first break in the case when they obtained communication records that showed the 16-year-old suspect had been in contact with one of the missing men, Oklahoma's KFOR reported.
On April 17, Moore police went to the Boettler residence to investigate whether the communications were connected to the case. Upon arrival, they allegedly spotted a van matching the description of the one that had fled the grocery store. Officers also spotted "cleaning products ... dried blood spatter [and] a bucket of water with a chainsaw bar inside," according to a search warrant filed in the case.
Questioned by police, Garcia-Boettler and Barker allegedly admitted their involvement in Smith and Moreland's disappearance.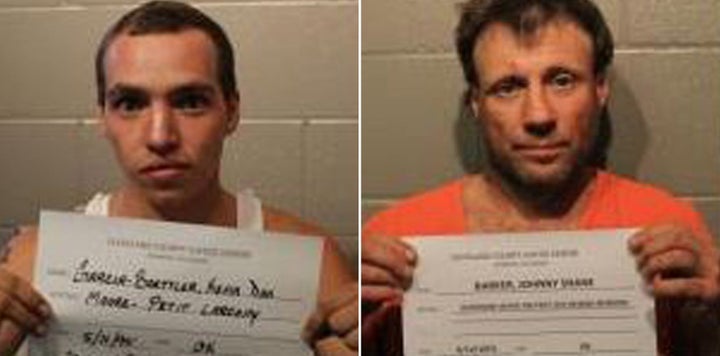 Court documents say that when the two younger suspects went to the grocery store parking lot, Smith and Moreland approached the minivan.
"There was apparently going to be a sale of a gun, possibly off of Craigslist when the two victims entered the vehicle," Moore Police Sgt. Jeremy Lewis told KFOR-TV. "The suspects claimed they heard a gun being racked or cocked. At that point, one of those individuals fired at the two victims that entered the van, killing them both at that time."
The 16-year-old is suspected of being the shooter, police said.
The two suspects then allegedly went to see Boettler and Barker, who authorities say attempted to help the young men cover up their crime.
Police searched a local pond on April 18 and found Smith and Moreland's bodies, which, according to court documents, had been dismembered and tied together with a tarp that was attached to cement blocks.
The juvenile suspect is facing charges of first-degree murder, second-degree murder, unlawful removal of a dead body, desecration of a human corpse and possessing a firearm after delinquent adjudication.
Garcia-Boettler and Barker have both been charged with accessory after the fact and unlawful removal of a dead body. Barker faces an additional charge of desecration of a human corpse. Boettler, the mother of the two younger suspects, has been charged with accessory after the fact.
"Felt like somebody ripped my heart out of my chest," Moreland's mother, Kennetha Moreland, told KFOR.
"At least we know what happened," Smith's aunt, Raquel Hall, told Oklahoma City's News9.com. "Even though we weren't able to find him alive, we were able to find him and get that closure that we all needed as a family."
Hall added, "Nobody deserves to die the way that they died."
Calling all HuffPost superfans!
Sign up for membership to become a founding member and help shape HuffPost's next chapter
BEFORE YOU GO