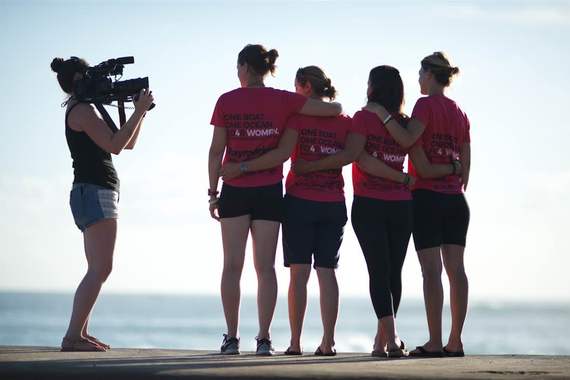 On my tougher days it feels ambitious to make myself breakfast and blow dry my hair. So imagine my amazement at the thought of four women spending months rowing the Pacific Ocean in order to overcome adversity and raise money for charity!
This is exactly what the Coxless Crew is doing - a group of four women - who will be the first team to ever accomplish this incredible feat. Setting out from San Francisco in April of 2015, they have braved the elements and are travelling over 8,400 miles to their final destination of Cairns, Australia unsupported. They are taking this incredible journey to not only challenge themselves but to honor women that have fought and overcome adversity.
These amazing and bold women are made up of Natalia Cohen (40), Laura Penhaul (32), Emma Mitchell (30), and Meg Dyos (25). They eat, sleep, and row every day, 24 hours a day, all while at the mercy of the world's largest ocean, the Pacific.
They felt they had to challenge themselves - to prove that you can fight and overcome any challenge that is in your way. As the famous quote goes, "You cannot cross an ocean unless you have the courage to lose sight of the shore." They have already faced great challenges - an issue with their MPPT battery that required them to stop over in Santa Barbara and literally start the journey over. They went an entire week without seeing the sun, while floating on the merciless and cold Pacific Ocean.
Sarah Moshman, Emmy Award winning filmmaker, is directing the documentary about their inspiring journey and the unique perils this story brings: "The beauty and the core of Losing Sight of Shore is that the Coxless Crew are truly telling their own story from the middle of the Pacific. I gave them the tools - cameras, microphones, hard drives, etc. and taught them how to use those tools. I empowered them to think of themselves as storytellers and bring the audience into life on Doris, their boat. It was a huge leap of faith for me as a filmmaker, not knowing if they'd film at all, or if they'd drop the cameras over the side of the boat (which has happened!). But what has evolved is 9 months of real, vulnerable, first person accounts of what it's like to row an ocean with no way out."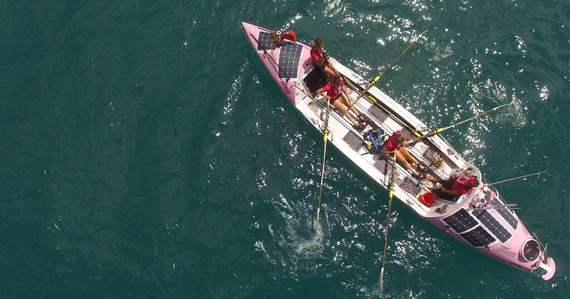 In Fall of 2016 there will be a feature-length documentary that shows the audience what it was like to live in the middle of the Pacific - including sharks and whales swimming below, breathtaking sunsets, torrential rain, friendships and rich emotions from their journey.
Losing Sight of Shore is about the real and symbolic challenges we all face, a lesson that we all have a Pacific Ocean to cross. We can cross it if we are willing to tap into our courage and the greater meaning for our lives and keep moving forward, just like the Coxless Crew. As Moshman said, "The Coxless Crew make me feel like I can do anything!" And who doesn't love a group of badass women showing us just how resilient the human spirit is!
REAL LIFE. REAL NEWS. REAL VOICES.
Help us tell more of the stories that matter from voices that too often remain unheard.