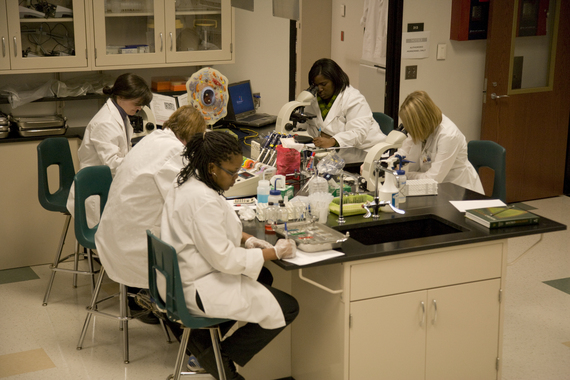 In 2000, north central North Carolina possessed a strong, diverse economy. It was a national and international center for textiles and apparel, furniture and tobacco - manufactured products which had seen the area through the economic ups and downs of almost a century dominated by manufacturing and related service sectors.
Fast forward 15 years of trade adjustments and technological disruptions and witness a new economy dominated by clinical health, advanced manufacturing, biotechnology and other emerging technologies.
While the particulars of these legacy industries will look different in other states and other regions, economic regions across the country have experienced the same dilemma - where to find economic opportunity and jobs, how best to position a region to the jobs of tomorrow, and how to address the skills gap that has occurred with the transition.

While the answers vary, the characteristics of job development for the region and career development for individuals are markedly similar.
Jobs and job preparation are located in the regional economy. According to Jonathan Rothwell of the Brookings Institute, 68 percent of two-year college alumni stay in the area of their college, compared to 42 percent of baccalaureate alumni. Regional workforce requirements at higher educational levels benefit more from mobility, while the skilled technical workforce, typically the product of the community college, is derived from the pipeline built in the region.
Regional clusters and niche development define the broad workforce pipeline that must be built in an area. Seattle and Wichita are homes to major aviation and aerospace facilities that require FAA certified technicians. Silicon Valley and the Research Triangle Park in North Carolina are grounded in IT hardware, software, and services. California, Massachusetts, and North Carolina compete in the biosciences and pharmaceutical sectors.
In each of these cases, and many others, curricula and clusters of curricula have been developed by community colleges to meet the need for highly-skilled technicians. The content of such curricula are based on labor market analysis that is becoming increasingly robust.
For example, in the Winston-Salem, N.C. area, the largest employment sector is health care with large academic and community medical centers as the focal points for clinical and non-clinical jobs, including biotechnology and pharmaceutical research.
In response, Forsyth Technical Community College has grown existing and initiated new associate degree programs in nursing, imaging modalities, and therapeutic technologies (e.g., respiratory technology, radiation therapy, and nuclear medicine), all grounded in math, biology, and chemistry. From these curricular strengths, an associate degree in biotechnology evolved - the largest such program in North Carolina. Success in biotechnology led to a significant role in the state BioNetwork training initiative, and in 2005 the founding of the U.S. Department of Labor sponsored National Center for the Biotechnology Workforce.
Regions and communities also see workforce needs develop around niche sectors that are even more specific, albeit smaller, than those that grow around broader economic clusters. Motorsports is a $6 billion industry in North Carolina that attracts young people who want careers in the field. Community college students learn skills in welding, metal fabrication, machining, and assembly and develop a knowledge of physical principles such as torque and thermodynamics. They exit with skills applicable to racing teams or other advanced manufacturing operations.
In Winston-Salem, a segment of biosciences is creating job opportunities and the need for skilled technicians - tissue engineering and regenerative medicine. The Wake Forest University Institute for Regenerative Medicine, its partnership with the Department of Defense, and its spin-off companies and research requires lab and research technicians well-versed in clean room techniques and processes, 3-D bioprinting, and other technologies -- in short, associate degree graduates who are job-ready to work in a growing niche at cutting edge of translational science.
Another common characteristic of the jobs that are being created in current economic recovery is their grounding in STEM - science, technology, engineering and math.
The new workforce in clinical health, advanced manufacturing, IT, or biotechnology, and those working at the intersection of these sectors (where innovation is driving new products and processes), requires a higher skill and knowledge level than those who were displaced in the recession.
The mill operations, assembly, and processing of the past have been replaced by advanced manufacturing - manufacturing driven by science and technology. Commodity manufacturing has moved off-shore and is not returning with the reshoring that is occurring today. The careers that once began with a high school shop class now require associate degrees with strong competencies in math, physical or biological sciences, and IT as the entry point.
Not only are STEM skills needed for technical fields, they are respected in many others. Carnevale and Hanson point out that while "only 5 percent of all jobs are considered STEM occupations, 40 percent of all jobs 'value' STEM competencies."
A third characteristic of preparation for the workplace today is the need for clearly defined pathways. With the need for increased knowledge and skill for career entry and progression, potential college students and current students must define a career goal and pathway early - get on the path and stay there.
Students are increasingly bearing the brunt of cost increases of college and with student debt becoming an increasingly serious individual and societal concern, K-12 systems, community colleges, universities, government agencies, relevant non-profits, and employers must come together to create pathways that have multiple on-off ramps, recognized multiple credentials with labor market value, and that incorporate experiential learning as having academic value. Together partners can have a collective impact greater than the sum of its parts.
Finally, education for today's economy must be data driven. For the past decade or longer, student outcomes and especially completion have driven the conversation about quality in education in general and community college education in particular. The next question is completion or graduation to what end?
Providers of student information systems and learning management systems are increasing the analytic capabilities of their data management and, along with new entry, Civitas, are taking descriptive capabilities to the next level of predictive analytics.
Beyond these tools, community colleges need to assess labor market outcomes, the end of completion. Economic research and data firms like EMSI and Burning Glass are supporting this effort taking the college's value-add assessment to a new level.
[(Part of this blog were previously presented at the Aspen Institute/Achieving the Dream Community College Presidents' Symposium: Working with Employers to Create Sustained Economic Impact, November 15-17, 2015)]
Popular in the Community