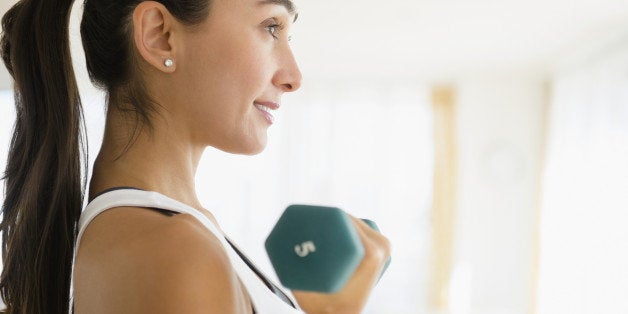 The cheapest and by far the easiest tip I can give you right off the bat is to start drinking plain old hot water. Hot water is the first thing I drink every morning and the last thing I drink every night. I drink it throughout the day as well. Here's the skinny behind it. Many times when you think you are hungry, you are actually just dehydrated. By hydrating yourself you satisfy your cravings. Its great to consume after eating, too, as it aids digestion. It also has a calming and detoxifying effect. If you have lemons on hand, squeeze them in. They can help to further detoxify and burn calories as well. Pick up an electric kettle and leave it on all day and keep a travel mug on hand for constant refills!
Buy any of the three B's: Bands, Bells or Bars
These are all inexpensive, highly beneficial, space-saving exercise tools on the market that can be used almost anywhere and get you the burn your muscles need. Bands or resistance bands are essentially rubber hands with handles that literally fit in your hand bag and are capable of toning nearly every muscle on your body. There are different bands for different levels of strength and most of the time they come equipped with exercise charts to show you how to perform a multitude of exercises. The bands utilize the technique of 'resistance' training, hence the name, which experts contend is the best means to tone and sculpt muscles. They are also so small and lightweight that they are perfect to travel with in addition, so you can continue to work out when on the road. Dumbbells and Kettle-bells, which fit perfectly under your bed, are also great and effective for a fully body workout. Most of us don't need more than 15 pound dumbbells and can use ones as light as 5 pounds. You may want to pick up a set of three with 5, 10 and 15 pounds, respectively for different body parts and varying strengths but one general set could do. One single weighted bar that can fit in a closet with your umbrellas or brooms, with weight ranging from 10-30 pounds, can get you an incredible full body workout, too. These tools can be purchased for as low as 20 dollars and, as I said, come with simple instructions. All are perfect to use by your bedside when you wake up, at your desk on break or in front of the TV when watching your favorite show.
Pick up a Pedometer to Count Your Steps
A pedometer that attaches on your shoe or, better, on your wrist, will track all the steps you do in your day and motivate you to do more. Striving to get in up 5-10,000 steps a day through basic daily activity, walking instead of driving etc, will beat the need to join a gym. Wearing mine, serves as a constant great reminder, challenging me constantly to fit in more.
For all the bad things we hear about the internet, the good is all the amazing free and valuable knowledge that is present. Type in any weight loss or exercise topic you want answers and information on into a search engine and behold all the amazing intel you will discover. YouTube is also an amazing tool whether learning proper form and technique on exercises and equipment of all kinds, preparing healthy recipes of all kinds or even full workout videos to participate in. For all the trolls online, there are so many generous people out there who have a passion for sharing information and helping others, the arena of weight loss and fitness not withstanding.
For more information pick up my book 'The EveryGirl's Guide to Health and Fitness'.
Please tweet or instagram me your questions/comments and even tips of your own! @mariamenounos
Excerpted from 'The EveryGirl's Guide to Diet and Fitness' by Maria Menounos. Copyright © 2014 Maria Menounos. Excerpted by permission of Zinc Ink, an imprint of Random House, a division of Random House LLC, a Penguin Random House Company. All rights reserved. No part of this excerpt may be reproduced or reprinted without permission in writing from the publisher.
Related