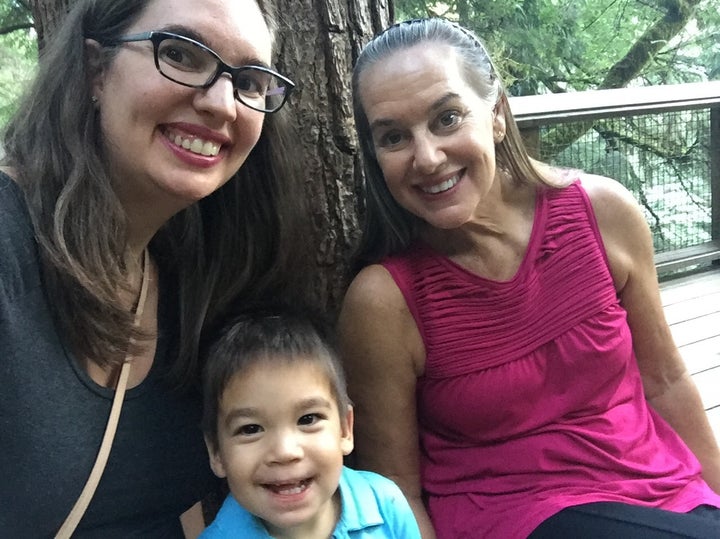 Vancouver is an awesome not-so-far-away trip from the Seattle-area. And there are so many things to do with toddlers up there! My Mom was visiting from Kauai so I thought I'd take her and Owen up to Vancouver for 3 nights. We usually come to Vancouver a few times a year. Mostly, we eat a lot of Chinese food, buy a lot of food items and then fill in the time between meals walking around Robson Street. This time, I really wanted to plan a toddler-focused trip. There were way too many fun activities to pack into our trip. I decided to focus on things we hadn't done on past trips. Here's what we did:
The tricky thing about traveling with toddlers is that their moods can be unpredictable. I had a hard time letting go of my detailed itinerary. This just stresses everyone out and in hindsight I should have gone with the flow a bit more. But, c'est la vie. So here's what we actually did everyday: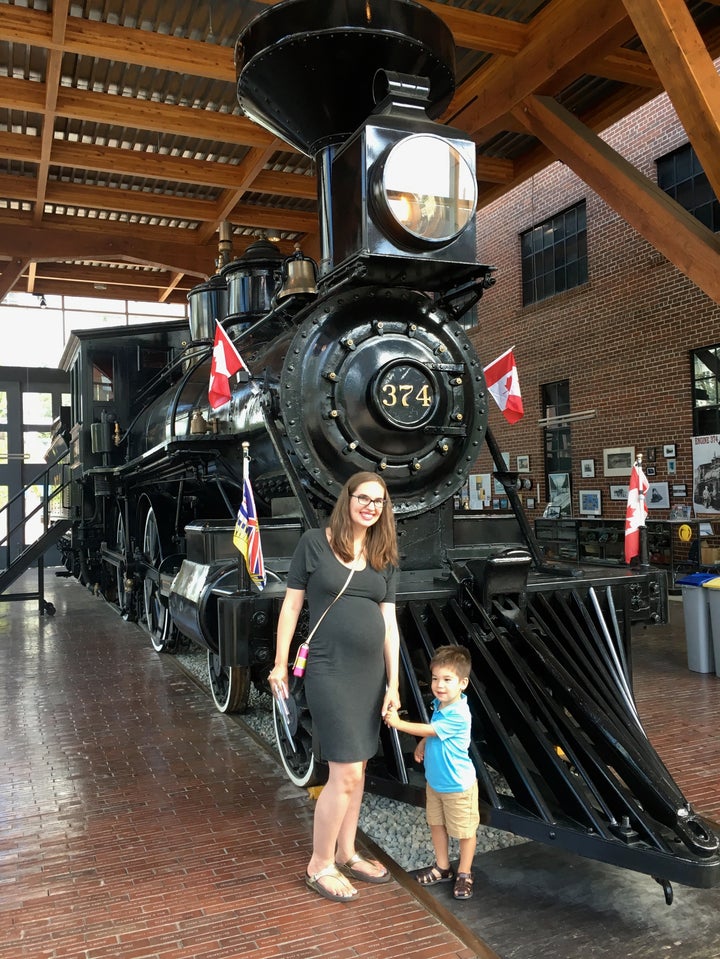 Monday:We left Seattle a bit later than I planned and Owen took a short nap in the car, waking when I stopped for gas about an hour North of Seattle. Thankfully, the border wait was just a few minutes and we headed straight to the Historic CPR 374 Locomotive that is on display in Yaletown at the corner of Davie St and Pacific Blvd, which closed at 4pm. We got there at 3:50pm and literally ran to get in to see it because my son LOVES trains! George, one of the docents there, was so nice to explain the importance of the train to Vancouver's history. In the late 1800s this train hauled spices and silk from Vancouver to Toronto in just 7 days and 7 days after that it was in London. Talk about fast shipping for those days!
Then, we headed to the Sheraton Vancouver Wall Centre to check in. I reviewed the hotel in this blog post. This was a speedy process and just minutes later we were up in our room admiring the view. We dropped off our bags and decided to head to the Capilano Suspension Bridge Park. This was amazing and I wish we had gotten their earlier so we could have explored more. We will definitely be back. Read about our experience there in my Capilano Suspension Bridge blog post.
We returned to the hotel about 8:30pm, which was an hour and a half after my son's bedtime. Oops. It took awhile to calm him down (especially when I told him we'd be going on a double decker bus in the morning. Double oops.)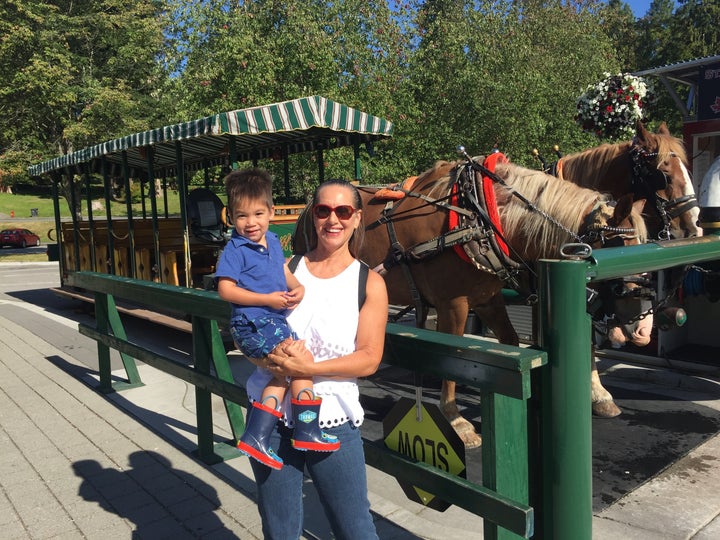 Tuesday:This was our Stanley Park Day (read my detailed blog post here). With a toddler, you could easily spend a couple of days here exploring and doing all the activities. We chose to do the Horse Drawn Carriage ride first, so that we could get a layout of the park. Once we passed the sign for the Miniature Train ride, Owen decided that we needed to do that next. So, we drove over and the train ride was much cuter and special than I had envisioned. They also do themed train rides around Easter, Halloween and Christmas and I'd definitely want to do one of those to see how they change it up. After the train ride, we grabbed burgers, hot dogs and pretzels at the nearby concession stand so we could hop in the car and head back to the hotel for naptime. Owen didn't end up napping (boo) but it was a nice quiet break before getting on the Hop-on, Hop-Off Bus Tour to explore the city and stop at the Vancouver Aquarium. I love bus tours and this was a lot of fun because it was open air and it was a gorgeous day! Owen ended up falling asleep for an hour of the bus ride. After touring around for about 1.5 hours, we made it to the Vancouver Aquarium about 2 hours before it closed. Owen was not thrilled to be there and once he saw there was ice cream, he couldn't focus on anything else. My Mom and I enjoyed seeing the jellyfish and the large mammals. By the time we finished our dinner and ice cream at the Aquarium, we missed the last bus. Mommy fail for not grabbing a brochure to know when the last bus would come around. Fortunately, we were able to instantly hail a cab (a true rarity) and made it back to our hotel in time for bedtime.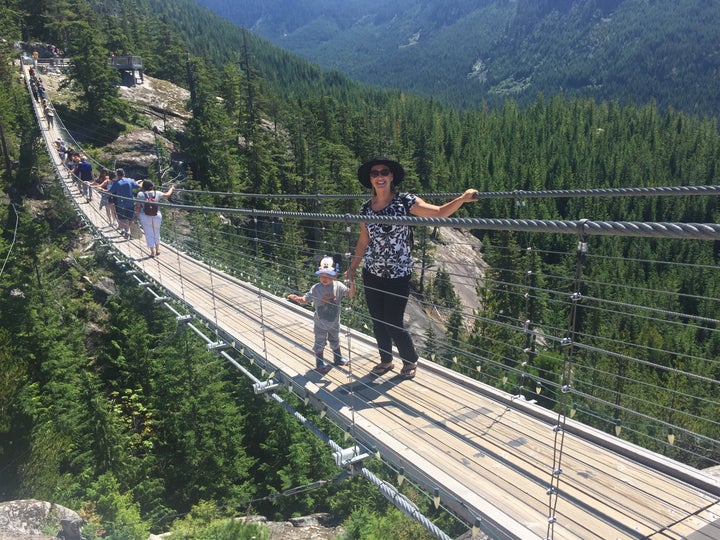 Wednesday:We did a Squamish Day trip and it was fabulous (read full post here)! We started at DeDutch in Yaletown because I heard they had a play area. They had a play kitchen and tons of toys to keep Owen occupied while we waited for breakfast. Bonus: Starbucks is right next store, which was perfect for grabbing chai tea before hitting the road. We headed straight to the West Coast Railway Heritage Park because Owen really wanted to see the trains. It was even cooler than I imagined! Lots of stuff for kids and adults and the staff were really friendly. Owen's favorite part were the outdoor Thomas the Train Tables and the Mini Rail. We were there 2 hours and could have easily spent another hour there. We will definitely be back. We then headed to the Sea to Sky Gondola, which was absolutely breathtaking! Again, it would be easy to spend all day there. We rode the gondola up and walked the suspension bridge and checked out the view points before heading back down in the gondola (probably 20 minutes total at summit), as we were right up against naptime. We opted to eat at the base simply because we weren't sure if we would be queasy on the ride down with full tummies. The ride was so smooth and I think we would have been fine. There are tons of play areas and fun photo ops at the summit and base. Our lunch was surprisingly delicious, for pre-made sandwiches. Then, we hopped back in the car and headed to our hotel. Owen napped for half of the ride and then we relaxed a bit in the hotel before hitting up Robson Street for shopping a dinner.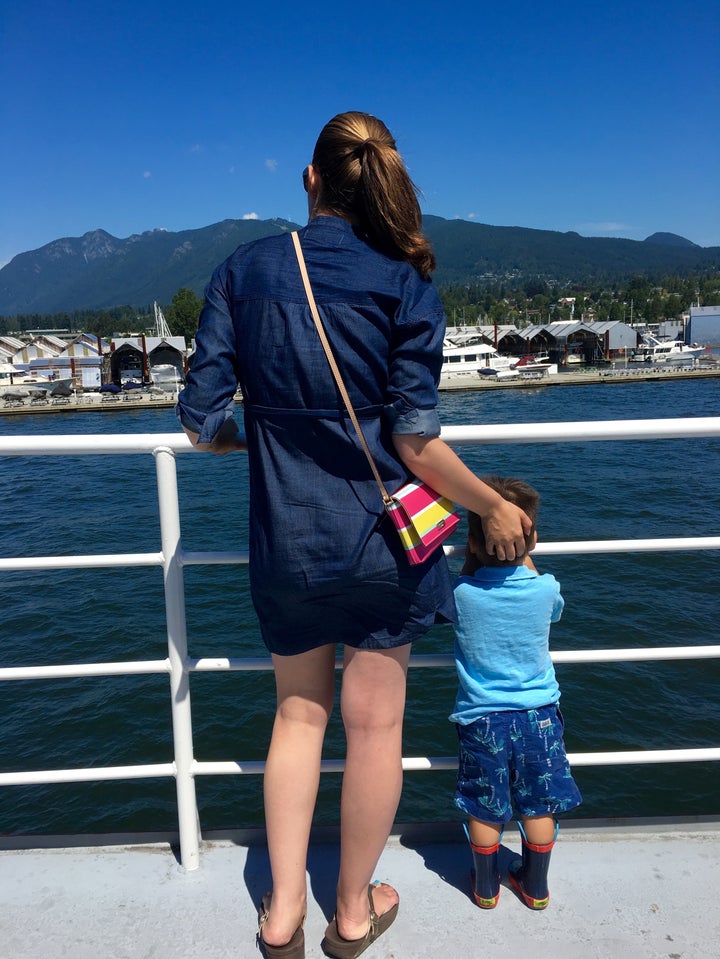 Thursday:For our last day in Vancouver, we opted to walk around Downtown to people watch and see what we could see. We ended up walking to the Vancouver Lookout. It was a nice walk from our hotel and Owen was excited for the elevator ride. I thought we'd be able to see more of the city from the elevator since there were glass panels, but we really couldn't see much during the ride. But, once we got up to the observation level, we had incredible views of the entire city! Then, we went back to the hotel to hop in the car and drive to the marina for our one-hour Harbour Cruise. This was amazing! Read my full blog post about the Vancouver Lookout and Harbour Cruises here. Not only was the weather beautiful, but we got to watch seaplanes take off and the narration was pretty funny. There was a lot for Owen to see and one hour was the perfect time to be on the boat. After we docked, I asked where the nearest restroom was and was directed several blocks away to a Starbucks. Being 7 months pregnant and toting a toddler, I didn't think that was a good option. So, we hopped in the car and drove a bit out of the city before being able to park in front of a Starbucks to grab lunch and use the facilities. It ended up taking us 2 hours to get from Vancouver to the border, which is the longest it's ever taken me, due to traffic. We got gas in Lynden, WA along with more drinks and drove the 3 hours back to our house. Owen ended up throwing up 10 minutes from our house. It was pretty epic. In hindsight, we should have let him run around partway through the drive, but he was napping. Oh well.
Marcie in Mommyland received an Experience Pass from Tourism Vancouver which provided complimentary admission to Capilano Suspension Bridge, Westcoast Hop-on, Hop-off Tour, Stanley Park Horse Drawn Storytelling Tour, Vancouver Aquarium, Sky to Sea Gondola, Vancouver Lookout, and Vancouver Harbour Tour.
Related
Popular in the Community