Click here to read an original op-ed from the TED speaker who inspired this post and watch the TEDTalk below.
Video games can do so much more than entertain -- they can open players' minds to new ideas, establish new positive habits, and even help us heal. Recent studies have shown that games can also bolster brain power. Scientists have found that a specialized racing game can revitalize an 80-year-old's brain to act like its 20 years old, and that strategy game StarCraft can boost mental flexibility.
Want more resilience-building, life-lengthening games after watching Jane McGonigal's TEDTalk? In addition to McGonigal's own SuperBetter, here's four games to put a smile on your face and help you push your personal limits further than you imagined.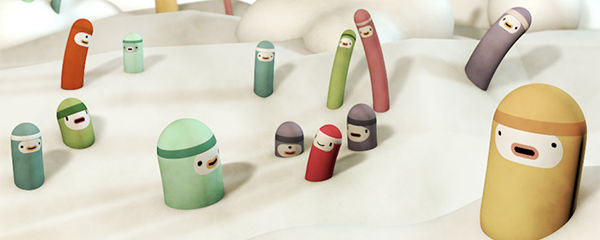 An image from the beginning of Uplifted. (Image from: Kanoti)
Uplifted
Developer: Kanoti | Platforms: iOS, Android
Has anyone ever told you that you don't focus enough on the good things in life? Uplifted is the antidote. Through tasking players with restoring happiness to the fictional land of the Happ, it also encourages them to reflect on what brightens their own world. After players navigate the platforms in each level, Uplifted asks the player three questions about happiness (i.e., "Who is the most important person in your life?" or "What made you smile today?") and stores these answers for later recall. Uplifted highlights the positive aspects of players' lives and rewards them for each challenge they overcome.
Overcome your fears and anxieties in this fast-paced, point-and-click fighting game that teaches problem-solving strategies. The in-game mentor, the Wise-Guy, trains players in techniques for battling the waves of enemies, which represent different kinds of problems, on Mount Wrong. For example, when facing a pack of Fearlines, the Wise-Guy suggests the player take out the pack leader first and then attack its underlines next. Players can then take this problem-solving approach--handling the biggest problems first--into the real world and be better equipped to deal with issues they might otherwise find overwhelming and paralyzing.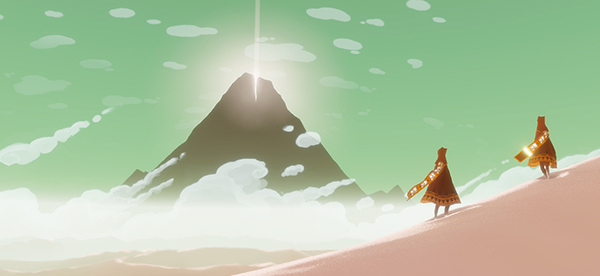 (Image from: thatgamecompany)
Journey
Developer: thatgamecompany | Platforms: PlayStation 3
As McGonigal showed in her TEDTalk, small, spontaneous, positive interactions -- even with strangers -- can greatly boost our happiness and appreciation for others. Few games capture this quite like Journey, an adventure game that is best enjoyed as an online, two-player experience. (Another excellent game that explores this is Way, developed Coco & Co, a design team that includes Journey developer Chris Bell.) Many online games focus on allowing players to customize nearly every aspect of their avatars' appearance, attach a plethora of information to them in profiles, and then communicate through these avatars in in-game text or voice chat. Journey takes another tack -- avatars look identical at the game's start and the only method of communication is a single musical call. With similar appearances and limited methods of communication, players have had incredibly meaningful interactions with each other in Journey, whether it was sharing a secret location, guiding another lost traveler, or simply toughing out the game's trials together. By the game's end, many players said they felt a very close bond with their anonymous travel companion.
Zombies Run
Developer: Six to Start | Platforms: iOS, Android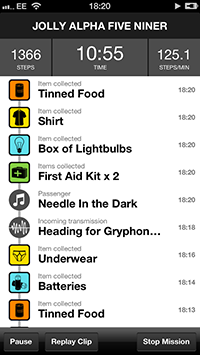 A recap of a mission in Zombies, Run! (Image from Six to Start)
We all know exercise is good for us but sometimes we need a little extra encouragement.
Zombies, Run!
does just that, challenging players to outrun zombie hoards as they exercise while tracking their pace via their device's GPS or accelerometer. The game's missions alternate between the player's own music, and short radio broadcasts from Abel Township, which guide the player through several missions as they embark on runs to help society survive post-zombie outbreak.
Games for Change has partnered with The Huffington Post and TED on this edition of TEDWeekends. A nonprofit aiming to catalyze social change through digital games, you can read more about their work here.
Ideas are not set in stone. When exposed to thoughtful people, they morph and adapt into their most potent form. TEDWeekends will highlight some of today's most intriguing ideas and allow them to develop in real time through your voice! Tweet #TEDWeekends to share your perspective or email tedweekends@huffingtonpost.com to learn about future weekend's ideas to contribute as a writer.
REAL LIFE. REAL NEWS. REAL VOICES.
Help us tell more of the stories that matter from voices that too often remain unheard.