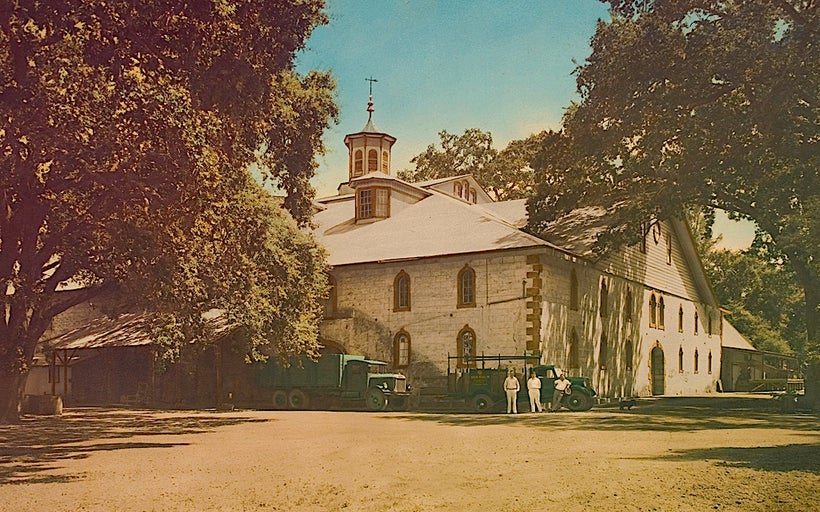 Way back in 1861, while the Civil War was in full swing in the East, a Prussian immigrant named Charles Krug (below) arrived in California's Napa Valley to pioneer what was to become the state's first commercial winery. (Incidentally, the winery has no relation to Krug Champagne.)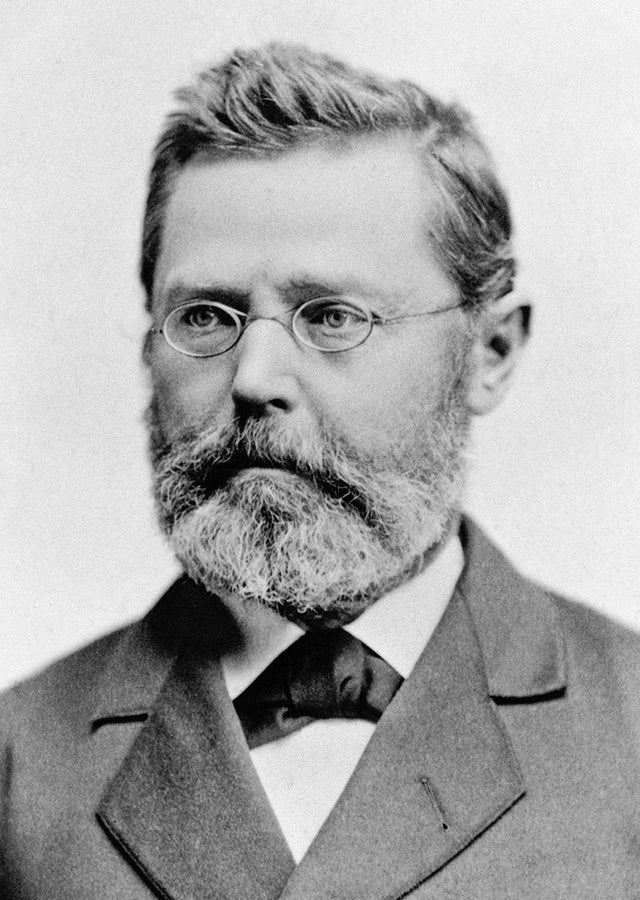 Back then the grapes planted were Mission and he used a cider press, but by the 1880s Krug saw a future for Cabernet Sauvignon and other European varietals in the valley. He also built the state's first tasting and sales room. In 1943, during another, larger war, Cesare and Rosa Mondavi (below) bought the Krug winery, by then up to 147 acres; today it is more than 850. Now, four generations later, the Mondavi family is still expanding, experimenting, replanting and researching how to make better wines than the last generation, while still keeping to a family style.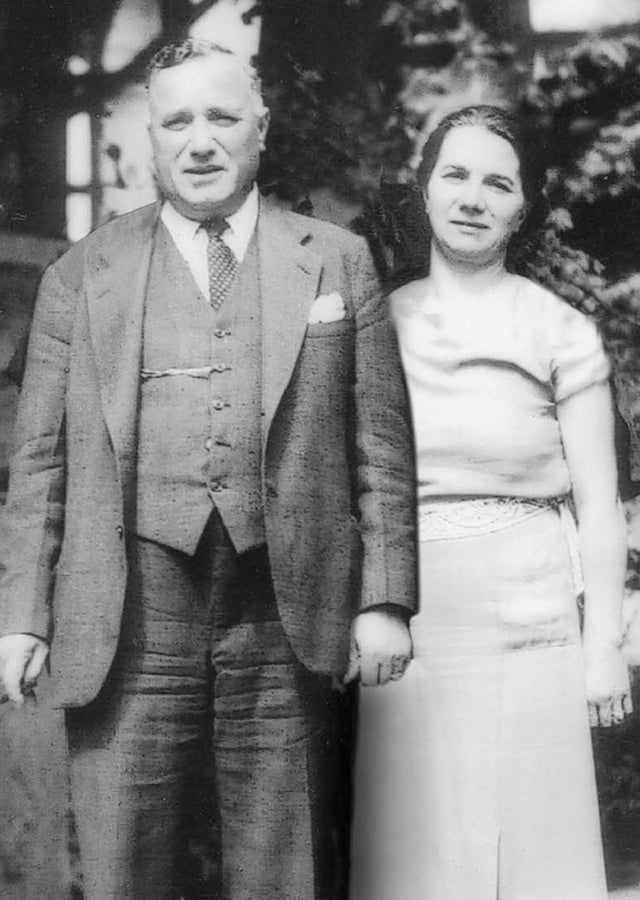 I caught up with what's doing at Krug by having dinner with Peter Mondavi Jr. and his wife, Katie, at Bobby Van's steakhouse in Manhattan. To offer a sense of how things have changed, Peter said that back in the 1960s, an acre in Napa cost between $2,000 and $5,000; now, if you can find one, that cost can be in excess of $300,000. Back then, an oak barrel cost $30, today $1,200.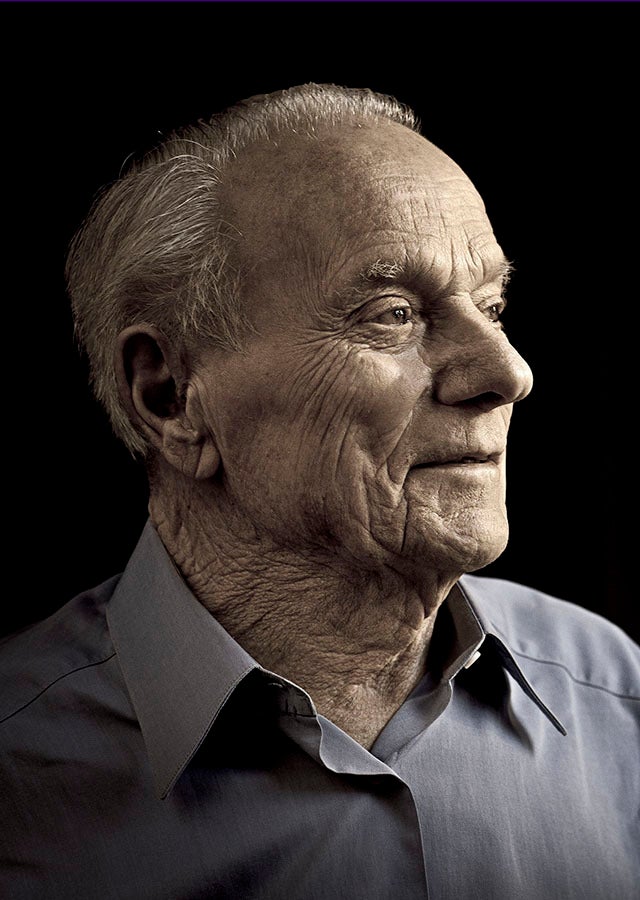 Peter Mondavi Sr. (above) was an innovator, the first to use French oak barrels and cold fermentation and to introduce varietal label wines. In 1986 he was honored by the Napa Valley Vintners Association as one of "Twelve Living Legends in the Napa Valley."
A little family background is necessary here, without getting into a generational saga of discord. Yes, this is the same Mondavi family that includes the late Robert Mondavi, who, with his brother, Peter Sr., ran Krug through most of the post-war period, founding the Napa Valley Technical Group in 1947 and promoting single varietal labeling.
After their father's death in 1959, the brothers had a fractious falling out in 1965 that resulted in Robert leaving Krug to set up his own namesake winery in Oakville, successfully promoting it as a premium wine that could compete with the best in Europe. (Much later, Robert and his side of the family lost control of their winery, owing to massive debt; Robert's sons, Tim and Michael, now run their own wineries.)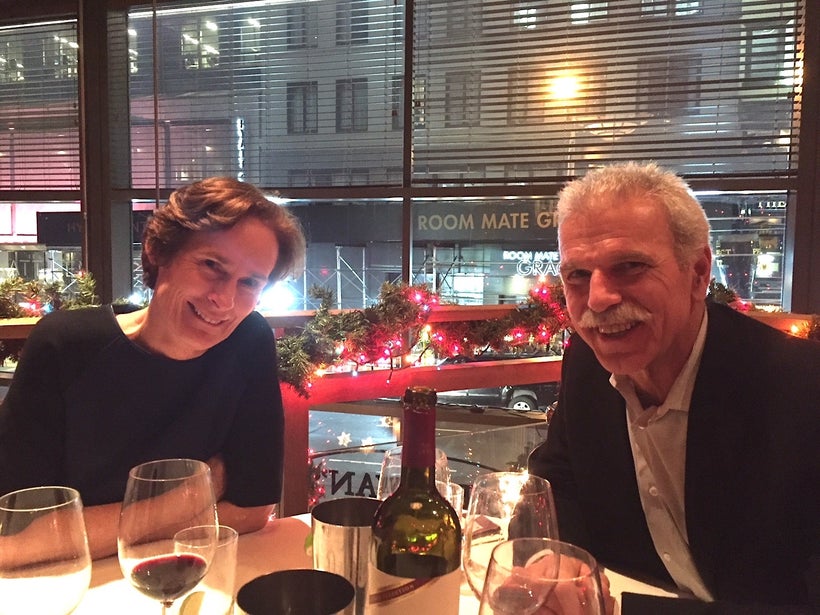 Peter Mondavi Sr. died at the age of 101 just last year, and the torch was passed to Peter Jr., (above with his wife Katie) and his brother, Marc. Their father had encouraged both sons to go away after college and to return to the wine business only if they really had a passion for it. Peter Jr., trained as an engineer, told me, "I'd actually been working in the vineyards since I was eight years old, so I never really left." There was a brief plan to put the Mondavi name on the label alongside Charles Krug, but it is now relegated to the back label.
Given the 70-year history of the Mondavi stewardship at Krug, it seemed reasonable to ask whether the wines of the first two generations had held up, since California was not known for long-lived wines."We had a library (below) tasting of the Krug Cabernets from 1978 to 1959, in which the '59 really stood out. Also, the '66 vintage is outstanding," Peter said.
He said that since 2003 "Sustainability has been the key word at Krug," and in 2008 a ten-year $25.6 million vineyard improvement program was completed. Today, 74% of the vineyards are planted with red Bordeaux varietals. In 2009 the Charles Krug Family Reserve Barrel Room and Carriage House were restored.
Over an appetizer of crabcakes and seared tuna, Peter, Jr., Katie (right), my wife and I enjoyed a Krug Napa Valley Sauvignon Blanc ($18), cold-fermented in stainless steel, that escaped the overly grassy, perfumed style of so much New Zealand and California examples.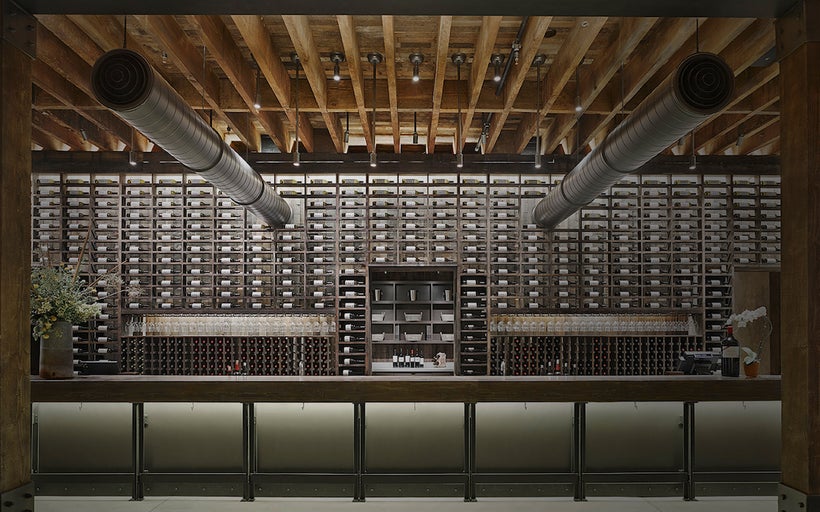 As faithful readers of this column know, I am not a fan of California wines above 14.5% alcohol, an opinion I expressed to Peter. He admitted that in some vintages his wines can go above that, but he argued that "alcohol is a byproduct," meaning he and winemaker Stacy Clark do not deliberately aim for or boost the alcohol levels, as other wineries may do.
With steaks, a veal chop and pork chop with garlic-rich potato cake, I preferred the more elegant 2014 Vintage Selection ($100) to the 2013. I found the older wine, which is a blend of 98% Cab and 2% Petit Verdot and with alcohol at 15.5%, at this point lacked the complexity of the 2014, though I think it may mellow out beautifully. Peter said, "It looks like it will develop into a great vintage."
The 2014 Generations ($60) is a more complex blend to begin with—84% Cabernet Sauvignon, 9% Petit Verdot, 4% Merlot and 3% Malbec—closer to a Pauillac style. Unfortunately that evening, a bottle of 2014 Limited Release Cold Springs Vineyard ($125) was corked, but Peter was kind enough to send one to my home to try. It's 94% Cabernet Sauvignon and 6% Petit Verdot, spending 19 months in new French oak. A seared, medium rare NY strip steak was a natural pairing for the big Cab, at a whopping 15.7% alcohol. I found it at first luscious, bold and very Californian in style, but after one glass I was not really ready for a second, simply because it was more like drinking a vintage Port, which typically are only about four percentage points higher in alcohol.
Still, I take Peter at his word that wines like these will develop, mature and gain complexity. Or maybe not. Time will tell, but the Mondavi family has another generation in the wings to wait and find out.
Calling all HuffPost superfans!
Sign up for membership to become a founding member and help shape HuffPost's next chapter
This post was published on the now-closed HuffPost Contributor platform. Contributors control their own work and posted freely to our site. If you need to flag this entry as abusive,
send us an email
.