If you are a North American early music fan, you have heard the following bromide countless times at concerts of the music you love best, whether at plain community centers or wonderful New World churches or cathedrals:
Close your eyes, listen to the music and imagine you're in Augsburg, or Leipzig, or Innsbruck. I can now report based on first-hand experience that when you're in Augsburg, or Leipzig, or Innsbruck, you don't have to keep your eyes closed.
And the real thing is spectacular, as I found out during four hot summer, late August days at the Innsbruck Festival of Early Music.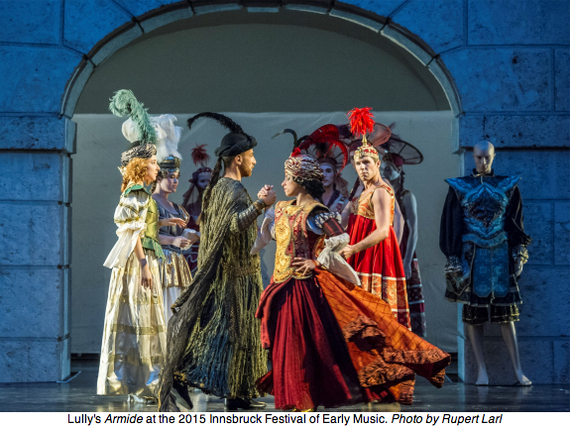 My dream early music experience began with an amazing Baroque music battle between 11 of the hottest young singing talents on the planet. They were the finalists in the the Sixth International Singing Competition for Baroque Opera Pietro Antonio Cesti, named after the Italian composer who turned Innsbruck into a center for the Italian opera north of the Alps in the mid-17th century.
All in all, 67 singers from 26 countries, with the talent and training in the varied field that is the Baroque opera, had faced the international jury during the four days of competition. The jury headed by Festival artistic director Alessandro De Marchi included directors from the Zurich Opera House, the English National Opera, the Staatstheater Karlsruhe and Karlsruhe Handel Festival, the Bavarian State Opera in Munich, and the Glyndebourne Opera Festival.
The final concert featured the 11 survivors singing two arias each, one of their own choosing by Handel or Vivaldi, and one an obligatory aria from Cesti's obscure comic opera Le nozze in sogno. As part of an innovative Innsbruck tradition, selected finalists will be cast in in the Festival's Young Baroque Opera production of "Le nozze in sogno" next year.
The first prize winner was 29-year-old French alto Anthea Pichanick, who took home first prize and 4,000 Euros, sealing the deal with a flamboyant, flaming and outrageously virtuosic performance of an aria from Vivaldi's Orlando Furioso. Pichanick, a student of Montserrat Caballé, also was assured of a performance at Vienna's Resonanzen Early Music Festival in 2016.

Second and third prizes of 3,000 and 2,000 Euros went to the tall, gangly Ukrainian countertenor Konstantin Derri and the intense, sexy Italian soprano Alice Rossi. There were additional competition and audience prizes, and I can safely say that my impeccable critic's judgment failed to pick any of the winners, so brilliant was the field.
In 2016, the required work for the 7th Cesti Competition next summer will be Octavia, a totally obscure opera written in 1705 by the Hamburg opera composer Reinhard Keiser, featuring five bassoons (!) which in due course will be performed as the Young Baroque Opera production in 2017.
The Young Baroque Opera' for 2015 was a wonderful, half-crazed production of Lully's Armide performed at the Courtyard of the Theological University, with the singers frequently appearing in upper windows of the stately building, as a well as on stage, while the Nordic Baroque Dancers cavorted according to an insanely unruly and delightful choreography Deda Cristina Colonna, who also directed the production, and brilliant playing by the Baroque band Les Folies Françoises led by Patrick Cohën-Akenine, the whole imaginative production shared with festivals in Potsdam and Versailles. And although the surrounding cast and musical and production forces were of a world level, it was soprano Elodie Hache who carried the evening in the ungrateful role of Armide, torn between love and conscience, with the latter winning out in the end.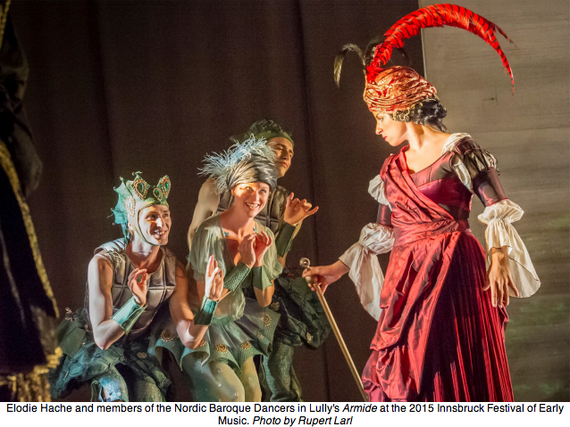 A night later, in the deliciously decadent Giants' Hall of Innsbruck's Imperial Palace, adorned by paintings of the fabled Empress Maria Theresa's children and grandchildren, looking unintelligently distracted as many royals did in those days, French soprano Sandrine Piau and Jérôme Correas's Les Paladins original-instrument ensemble gave a dream recital of arias, overtures, dances and a killer chaconne by Rameau that had the audience demanding and getting encore after encore at the end until the intoxicating Piau had given all she had. It was Rameau at his best, in music from operas like Les Indes Galantes, Castor et Pollux and Platée.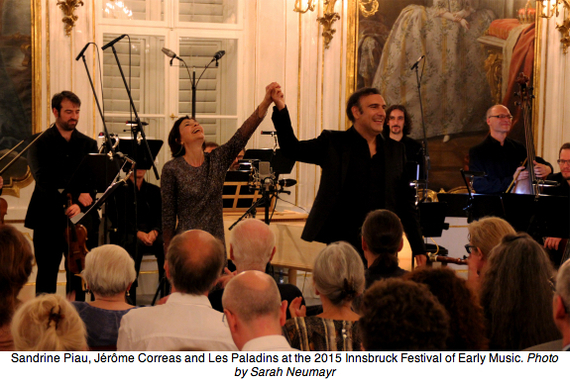 And while there may be no way to capture the visceral thrills of Rameau played by the world's finest Rameau specialists, seated among a mix of jet setters, cognoscenti, students and tourists, a new recording of Rameau's Zaïs, starring Piau, gives some idea of how magnificent it all was.
Amidst all the glamour and excitement, the most purely early music moments of the four days were provided by a lovely lute recital by Sven Schwannberger in Ambras Castle's intimate St. Nicholas Church, where a peacock greeted visitors to the historic site's vast grounds, which covered a delectable gamut of 17th century airs, pavanes, courantes and ballets by favorites like Dowland, Vallet, Moulinié, Ferrabosco the Younger and the eternally popular Anon, as well as remote names like Elias Mertel and Louys de Mot.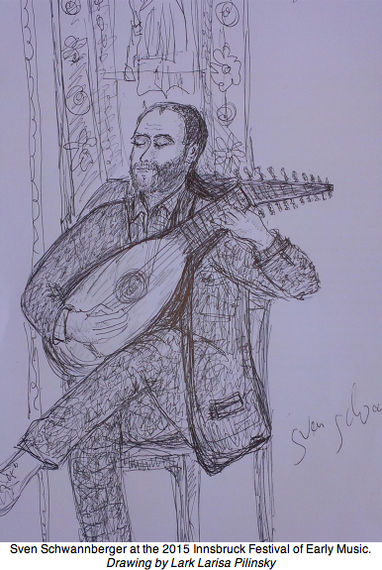 Playing on a remarkably well preserved, 10-string lute built in 1629, Schwannberger, who had the unaffected, spaced-out look of a remarkably well preserved blind bard without actually being blind, delicately strummed and sang his way through 90 minutes of exquisite repertoire which had the sold out audience of longtime fans and newbies totally in rapture, proving that even casual early music attenders risk catching the early music bug when they can enjoy the music without having to imagine they are somewhere where they're not, especially when that somewhere is Innsbruck.
It was also nice that the concert was being filmed for broadcast by Austrian television at a time when Los Angeles public television, when it bothers to broadcast anything remotely musical at all, is likely to choose Alex Trebek hosting a night at the Hollywood Bowl or 60 tubas playing Christmas carols at Dorothy Chandler Pavillion.
Overall, the only complaint I can make about spending four unforgettable, unimaginably glorious, early and Baroque music-filled days with eyes-and ears-wide open at the 2015 Early Music Festival in Innsbruck is that it wasn't five days, or even more.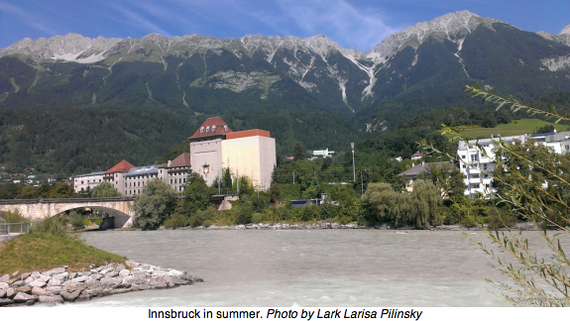 Support HuffPost
The Stakes Have Never Been Higher
Related
Popular in the Community