There are few greater pleasures in life than sitting down to a new-to-you book and getting ready to dive in. But as any bibliophile knows, the more you read, the more you accumulate. Even the most library-bound among us inevitably seems to wind up with more bestsellers than they can reasonably store, more page-turners than you can shelve.
But the beautiful thing about books is that you never really use them up. As long as the spine stays intact and the pages can still turn, someone can enjoy the words. True to Milkshake form, we believe that the best way to lighten your bookshelves is by donating all the unwanted paperbacks (and hardcovers, of course) to charity. Not sure where to send your books? Here are four great charities that will turn your trashy pulp novel into someone else's treasure.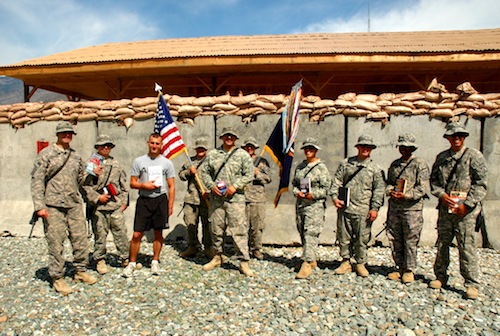 Books for Soldiers: Founded during the Gulf War by an inspired friend of several servicemen, Books for Soldiers allows users to sign into a database, where they can receive requests from individual soldiers. You can then send out books, games, and movies to U.S. troops stationed overseas. Since all packages must be requested by a troop, due to current legal restrictions, Books for Soldiers offers a great way to keep members of the military reading -- without compromising safety.
Better World Books: If you don't live near a book drop-off site, Better World Books might just offer the easiest way to donate used books. All you have to do is box them up and print out a shipping label (they pay for the cost of shipping) and send 'em out. The books will either be resold to raise money for charity, or donated to a kid in need. They also have an extensive online bookstore, making it a one-stop-shop to fill all your literary (and philanthropic) urges.
Books for Africa: Since 1998, Books for Africa has shipped over 24 million books to children and adults in 46 countries. This powerhouse charity is happy to accept your used books -- though they're even happier if you include a check -- but they do have some restrictions. Be sure to check the website to make sure you novels meet their needs.
Operation Paperback: Like Books for Soldiers, Operation Paperback nonprofit allows you to send your used books directly to the troops. After registering with the site, you can request the addresses of troops overseas based on their requested genre. And if you're at all concerned about the cost of shipping you can stand down (soldier!): it costs around $6 to send a box of 20 paperbacks.
Image courtesy of Operation Paperback.

Popular in the Community