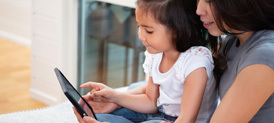 My five year old nephew frequently totes his mom's I-pad into my room, sits down in my chair and spends hours steering race cars or petting purple tigers through the touchscreen.
Sometimes he'll narrate stories to me, or giggle at his virtual dexterity. He may press against my arm or drop his head on my shoulder for closeness, but rarely tears his eyes from the screen. It's his way of sharing.
I've noticed this trend with my friend's children, and toddlers sitting in public with their parents. They are more adept at navigating cyberspace before they are able to tie their own shoes and affect a strange brand of communication while doing so. In order to connect to them in cyberspace, we have to follow their lead.
As summer is only halfway over, many exhausted parents have reluctantly given over partial babysitting duties to the ghost behind the screen. There is no need to feel guilty, if you choose the right materials. Here are some great summer reading picks that can sharpen your child's mind before school is back in session.

PBS Kids--Clifford, The Big Idea---Values and personality traits
The Clifford the Big Red Dog, The Big Idea series teaches children about kindness, cooperation, compassion and confidence---all stellar qualities for kids to work on before hitting the playground. It's always heartening to today's prehistoric adult when classic characters like this furry goofball are survive through the modern age. The book can be used online as an Ebook and/or printed. Ages 2-5.
http://pbskids.org/clifford/bebig/01.html

Leap Frog: Leap Scrubs Up---Reading
This highly auditory book about a two lived amphibian friend named Leap teaches children to read using tools such as vowel and consonant sounds, sight words and the alphabet while hopping between mud and a bathtub. Clear sounds resonate, holding boys and girls interest when they touch the screen (for example a doorbell rings, a word is pronounced). Ages 4-6
http://www.leapfrog.com/en-us/app-center/p/learn-to-read-5-ebook-leap-scrubs-up/_/A-prod58009-96914
Kadho: Mochu Says Goodnight--Language Learning
This charming story about a penguin who is unable to fall asleep and visits all his friends to say goodnight teaches children French, Spanish, Italian and English words and sounds, priming them for later language learning. It is an extremely interactive book. Ages 2-5.
https://www.kadho.com/apps/msgn
Book Creator for Ipad. Design your own: Creativity
Is there a quality you have noticed in your child that you want to encourage? Are there skills you would like to develop in them that you never learned in school? You may wish to connect your child to what he/she is reading by including his/her name, favorite food, pet, drawing or photograph.
Popular in the Community