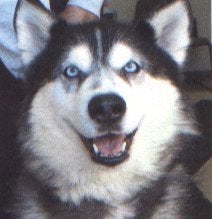 Elizabeth and Frank Brazier's trip to Indiana in 1923 turned into every dog-lover's nightmare. Their beloved collie, Bobbie, disappeared. They returned to Oregon heartbroken, resigned to never again see their beloved pet.
Seven months later, Bobbie showed up at the Braziers' front door. "The Wonder Dog" -- as Bobbie would soon be known -- had braved blizzards, traversed mountains and miraculously navigated nearly 3,000 miles.
Bobbie is one of many incredible animals that found their way back to the people they loved despite seemingly insurmountable obstacles.
Joker, a cocker spaniel, was not content to sit at home while his owner, Army Capt. Stanley C. Raye, headed off for military service during World War II. Joker sneaked out of the house, stowed away on a ship, and, using only his nose, located Raye on a secret base in the South Pacific.
The Steigers have been writing books together about the phenomenal and the paranormal for 26 years. They told The Huffington Post that "Four-Legged Miracles," which hits the shelves Tuesday, includes some of the "most dramatic" of the animal tales they've encountered.
Meet A Few Of The Dogs: (Story Continues Below)
PHOTO GALLERY
Four-Legged Miracles: Meet Some Of The Dogs
Take Zena, an Alaskan malamute. Everybody wanted the blue-eyed beauty, but Zena only wanted Mary Beninghoff.
Beninghoff was volunteering at an Indiana animal shelter in 2003 when she first met Zena. The pair quickly became close friends, with Beninghoff regularly sharing bites of string cheese with Zena. Unfortunately, Beninghoff was unable to adopt her because she already owned several cats, and the malamute hated cats.
Zena was adopted more than once by others, but every time, she managed to escape from her new home and find her way back to the animal shelter -- and Beninghoff. Eventually, shelter volunteers decided Zena would be able to remain with them permanently and serve as the refuge's official mascot.
The most inexplicable stories include those of dogs who found their way back to their owners even after those owners had moved to new homes, sometimes thousands of miles away.
When the Hutchinsons, a family living in New York, decided to move to Indianapolis, they left their beagle, Oscar, behind in the care of a relative. Oscar, however, was having none of it, and slipped out the relative's door only to show up at the Hutchinson's new Indiana home -- where he had never been before -- seven months later.
One possible explanation, the Steigers said, is a "telepathic linkup" between dogs and their humans. The authors pointed to the story of Belva, a beagle, and her owner, Dick. When Dick had left Belva in the care of his sister Erin for a few days, he was hit with an overwhelming sense that something was wrong.
"It was as if another intelligence took control of me," Dick told the Steigers. Without realizing what he was doing, Dick found himself driving to the local Humane Society, and suddenly "knew" that Belva was there, about to be euthanized. It turns out he was right -- Belva had slipped out of his sister's home, had been picked up by animal control, and was marked for euthanization within 72 hours.
"I know that [Belva] sent me a cry for help," Dick told the Steigers. "She knew that she was going to die, and she telepathically called out to me."
The Steigers, who share their Iowa home with a Yorkie-Bichon Frise mix named Hans, said they "feel a very close psychic connection" with the pup. It's rare, said Brad Steiger, 77, to find dog owners who don't feel such a connection.
Sherry Steiger, 68, said that the world over, humans are becoming more in tune with "dog consciousness." The Steigers said they hope the affection and respect people have for dogs will extend to other animals as well.
"Experiment after experiment now has indicated that every animal has a sentient capacity," Brad Steiger said. "We feel we are lords of the Earth and given dominion over animals, but we have to recognize our oneness not only with dogs, but all animal life, if we are to survive on this planet."
Noting that the majority of dog owners consider their pets a member of the family, Brad Steiger said he and his wife "urge people to project that same love and concern and that same sense of family. … We have to recognize that all the creatures on Earth; they're all one big family."
Calling all HuffPost superfans!
Sign up for membership to become a founding member and help shape HuffPost's next chapter
BEFORE YOU GO
PHOTO GALLERY
Bike-Riding Dog