How, exactly, do you become a household name? What's the road map? Who are the benchmarks? Who's the best at influencing how people are made to feel?

I came up from within the hip-hop and pop-culture scenes, and, clearly, I had lusted after the power brokers and social engineers that seemed to magically steer and influence others into action. I studied them. I imagined what magical powers they may have. How do I get to the other side? Is it like joining some secret society of magic? Is it a club? Who runs that club? Illuminati?
I needed a friend with "connects." No, strike that -- I needed a teacher. A mentor. So I looked to the enigmatic ringleader of this scene, a man who I had once seen in a white linen suit at the Michael Bivins birthday party, way back when in 1994: Puffy. Puff Daddy. P. Diddy. Mr. Sean Combs.
I was fascinated by how he controlled every aspect of his environment, the way he could own a room.
I didn't talk to Puffy that night, but I knew from that instant he was worth studying. He clearly had the Jedi powers I sought. Years later I would engage him, but for now he was just the mysterious guy decked all in white linen.
Puff would become my celebrity Yoda, helping me -- in his Jedi-like way, directly and indirectly as a source of inspiration -- to better navigate the world of public perception.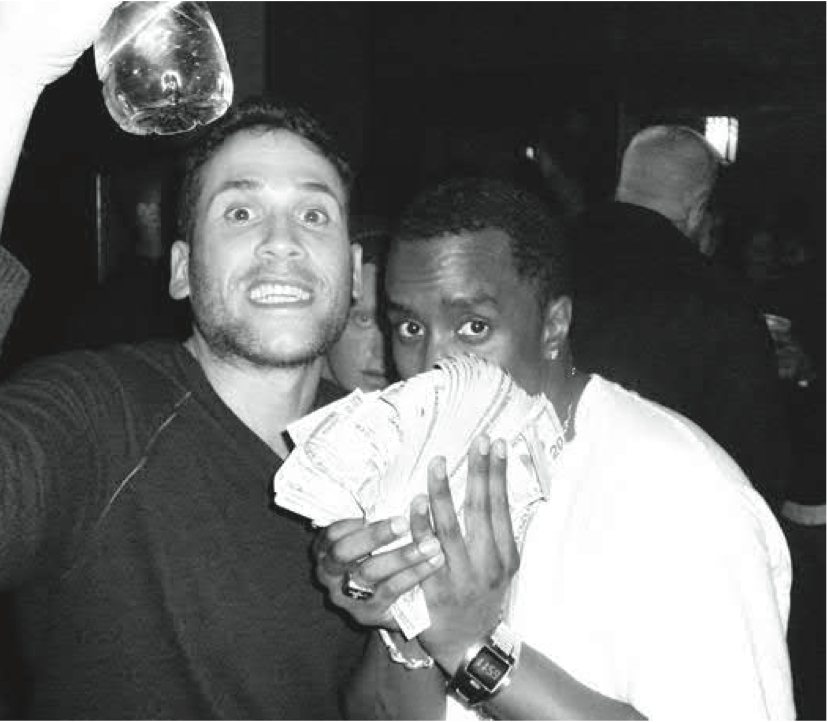 Clothes Don't Make the Man -- The Man Does

On the night I first saw Puffy, I rolled up in my Echo Airbrushing hat and an airbrushed tie, thinking I was a master self-promoter. Across the room was a smooth, crisp, impeccably groomed black man. He wore an oversized white linen shirt, white linen pants, and it looked like he'd just stepped off a Gulfstream jet that had just returned from the Caribbean.

The White Linen Man seemed to be socially engineering the room, dipping in and out of conversations as he whispered in people's ears like some kind of Svengali. Even though it was Bivins' party, you just felt this guy's presence; it was like he owned the room. He seemed to make people feel a certain way.

I nudged my friend Cale. "Who's that dude? White linen?"
Do You: Don't Parrot

When I arrived at the 2006 Sundance Film Festival, I wanted to show Puffy that I could take a page out of his playbook.
When we both ended up at the same party one night, Puffy took in my new vibe -- I was wearing a sheepskin coat, looking svelte, herding models like Moses did sheep -- and he gave me a knowing nod. But I still didn't feel like I could own the room like he did.

I got his ear for a second and asked him, "Puff, how do you know when you've arrived?"
Puffy looked back at me. "Here's what you need to do: you need to make these motherfuckers want you like the dope man." And then Puff took out this huge wad of cash effortlessly, as if you were checking for singles to tip the doorman -- it must have been $20k -- and he starts counting it at the party. Reason number 4,726 that Puff is successful: only he can pull off a stunt like this without looking like a cartoon. This was Puff in all his authentic Gatsby glory; he oozes this charisma from every pore. He can do this. Others can't. When he drops pearls, or perplexes you with a question, it's important to listen, glean, and adapt -- but never parrot.
The mentorship I developed with Puffy over the years turned into a creative business relationship when the two of us eventually went to LA to pitch a movie/ video game we developed together called Hire Ground.

For two days, we pitched the studios. On the first day, we bounced from studio to studio, and at each meeting, I pitched Puffy as being not only talented but funny. I told the studio execs, "I think he could play a physical, serious James Bond-type character, but then also do some funny Chris Tucker shit."

As soon as I said Chris Tucker's name, Puffy got up from his chair, jumped on a table, did the crane kick from The Karate Kid, and said, "I'll do some Karate Kid shit!" I loved that about the guy; he didn't hold back. He wanted it. And watching someone with so much already be willing to work so hard to get it was humbling.
Do Your Own Dirty Work (Control)
In between our meetings in LA, I could hear Puffy barking into his cell phone, chewing out a producer at ABC-TV.

"The motherfuckers don't want to let me on the red carpet next week at the Oscars." Puffy waved his phone. (The next week, he was at the Oscars, on the red carpet.)

"Isn't that something your PR person does?"
"Nah, man. You got to do that shit yourself."
Puffy has never been too big to do his own dirty work. And that control is goes far deeper than micro-managing. Under that veneer of "D.G.A.F." (don't give a fuck) -- he actually does give a fuck. He cares. He cares so bad, and tries so deeply -- you better never underestimate him. When he spreads 20 suits on his bed in the hotel room, carefully picking and choosing, it's not for vanity, it's for purpose. Atmosphere. Control.
Over the years, I learned a lot from Puffy. We connected on how our dreams made us feel, and then, in turn, how our own ambitions could make others feel. This is why I respected him, and, I suspect, this shared interest in emotional impact is what made him give me the time of day in the beginning.
If my journey through the world of public perception was Alice in Wonderland, Puffy was the Cheshire Cat, with his ability to seem to be everywhere at once, asking perplexing questions, and who sometimes helped Alice, and then darted in and out of her journey.
The lessons he left along the way are lessons that I think anyone could learn from. I hope you get as much out of them as I did.
Marc Eckō is an American fashion designer, entrepreneur, investor and artist. He is the founder of Marc Eckō Enterprises, a global fashion and lifestyle company. He is also the founder and chairman of Complex Media, a network of 110+ websites that generate more than 700 million page views and 70 million unique visitors per month. Eckō serves as an emeritus board member to the Council of Fashion Designers of America, Big Picture Learning and Tikva Children's Home. Ecko's first book "Unlabel: Selling You Without Selling Out" is out October 1, 2013.
Related
Popular in the Community