"Fate has never ladled out hardship very evenly, and this frequently trips our often infantile sense of justice." -- Jim Harrison
"We Americans are trained to think big, talk big, act big, love big, admire bigness but then the essential mystery is in the small." -Jim Harrison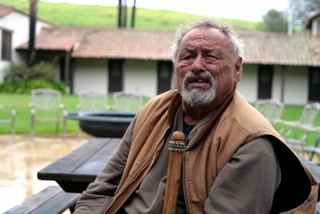 Photo by John Goecke
During my teenage years Joyce and Hemingway drove the train. In my twenties Thomas Wolfe and Marguerite Yourcenar came on board along with Proust, Flaubert, George Eliot, Pynchon and Nathaniel West. But sometime in my thirties I discovered Melville and Jim Harrison. After living many years abroad, they brought me home. One, long deceased, got me there by sea, the other, very much alive, guided me deep into the North American heartland. Both were poets who also wrote prose. Melville's Ahab cautioned that "The truth shall drive thee mad." But Jim rested by a river to say, "Love doesn't conquer all, but it conquers a lot."
So when Will Hearst invited me to San Francisco to meet Jim three years ago I was excited -- and nervous. They were going to make a film about Gary Snyder. Will thought I would be a good choice to direct it but we needed Jim's approval. Jim flew in from Montana and I was summoned all the way from Spain. The meeting occurred over dinner at a place we each knew well by then, also thanks to Will, the Zuni Café on Market Street. I arrived early and waited at the bar with a glass of wine until the two men came in, turning many heads as they did so. It was basically a Dockers meets Eileen Fisher crowd and these two gentlemen stood out considerably. Will favors an old-world sort of elegance not seen much these days, a la Gary Cooper as Frank Flanagan in Billy Wilder's Love in the Afternoon. Jim, his one good eye wandering, his deep Upper Michigan Peninsula voice thundering, carried a large American Indian walking stick and wore outdoorsman clothes. Nothing was pressed and all of it was made in the USA, including the leather button-less vest he wore over a T-shirt and the wide, rugged, large-pocketed sport coat.
We were seated immediately. They were fussed over by the wait staff and then the owner. An educated wine discussion took place well over my head and two different bottles of Burgundy were ordered. It was taken for granted the signature roast chicken dish would be the way to go for the three of us. During all of this I did my best to smile and toss in a few positive/humorous comments neither of them paid much attention to. Then, after the first bottle was inaugurated Jim turned to me and said, "So John, why do you live in Spain? Is it for the women?"
An hour later I realized I'd never been grilled with such grace and charm. Apart from Will's vote of confidence I said two things I suspect helped seal the deal. The only other film I'd made was a documentary about Federico García Lorca, one of Jim's favorite poets (along with Antonio Machado and Rene Char). He asked me what it was I most liked about Lorca and I said, "His toughness. So many people who read him and who do his plays project sticky sentimentality onto the man, but he was one tough writer with a brilliant mind." I hoped Jim liked this because he didn't add anything. Then at one point I took the risk of proclaiming that the only other restaurant I'd been to with roast chicken as good was in Paris at the Rotisserie du Beaujolais, which, it turned out, was one of his favorites. By the time a third bottle was opened he put his hand on my forearm and said, "You'll do just fine."
"The Zennists say that "ashes don't return to wood," a lucid slap for everyone's vain face." -- Jim Harrison
"... you recall for the seventy-fifth time D.H. Lawrence's fabled notion that the only aristocracy is consciousness." -- Jim Harrison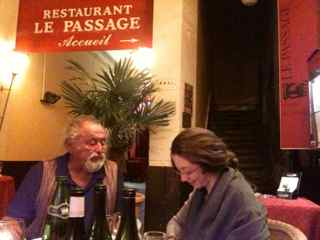 Photo by John J. Healey
Every now and then the French get it right. Paris for instance, the nouvelle vague, fashion, wine, and a passion for Jim Harrison. His books sell better in France than anywhere else. The feeling is mutual. He travels there as often as he can. Our finished film The Practice of the Wild was accepted as a late entry at the prestigious Lumiere International Film Festival in Lyon, simply because Jim asked for it. He flew in from Montana and I came up from Spain. We met in the lobby of the elegant Clos de Loges hotel in the old quarter. My little room faced the back looking at three cats. Jim's three-room suite was next to Claudia Cardinale's.
After the screening and the Q&A, during which the packed house laughed uproariously at his comments and where I did my best to bask in his glow, we were whisked away in a black Audi to the festival's official restaurant, Le Passage. A large round table had been set for him by the entrance on the street so that he could smoke during the meal. Elaine May came by, Bertrand Tavernier came by, a stream of celebrities from both sides of the Atlantic. The table filled quickly with an amusing mixture of friends and hangers-on all of whom Jim treated in the same egalitarian manner. He wore the same outfit he'd worn in San Francisco but now with the jacket off. For all he cared we might have been with him in a Bozeman diner.
Poets were rated and quoted from, various women were proposed to, all of the wine and food savored. A wonderful quality the French admire in him is his ability to speak his mind with a bare minimum of censorship, giving free rein to his id, all of it delivered with a honking voice in the king's English sans pretention -- a bit raunchy sometimes but always courteous to a fault.
We closed the joint. The waiters didn't mind. We left the table littered with plates, glasses and empty bottles. We were driven back to the hotel, crossing the Rhone and the Saone rivers dark and impassive in the night. I retired to my room to do battle with a horrific hangover and Jim went to sleep. He would rise at dawn, take his daily meditative walk and then sit down with a discipline of steel to write.
"I have learned that you can't be at home in your body, your truest home, if you wish to be somewhere else, and that you have to find yourself where you already are in the natural world around you." -- Jim Harrison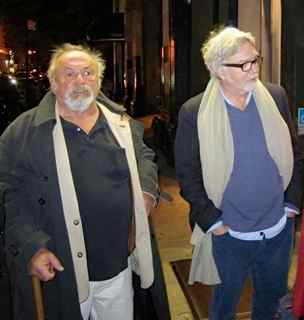 Photo by John Goecke
A few months later the producer got our film booked into a small art house cinema in Greenwich Village and arranged for a culturally satisfying screening at the Jacob Burns Film Center in Westchester. Gary Snyder and I bunked at the Bowery Hotel. Will stayed at his place uptown, and Jim moved into a small apartment Mario Batali always lends him, strategically located one floor above Babbo, Batali's flagship restaurant just off Washington Square.
Jim is a longstanding and enthusiastic fan of the cured meats and sausages Batali's father makes the old-fashioned way out on the West Coast. A full selection of them was served with champagne as hors d'oeuvres at the private dinner we had on our last night in New York. It took place in a cozy vaulted brick room next to where all the wines are stored in Babbo's basement. Batali, off traveling somewhere, had designed the multi-course menu himself, a mesmerizing and, for me, daunting series of Italian dishes of the sort I imagine nobles with gorgeous shotguns prefer out hunting in the wilds of Sicily. Friend Terry McDonnell and Jim's publisher Morgan Entrekin were there with their wives, Gary and his lovely son Gen, Will, and Cynthia Lund who made the film happen, a total of twelve people having the kind of dinner many New Yorkers I know would kill for.
After it broke up around 11, everyone else sensibly went home or back to their hotel. I walked with Jim for a while. He likes to walk. "You know," he said, lighting up another American Spirit cigarette, "all during dinner there was one thing I could not get out of my mind." I hoped it might have something to do with the film, praise for some visual flourish the editor and I had achieved, or perhaps he was going to share something sacred and personal. "What's that, Jim?" I asked. "A Papaya King hotdog," he said. "Are you up for it?" The concept was inconceivable to me after the meal we had just survived.
You may know the one he meant, on the northeast corner of Eighth Street on Sixth Avenue that has been there for decades. It was about to close and we were the only customers. We stood at the scratched bright orange counter in a neon glow worthy of Hopper. The guys working there seemed to be from countries I'd be hard pressed to identify. I limited myself to some papaya juice people say is good for one's digestion. Jim ate two hotdogs with all the trimmings, regaling me with tales of his misadventures in Hollywood back in the '80s with Jack (Nicholson), Marlon (Brando), Madeleine (Stowe) and Houston (John).
By the time I dropped him back at Babbo the place was shut but some of the waiters were still inside finishing up in after-work mode. They invited us in for a nightcap at the bar. Having reached my limit hours earlier I respectfully wimped-out. As I said goodbye Jim already had his arm around a smiling young waitress and I heard a discussion starting up about favorite dogs.
"I can maintain my sense of the sacredness of existence only by understanding my own limitations and losing my self-importance." -- Jim Harrison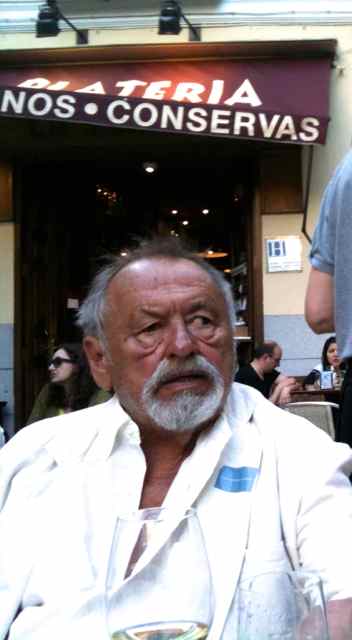 Photo by John J. Healey
The following spring I got the hip Casa Encendida in Madrid, a youth-oriented, interactive museum and performance space, to fly Gary Snyder over for a screening of the film and to do a reading. Jim, who was already in France, decided to join us. I found him a smoker's room around the corner from where I live at a hotel overlooking the Plaza de la Plateria near the Prado Museum. The event went very well. Both writers were warmly received by a full house. They got a whole page interview in El País, Spain's largest daily newspaper, and of course after the screening there was a big dinner at a lovely little restaurant called Casa Fidel with various members of the García-Lorca family in attendance. But the meal I want to feature here took place before Gary arrived and all the hoopla began.
Seeing as I was the host this time and knowing my foodie-cred would be on the line I wanted to bring Jim somewhere special. Instinctively I stayed away from anything formal or ceremonious, characteristics that tend to rub him the wrong way. I wanted a place that was only about the food and the wine. The clear solution, back then, two years ago, was the Taberna Laredo. Most unfortunately it has since changed location, a victim of its own success, and now occupies a far larger, charmless, fancier, hard-edged space with the same good food. But that night it was still where it used to be, small and authentic and jammed to the gills with Spaniards of all stripes mostly standing with their food and drink unified by a weakness for quality. This was back when they kept their better wines in a drab little storefront across the street that was always a pleasure to be invited to.
Jim arrived with a desire to drink Prioratos and the sommelier, a genius at attending to forty people simultaneously, brought us three different ones to try, all of them delicious. They were accompanied by tiny mussels preserved in olive oil, Serrano ham, the best salmorejo in Spain and slices of grilled filet mignon served on a wooden platter. He loved it, the noise, the crowd, the presentation, the manic life of the place, every inch taken up with platters of fresh vegetables, oysters on ice, shrimp, meats and cheeses. We talked about Machado, about Gary and his son, about Japan, about how unique and multi-faceted Will Hearst is, about Jim's favorite vineyard in the Bandol region of France -- the Domaine Tempier, about the wisdom of bears, the mating habits of birds, American Indian fishing customs and the olfactory peculiarities of anacondas.
I was aware of the fact that on each of these dining occasions, in San Francisco, Lyon, New York and there in Madrid, I was seeing the man largely out of context, away from his normal Spartan life in Montana and New Mexico, away from his own simple kitchen and away from his wife and family, away from his dogs and guns. The public persona he presents, utterly unique, both brash and delicate, subversive and charming, masks an inner core of serious artistry. This lover of nature in all of its forms -- good, bad and ugly -- mostly lives an austere, isolated life that has enabled him to make such a rich contribution to the fragile, precious library of American literature. In the taxi heading back to his hotel, with the windows rolled down, brisk air scented with acacia blossoms blowing upon us, he was reciting his favorite quotes from Shakespeare. I sat back, closed my eyes to listen and was reminded of the words V. S. Pritchett used to describe the work of Ivan Turgenev in the introduction he wrote for the 1978 Penguin Classic edition of First Love translated by Isaiah Berlin:
"...he is deeply aware of love as a spell; he is the poet with a sensibility open to the value his people give to their own strangeness. He speaks for them as the great artist must, whether they are innocent, fated, self-sacrificing or grossly triumphant in sensual greed and without conscience."
The quotes used to begin each section are all culled from Jim Harrison's funny, honest and extraordinarily wise memoir Off to the Side (available in paperback from Grove Press, 2002).
Popular in the Community